King Charles And Queen Camilla Reportedly Make Covert Visit To Check Up On Coronation Preparation Progress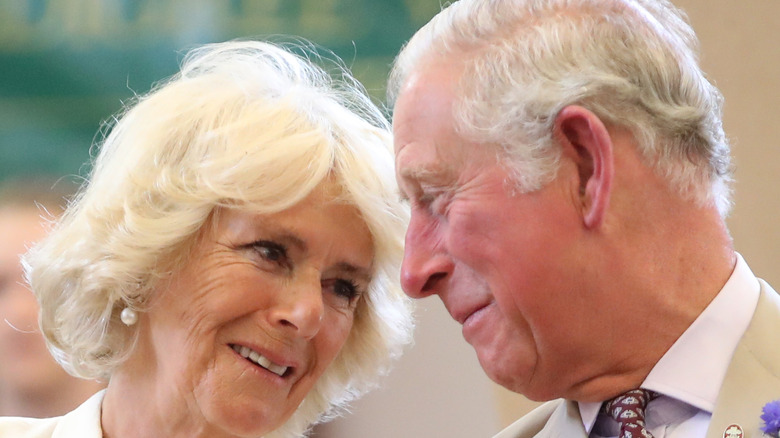 Chris Jackson/Getty Images
There's a lot that goes into planning an event as big as the coronation of the newest monarch in the United Kingdom. The coronation of King Charles III has been in the works for years with the code name Operation Golden Orb, according to the BBC. The guest list, which should be over 2,000, will include dignitaries from around the world as well as members of the royal family. Prince Harry and Meghan Markle are expected to attend King Charles' coronation together, or at least the palace is preparing for the event with their attendance in mind.
Along with the actual coronation ceremony on Saturday, May 6, there will be a light show and concert at Windsor Castle later that weekend. The event has its own logo, and there's even an official playlist for the coronation (with some hidden messages). Across the U.K., there will be an additional public holiday added to the calendar on Monday, May 8, and pubs can stay open two hours later than usual on Friday, May 5 and Saturday, May 6. The behind-the-scenes preparations for the event must be intense, and King Charles III and Camilla, Queen Consort are apparently checking in on how things are going with King Charles' coronation outfit.
The embroidery for the coronation robes is elaborate and time-consuming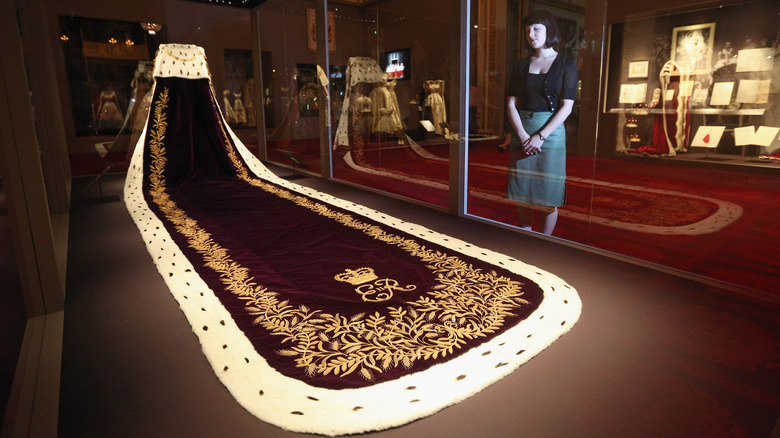 Oli Scarff/Getty Images
King Charles III and Camilla, Queen Consort likely checked up on the status of the embroidery work for the coronation garb when they stopped by Hampton Court Palace, which is home to the Royal School of Needlework. One traditional aspect of the ensemble that he'll almost definitely be wearing is a variety of robes, per Historic UK. The red velvet Robe of State, the Robe Royal for the actual moment of crowning, and the purple velvet Imperial Robe all require elaborate hand embroidery in silver or gold thread. This style even has its own name — "coronation goldwork," according to the i news outlet.
When it came to Queen Elizabeth's coronation dress, it took a combined total of 3,500 hours to complete the embroidery on the Imperial Robe that she wore to walk out of Westminster Abbey. And typically, each monarch gets new robes for their coronation, so if that's the case for King Charles, there's likely a huge team of needlework artists hard at work in the run-up to the coronation. Hopefully he gave them some words of encouragement during his visit! However, given Charles' thrifty nature, he may rewear robes worn by George V and George VI.
While it seems certain the robes will include elaborate embroidery, they may not include real ermine fur, according to The Telegraph. Since King Charles has long been an environmental advocate, they may use fake fur instead.