Liquid Or Powder Foundation: Which Is Better For Combination Skin?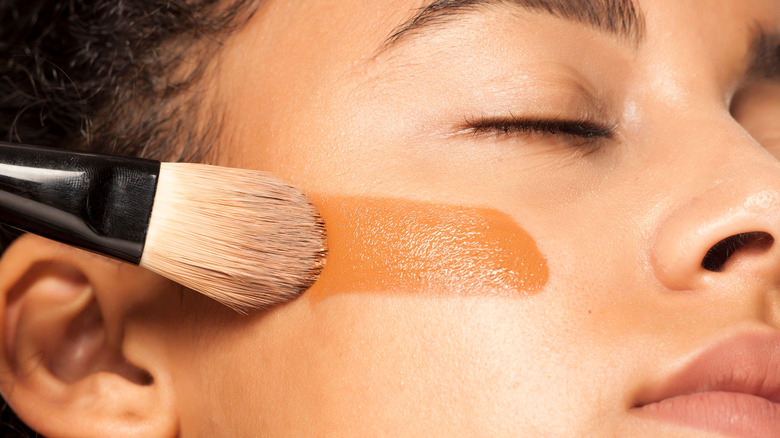 Vladimir Gjorgiev/Shutterstock
There are a million and one reasons to place extra importance on your foundation choice. After your primer prepares your skin for makeup post-skincare, foundation is the next step. The right foundation can help match your face and jawline to your neck, giving you a smooth and even base to apply your products.
To attain this flawless look, you need to shop brands with inclusive tone coverages. Think Fenty Beauty and MAC, which have 50 and 100 shades, respectively. You also need to opt for coverage that suits your skin's situation. A medium or sheer coverage will give you a natural look, while full or buildable coverages are better choices if you have significant blemishes.
More importantly, you need to consider your skin type so you can choose a formula that doesn't give you extra skin problems. Generally, cream formulas are best for all skin types if additional coverage is needed due to bumpy blemishes, wrinkles, or fine lines. However, if you have combination skin but do not need such coverage, you've got two primary options: liquid and powder foundations.
Combination skin can use both liquid and powder foundation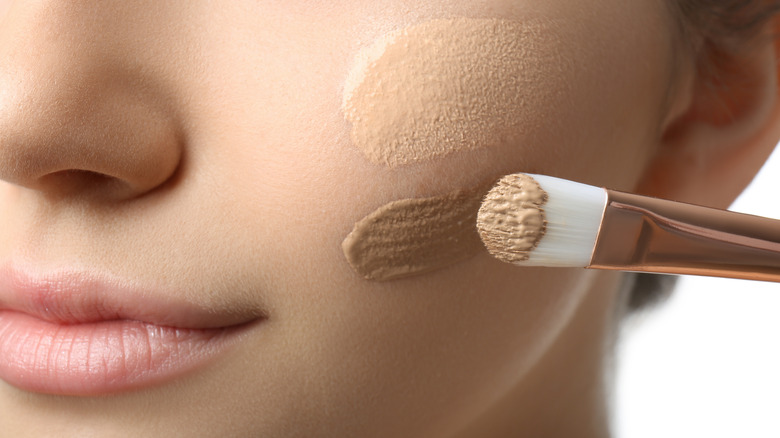 New Africa/Shutterstock
Powder foundation is best for oily skin because the powder can usually combat and absorb oiliness from the skin. On the other hand, dry skin does well with a liquid foundation. Liquid formulas can successfully cover dry skin without aggravating the dryness, which could lead to cracks. Also, most liquid formulas have added moisturizing properties, which are great for dry skin.
If you've got combination skin, you're smack between dry and oily skin. The good news is that you can use both liquid and powder formulas. However, tread carefully at this point because using too oily or dry formulas is one of the foundation mistakes that are making you look old. Sadly, finding the perfect one can be difficult, especially if your oily and dry patches are on the extreme ends of the scale.
This brings us to another option; using both formulas. Let's start by saying that using one foundation over another will definitely give you a cakey look. So instead, use a liquid formula in dry areas and a powder foundation in oily areas. Be warned, though: this will test your sanity and blending skills. This option may not be ideal if you're new to the makeup world. Instead, cop this hack from Ellis James Designs: start with liquid foundation and concealer, then dust lightly with powder foundation to set your look.
How to pick the right foundation shade for combination skin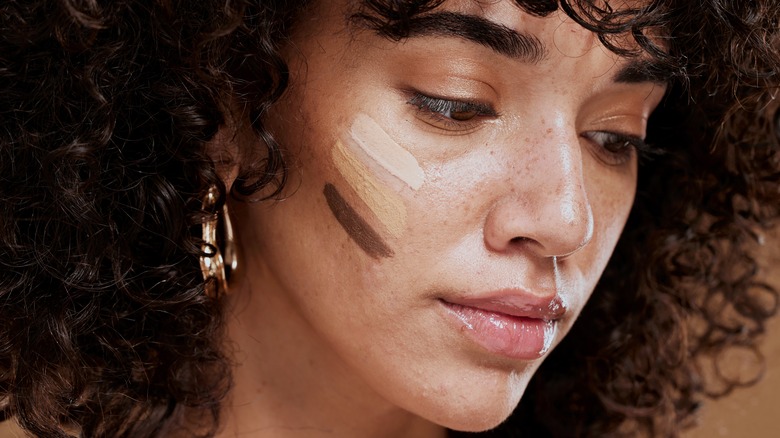 PeopleImages.com - Yuri A/Shutterstock
First, you should know that picking the right foundation shade has less to do with your combination skin and more with your skin tone and undertone. Consequently, the first step is determining your skin's tones and undertones. Note that these two aren't the same, and the simplest way to figure yours out is to follow our guide on the easiest way to figure out your skin's undertone.
Next is finding the right shade by swatch testing. But what exactly is your right shade? If you're like most people, your inner face, outer face, jawline, neck, and upper chest are all different shades. Makeup goes on your face mostly, so you should match it with your neck and upper chest, and the best way to do this is to test the foundation on your jawline. You'll need a mirror and natural light (go outside) to compare your face, jawline, neck, and chest simultaneously.
Swatching on your bare, moisturized face shows you how your foundation will look after application. The presence or absence of moisturizer significantly affects the after-look, so you want to ensure that you swatch test with moisturizer and no makeup. Don't swatch test on your wrist or arm since it is likely another shade from your face, jawline, and neck. Be sure to let your swatches dry so you can compare them accurately.