General Hospital Star Michael Blake Kruse Announces The Birth Of His Second Child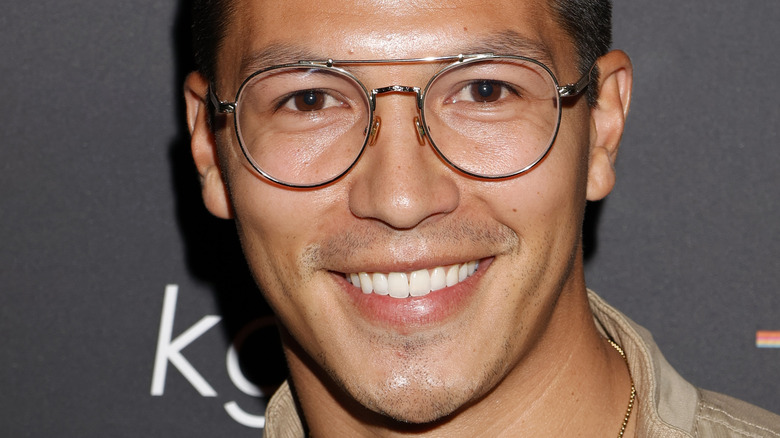 Arnold Turner/Getty Images
Actor Michael Blake Kruse has certainly been around the TV dial, having appeared in shows like "Criminal Minds," "Strange Angel," and "Grey's Anatomy." He also recently appeared in the Marvel film, "Black Panther: Wakanda Forever," playing a character named Henderson. Kruse wrote about that experience on Instagram, stating, "After two trips to Georgia, working with both the 1st and 2nd unit, as fate would have it, essentially all of my scenes were cut from 'Black Panther: Wakanda Forever.' I'd be lying if I said I wasn't disappointed –- but I get it. Nonetheless, it was an absolute privilege to have been directed by Ryan Coogler and it was very special to have a small part in honoring the great Chadwick Boseman." Kruse was referencing the fact that Boseman, the originator of the role of Black Panther, passed away in August 2020. 
Kruse became popular as the thoroughly nice and endearing Officer Rory Cabrera on "General Hospital" in 2022. Sadly, Kruse bid farewell to Rory when the character became a victim of the notorious Hook killer. On the bright side, Kruse shared heartwarming family news in September 2022, when he announced on Instagram that he and his wife Cara Kruse were expecting their second child in March 2023.
Now that March is upon us, it should come as no surprise that Kruse once again shared a family milestone with everyone.
The Kruse family shared their joy with everyone
As many people await the arrival of spring to get us out of the winter doldrums, actor Michael Blake Kruse and his wife Carla Kruse helped brighten fans' day with the announcement that their second child was born. The Kruses have a daughter named Harlow, and now they have a baby boy named Zion Blake Kruse. Mom took to Instagram to broadcast the good news and wrote, "Happy Birthday, baby boy! You are pure love." The caption was accompanied by photos of the newborn, as well as pics of the proud parents each cradling the child in their arms.
Friend and actor Brent Tyler enthusiastically responded, "Congratulations man!!! Fantastic news!!!" Many people loved the newborn's name with one fan replying, "Oh my gosh! Congratulations to all of you, happy birthday little baby and what a beautiful name you chose!" Congratulations came in from all over with many considering Zion to be a blessing. Actor Kai Braden couldn't help his hearty response, saying, "Woohoo! Incredible. Kruse family going strong." Fans continued to gush over the baby with one writing, "Awww...he's precious!!! Congrats mama! And congrats papa." Amid all the joyous responses, someone lovingly wrote, "Welcome little one, may ur life be filled w/ love and happiness always."
We'd like to join everyone in wishing the Kruse family congratulations!