Royal Expert Says Prince Edward's Public Outing With Prince Andrew Sends A Clear Message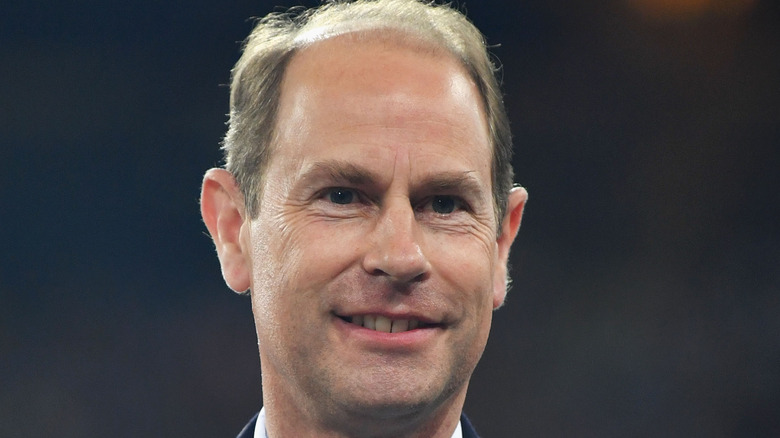 Dan Mullan/Getty Images
It's safe to say that Prince Andrew has brought his fair share of shame to the royal family — and his position within the royal family is something that his siblings are still grappling with. Because he was a known associate of Jeffrey Epstein, in February 2022 Queen Elizabeth II stripped Prince Andrew of his royal and military titles, and per a statement issued at the time, he was "not to undertake any public duties." This decision came following Prince Andrew's settlement out of court with Virginia Giuffre, who accused the royal of sexually assaulting her when she was 17. 
Since Queen Elizabeth II's passing, it's been up to King Charles III to deal with the best way to handle his brother, including shrinking his $300,000 allowance and only keeping him accustomed to royal life if he remains out of the spotlight. However, despite these measures, that hasn't stopped his other siblings, including Prince Edward, from keeping him in the family fold. Sources have reported sightings of the disgraced prince at private family gatherings, much to Charles' displeasure.
Member of Parliament Norman Baker suggested to The Sun that Prince Andrew is "going to any length possible to worm his way back into public life," having been seen once again with Prince Edward. 
Does this spotting mean the royal family is embracing Prince Andrew again?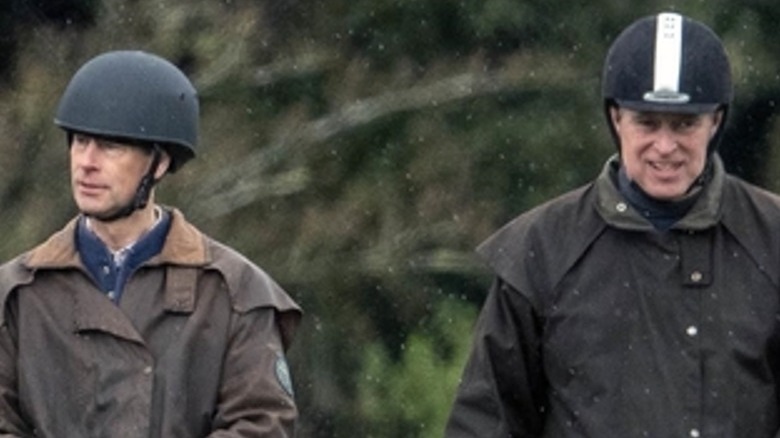 Backgrid
Whether or not Prince Andrew has his royal title, he is still a member of the royal family. And some are still happy to embrace him as such. Per Daily Mail Royals, Prince Andrew was seen riding horseback in Windsor Great Park with his younger brother, Prince Edward, the youngest of Queen Elizabeth II's children, and the now-Duke of Edinburgh. "Prince Edward, The Duke of Edinburgh and Prince Andrew had noticed the photographer, I have to say, looking at the camera, and they look happy to be seen. And remember when you go out at Windsor Great Park, there is an expectation that you might be seen," explained Daily Mail's Richard Eden. "What this says, clearly, is that Prince Edward is happy to be photographed with his brother. And to me, it does show that they want to support him." 
To him, this reads as a clear sign that his sibling is ready to welcome him back into the royal fold. "It's a powerful signal from his siblings that they want to support him. And I think they would like him to have some sort of useful role again," said Eden.
Whether or not Prince Andrew is welcomed back into the fold will ultimately be a decision for King Charles III. But if you ask former MP Norman Baker, a member of the Privy Council, "The only order he should be given is the order of the boot" (via The Sun).