Royal Fans Have Made Their Thoughts Clear On Whether Kate Or Meghan Has Better Style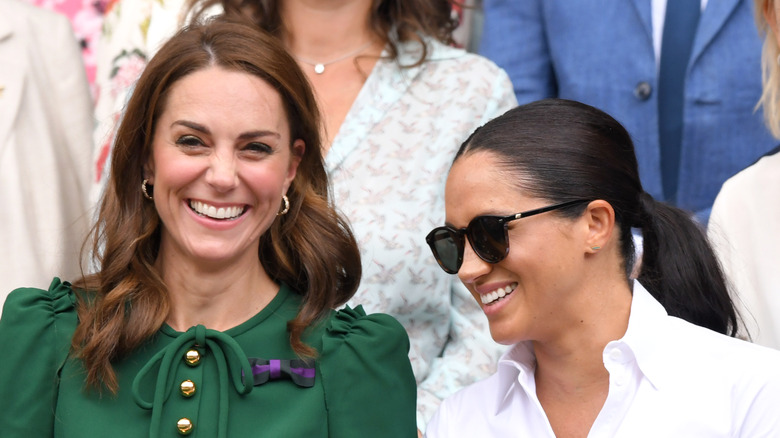 Karwai Tang/Getty Images
Ever since Meghan Markle first stepped out with Prince Harry, she's been the subject of endless media scrutiny — but she has also sported stunning fashion ever since she was first introduced as the younger prince's paramour. In 2019, Vogue Australia reported that Meghan was Lyst's most influential style icon, with the search platform reporting that Meghan's wardrobe choices caused a 216% jump in searches for items similar to those she wore. When she wore a shirt dress? Then everyone wanted to wear a shirt dress. Or, at the very least, there was a 45% increase in searches for the garment.
And Meghan isn't the only royal who's been noticed for her fashion choices — Catherine, Princess of Wales, has also made her mark as a sartorial icon. As Vogue noted, the "Kate effect" phenomenon points out the princess' ability to cause nearly every item she dons to sell out. 
Between Meghan and Kate's similar but slightly different styles, there's plenty of inspiration to be gleaned from their fashion choices. However, according to a new poll, when it comes to fashion wares, Meghan has a slight edge over her sister-in-law.
Who has the most influential style in America: Meghan or Kate?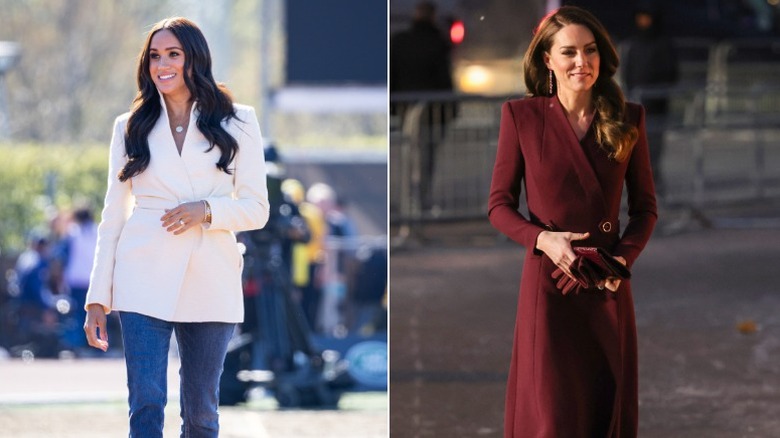 Patrick Van Katwijk, Chris Jackson/Getty Images
The brand Boohoo asked its customers: Who has the most influential style in America? Per The Mirror, the answer wasn't Meghan or Kate, but actually singer Billie Eilish, who in the last couple of years has ditched her signature green hair. That said, both Meghan and Kate made the list, with Meghan edging Kate out for the fourth spot, with Kate coming in fifth.
As any fashionista knows — or at least, as anyone who's seen "The Devil Wears Prada" knows — good style doesn't happen by accident. Each have specific rules they seemingly adhere to. According to the Daily Mail, Kate tends to lean more conservative in her wardrobe choices, while Meghan feels comfortable rocking a more modern look. When it comes to jewelry, Kate leans towards bigger, sparklier statement pieces, and Meghan chooses smaller, simpler earrings and necklaces. A similar ethos applies towards each of the ladies' color schemes: Kate will often step out in bright colors that emulate the late Queen Elizabeth II's sense of style. Meghan, on the other hand, prefers neutral colors, an intentional choice she made in order to avoid wearing the same color as another member of the royal family. 
Ultimately, Meghan's style is one that can be emulated by anyone, which may be why she ranked above Kate. As TikTok user Madison Jade put it, Meghan's fashion sense is "very timeless. While I find a lot of her style is very 2016 ... I still think it looks really good today."