The Ideal Lipstick Formula If You Have Dry Lips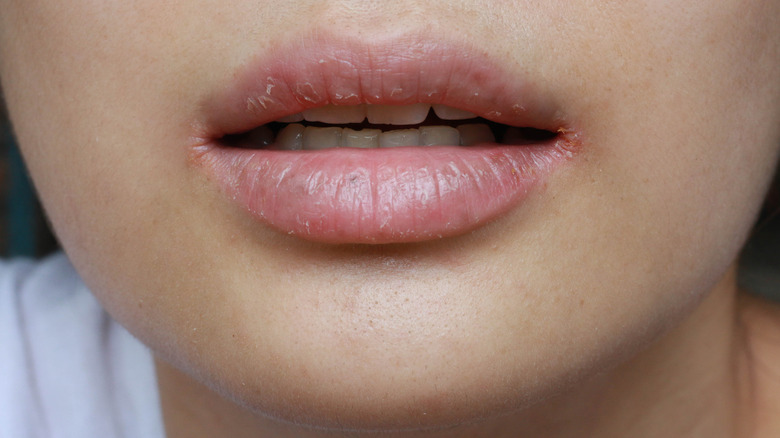 Wonderplay/Shutterstock
No one wants to have dry or chapped lips. It's an uncomfortable experience; unfortunately, several factors can cause it, including the weather. When it's cold out, your lips lose moisture, and dehydration can trigger the same effect on a hot sunny day. Licking your lips, medications, and grubbing on salty foods can also cause dry lips. Due to a lack of hair and certain glands, lips retain water poorly. Thus, the lips are especially susceptible to feeling dry. In addition, dry lips have unpleasant symptoms such as itching and, sometimes, pain.
If you love lipstick, you know this can be a problem; lipstick on dry lips does not look great. The lipstick can flake and bring out your lip's imperfections even more. Likewise, it can appear streaky and worsen the symptoms of your dry lips. Experts note that certain lipstick formulas should be avoided if you have dry lips, especially lip stains and matte lipstick.
Dermatologist Dr. Shereene Idriss explained to Huda Beauty, "Lip products like stains and matte lipsticks can dry out your lips over time because of their formulation. [Stains and mattes] are waxier, therefore, have fewer oils, which allows for a richer color on the lips, but less hydration." However, by choosing lipstick with a hydrating formula, you can evade these unpleasant problems.
The creamier the formula, the better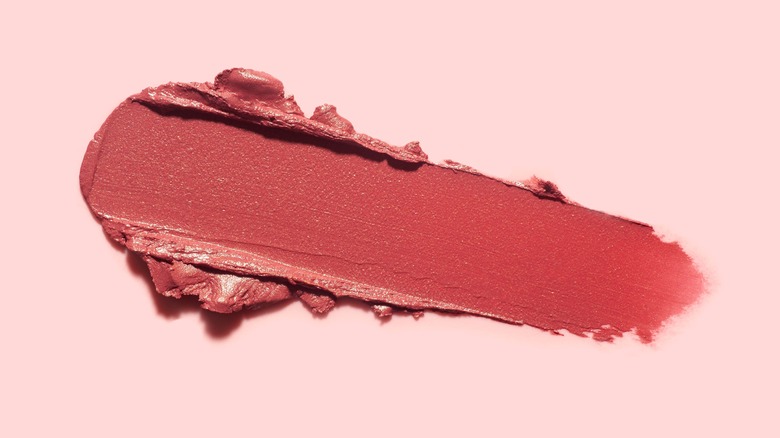 fotaro100/Shutterstock
For dry lips, experts suggest picking a lip product with nourishing ingredients. This includes shea butter, jojoba oil, and hyaluronic acid, amongst others. These ingredients work by providing relief and trapping moisture in the lips. Furthermore, experts say that creamy lipstick is the way to go. Makeup artist Gabriel Almodovar explained why to Makeup. He said, "If your lips are chapped, a lipstick with a creamy finish is ideal because it has the most oil in the formula." Another option is lip gloss. The right formula can plump, shine, and moisturize the lips.
Amy Conway, a Pro Artist at Bobbi Brown, told Who What Wear her advice for people with dry lips. She said, "You will find the bolder the pigment, the less nourishing the lipstick can be. Choosing a shade that is the same tone as your lip naturally enhances your smile and complexion without drawing attention to any dryness." In this case, tinted lip balm can also do the trick. It's a barely there lipstick alternative that can give a "your lips but better" look. With that said, several products on the market are creamy and explicitly designed to aid dry lips.
This includes Be Legendary Prime & Plush Lipstick by Smashbox, which has peptides and a built-in primer to moisturize lips, the L'Oreal Paris Glow Paradise Balm-in-Lipstick with Pomegranate Extract, and the Tarte Maracuja Juicy Lip Balm.
This is how to apply lipstick on dry lips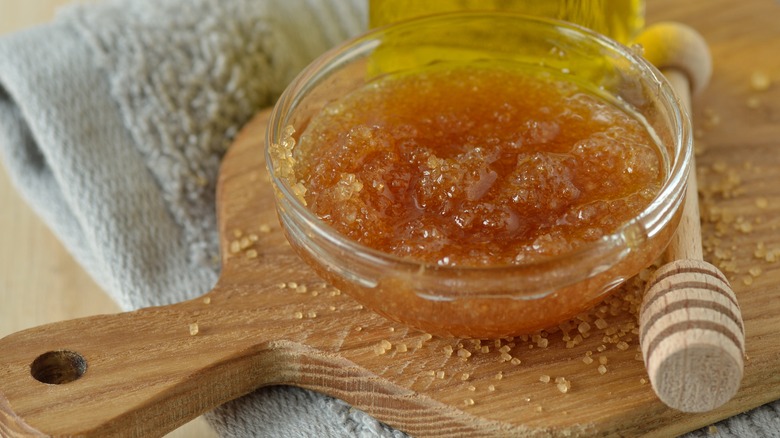 CalypsoArt/Shutterstock
If having dry lips is a persistent problem for you, there are steps you can take to improve the quality of your lips. First and foremost, make sure you stay hydrated. If your dry lips are weather-related, consider sleeping with a humidifier during the winter. Dermatologists suggest avoiding lip product ingredients like fragrance, eucalyptus, menthol, and more. If your lips don't get any better after trying home remedies or a lip balm, see your doctor; dry lips could be a vitamin deficiency, such as vitamin B12. If you still want to wear matte lipstick, there are preventive measures you can take to prevent further dryness.
The key is prepping your lips before you apply lipstick. The night before, use an overnight lip mask. Depending on your lip mask, they can provide moisture, collagen, vitamins, and anti-aging effects. You'll wake up with supple and plump lips in the morning and ready for the next step; lip scrub. Use a lip scrub to soften your lips and remove dead skin cells. After, put it on lip balm and wear it for 20 minutes before swiping on your lipstick to ensure you've locked in the moisture in your lips.
Lastly, choose a matte lipstick or any lipstick with a hydrating formula. Hydrating mattes to consider are the olive oil and antioxidant-infused Liquid Matte Ultra-Comfort Transfer-Proof Lipstick by Huda Beauty or Maybelline Color Sensational Ultimatte Matte Lipstick, which has jojoba oil.