General Hospital Producer Explains Why Soap Chose To Let Sonya Eddy's Character Epiphany Die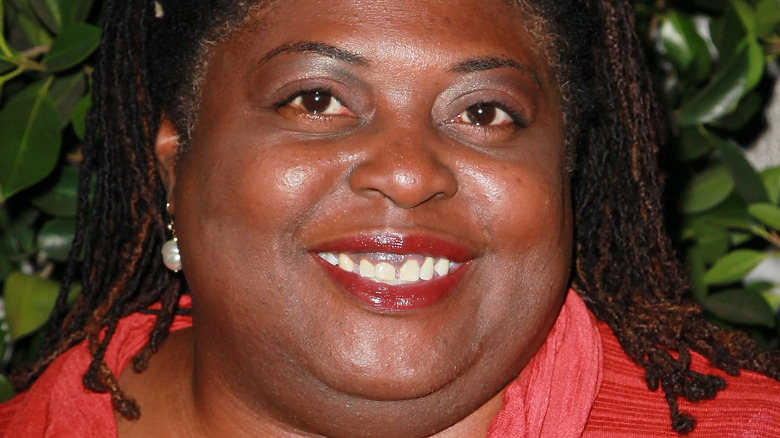 David Livingston/Getty Images
Very few TV shows run for decades, but when they do, it's not surprising that actors die during their tenure. "The Young and the Restless" actress Jeanne Cooper died at age 84 in 2013, while fans all over mourned the beloved "Days of Our Lives" star John Aniston's heartbreaking death at age 89 in 2022. It's always sad when a fan-favorite actor dies, and "General Hospital" has lost quite a few stars over the years. Shell Kepler, who famously played the gossip queen, nurse Amy Vining, sadly died at age 49 in 2008. Fan favorite character Alice Gunderson — the Quartermaine family's formidable maid — was portrayed by Laura Lynn "Bergen" Williams who died at age 62 in 2021. And beloved "GH" actor Jay Pickett passed away in 2021 at age 60, to whom co-star Kin Shriner paid tribute on Twitter, posting, "The sudden passing of my pal Jay Pickett is very sad. He loved acting and Westerns, and when we got together we laughed a lot. R.I.P. Jay." 
As "GH" works its way toward its 60th anniversary, fans were devastated when the well-loved Sonya Eddy (Epiphany Johnson) died in December 2022 at the young age of 55. Among the major plans for the celebration are the two big actor comebacks, the return of the Nurses' Ball, and the writers have also teased an emotional tribute for Eddy as well, which will air on Wednesday, March 29.
Sonya Eddy and Epiphany Johnson were incomparable
There are just some characters and actors on soap operas that cannot be recast or replaced. The esteemed head nurse Epiphany Johnson on "General Hospital" is one such character, and executive producer Frank Valentini told Soap Opera Digest (via Michael Fairman TV) that they would not recast the part because Eddy is unparalleled. "We decided it was important to honor not only Sonya, but Epiphany and we wanted to dedicate a full entire episode all about that," Valentini stated.
Chris Van Etten and Dan O'Connor, the co-head writers of "GH," have lovingly crafted the tribute episode that will also lead into, and have an impact on, the return of the show's Nurses' Ball. "I think everyone was touched by what the writers wrote," Valentini said, adding, "It was an extraordinary script and it was a labor of love that day in honor of Sonya, who was so incredibly loved by everybody in the cast and crew." Tying things into the Nurses' Ball, Valentini stated, "Epiphany is a very pivotal person in the Nurses' Ball, so it's almost like a part two (of her tribute)."
Fans are awaiting the bittersweet celebration of Eddy and Epiphany's life, and so are we.