Finola Hughes Dishes On Her Favorite General Hospital Co-Stars To Date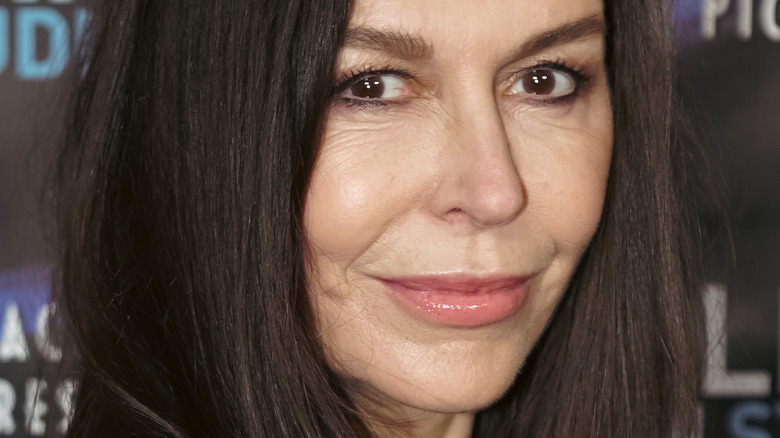 Andrew J Cunningham/Getty Images
"General Hospital" fans have been rooting for superspy Anna Devane (Finola Hughes) for decades. Recently, the sinister Victor Cassadine (Charles Shaughnessy) has been embarking on a secret plan that may have catastrophic results for Port Charles and the world. Because the legendary Luke Spencer (Anthony Gear) had reportedly gotten close to finding out what Victor's plan was, the evildoer arranged an accident that seemingly killed the icon. Victor threatened the life of Holly Sutton's (Emma Samms) son, Ethan Lovett (Nathan Parsons), forcing her to impersonate Anna and kill Lucy Coe (Lynn Herring). After planting damning evidence, Anna escaped from the authorities and went on the run with Victor's son, Valentin Cassadine (James Patrick Stuart).
Together with help from former spy Robert Scorpio (Tristan Rogers), private investigator Felicia Scorpio (Kristina Wagner), and mayor Laura Collins (Genie Francis), the team helped Holly escape Victor's control by making it seem like she was catastrophically injured. They're also working hard to take Victor down, with Anna, Valentin, and Lucy faking their deaths. The team has even recruited deputy mayor Eileen Ashby (Heather Mazur) — who had also been forced to do Victor's bidding — to switch sides and help defeat the bad guy. Anna pretended to haunt the already nervous Eileen, rattling her so much that she confessed to her misdeeds as directed by Victor.
Now, as things heat up on "GH," Hughes took some time to have fun on a different show.
Hughes wants to do a Housewives of GH show
On the show, "Watch What Happens Live," host Andy Cohen asked "General Hospital" star Finola Hughes who is her closest real-life friend from the soap. She answered, "Well, I think I would name, uhm, two. That would be Ian Buchanan [ex-Duke Lavery], then Kimberly McCullough who played my daughter [Robin Scorpio]. So yeah, so we're very tight." Hughes added that McCullough is now a director and producer on the Disney+ show "High School Musical: The Musical: The Series."
Cohen then picked Hughes' brain about soap stars like Eileen Davidson and Lisa Rinna who have appeared on "The Real Housewives of Beverly Hills," and her thoughts on that. "They learned everything from us," Hughes laughed, and then extended an invitation to the show's guest co-hosts, Porsha Williams and Gizelle Bryant , to come on "General Hospital." She continued, "You can give us a master class on how to do all this and then you can have the 'Housewives of GH.'" Williams and Bryant are alums of the shows "The Real Housewives of Atlanta" and "The Real Housewives of Potomac," respectively, and the audience cheered at the possible notion.
Cohen lastly asked Hughes if she could cry on cue, and the actress explained, "It takes a while ... you have to be in the mood."