Prince Harry Returns To The UK For Court Appearance, But Royal Family Reunion Is Unlikely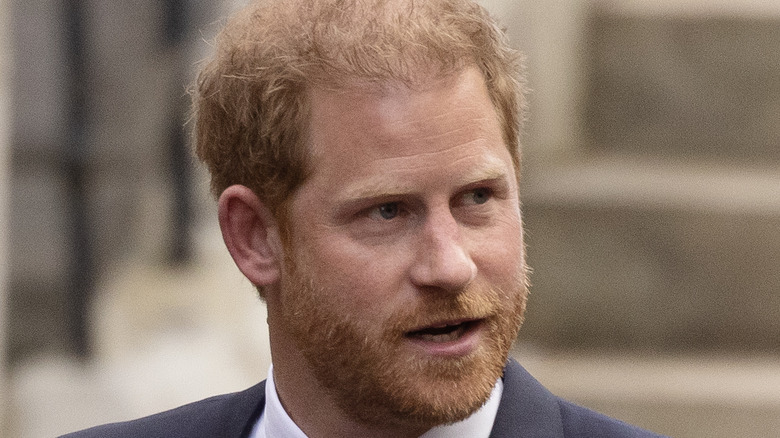 Dan Kitwood/Getty Images
Prince Harry is no stranger to taking legal action. In June 2022, Newsweek reported that Harry and Megan Markle, Duke and Duchess of Sussex, were on the cusp of filing their 10th lawsuit in less than 5 years. While one of Harry's legal cases involves his struggle with obtaining security during trips to the U.K., the majority of his lawsuits involve tabloid media.
In his memoir, "Spare," Harry discussed his strong feelings about British media, along with his belief that in their quest to obtain royal news, they played a role in the tragic death of his mother, Princess Diana. In his Netflix docuseries, "Harry & Meghan," the duke also claimed that stress from British press coverage caused Meghan's miscarriage. At the time, Britain's Mail on Sunday had published a personal letter Meghan wrote to her estranged father, Thomas Markle. 
Currently, Harry has a few ongoing legal battles against the media. One, a libel case involving the Mail on Sunday, had a hearing on March 17. This case pertained to a specific published article which, according to the prince, falsely claimed he lied about his pending security case. While that case is awaiting a judge's decision, Harry also has more lawsuits that are waiting for their day in court, such as cases involving The Sun and the Daily Mirror. In addition, another case involving Associated Newspapers Limited had its hearing on March 27, and the duke made a special trip this time.
Prince Harry showed support for a group lawsuit involving the media and privacy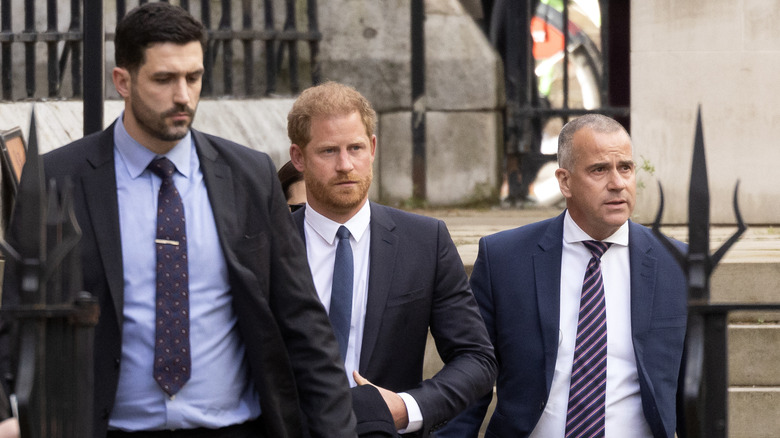 Dan Kitwood/Getty Images
Prince Harry flew to the U.K. to appear in court for the first day of a 4-day hearing. This case dates from 2022 when Harry joined forces with Elton John in a lawsuit against Associated Newspapers Limited, publisher of the Daily Mail, the Mail on Sunday, and the Mail Online. John's husband, David Furnish, is also among the group of seven claimants involved in the lawsuit (via the Telegraph). As reported by The Times, they allege the publisher used illegal techniques to obtain private information between 1993-2018.
According to the Daily Mail, Associated Newspapers referred to the allegations as "unsubstantiated and highly defamatory claims, based on no credible evidence." The company's legal team believes the case should be dismissed as it relates to events from 30 years ago, citing the 6-year statute of limitations for privacy claims.
While the Duke of Sussex was not required to appear, Sky News observed that he entered the building through the front door, causing a stir. In contrast, John opted for a side door. Of course, now that he's in the U.K., many wondered if he would also take time for a family visit, similar to April 2022, when he made a secret visit with Queen Elizabeth II on his way to the Invictus Games. However, he didn't see his father or brother then, and a visit with King Charles III or William, Prince of Wales is also improbable this time around.
King Charles is busy, and Prince William is out of town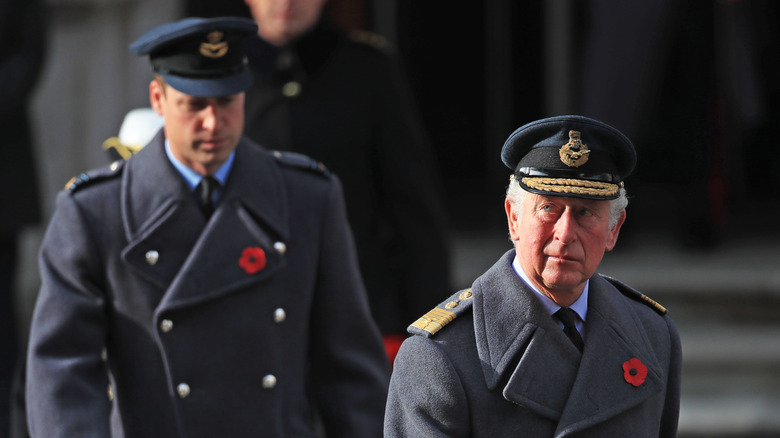 Wpa Pool/Getty Images
King Charles was scheduled to be in France on March 27, but President Emmanuel Macron canceled the visit on March 24 amid safety concerns stemming from protests involving retirement age. Even so, when Prince Harry contacted the Palace, they said the king was "busy" and unable to fit in a visit with his son, per The Telegraph. On Wednesday, Charles is heading to Germany for his first royal tour as king.
Harry also won't have an opportunity to see Prince William. Harry is staying at Frogmore Cottage, and although William's current home, Adelaide Cottage, is nearby, the Prince and Princess of Wales won't be home. Their three children started a holiday break, and the family typically takes advantage of the time off by going to Anmer Hall in Norfolk or by traveling internationally. 
Although a family visit didn't work out this time, Harry could decide to combine a visit for Charles' coronation with another upcoming court case. The prince's lawsuit against the Mirror is scheduled to start May 9. According to Roberta Fiorito, one of the hosts of the podcast Royally Obsessed, Harry's attendance will be mandatory, "since he is going to take the witness stand," per Express. She added, "I think the logistics of it make sense for him to attend the Coronation and then stay on for this [trial]," which is scheduled to last for six to seven weeks."