Can You Use Peel-Off Lip Stain As Blush? Try This Viral Hack For Yourself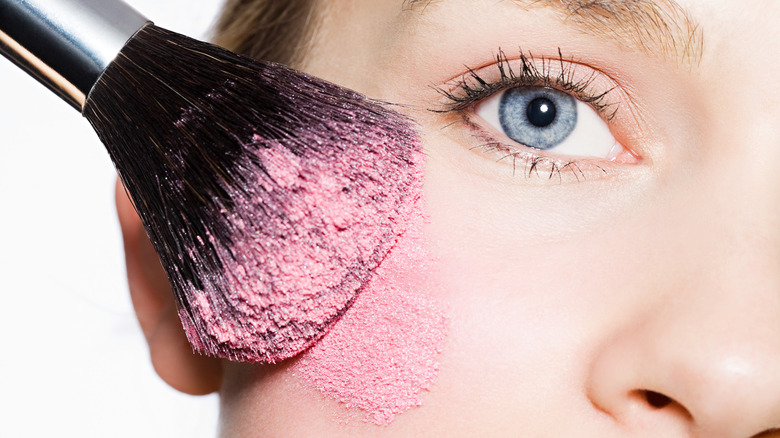 Image Source Ltd/Getty Images
Lip stains are meant to last considerably longer than other products. If you don't have one but want to give it a try, you can create your own lip stain substitutions with items you probably already own like Vaseline and blush — however, you should avoid replacing your lip stain with food coloring because it can irritate your skin. 
One specific type of lip stain that's currently gaining traction is a peel-off lip stain. The way the peel-off variation works is that the lip stain is applied to your lips as usual. When it is applied, the lip stain has an incredibly glossy sheen. Once the lip stain has dried, you are able to peel off the shiny top layer. 
What's left behind is a nice tint of your lip color of choice. However, is it possible that peel-off lip stains can be used for more than just lips? Could they even replace blush? One TikToker gave this hack a try, with surprising results.
Trying peel-off lip stain as blush
In the video above, TikTok beauty influencer Gina Esler-Box applied peel-off lip stain on her lips first — so the colors would match — and then put it on the apples of her cheeks with a brush, making sure to add layers thick enough to peel off when the time came. Esler-Box was not optimistic about the hack, even going as far as to say, "This is going to be so bad." 
With the bright red, glossy stain on both her cheeks and her lips, she compared the look to that of Pikachu, the famous Pokémon. Despite Esler-Box's reservations and doubts, the hack was a total success. Once the stain dried, she started the peeling process, which was fairly simple. After peeling and then blending the lip stain properly into her cheeks, she was impressed with the results.
After admiring the look, Esler-Box admitted, "I kind of like it." She added, "Am I strange, or is this good for [a] no-makeup day?"
Fan reactions and similar hacks
One commenter on Gina Esler-Box's video was similarly shocked, sharing, "I can't believe that really came together so well." Another viewer was convinced to give this hack a try personally, noting, "First I got talked into getting these stains. Now I've been talked into trying lip stain as blush. Will report back." A few other commenters were not so sure about the hack, pondering if the peel-off lip stain blush would last if you tried to apply it over a foundation base. 
The hack of using peel-off lip stain as blush is similar to others that have been shared online by intrepid beauty bloggers. Influencers have been known to use lip gloss, lip tint, or even lipstick as blush as well, for instance. When using a shimmery lip gloss in place of blush, it is recommended that you don't use too much of the product to avoid ending up with too-bright cheeks. 
With the peel-off lip stain, however, you need to apply it liberally to ensure that you have enough of the product to peel it off. If the color is still too dark after blending your peel-off blush, you can apply some concealer over your cheeks.