The 'One Pump Challenge' Is Here To Challenge Your Heavy Makeup Routine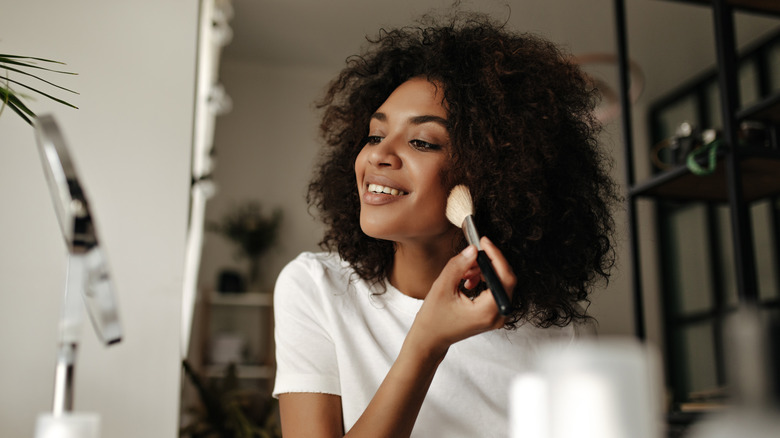 Look Studio/Shutterstock
From accentuating our natural features to serving a purely artistic purpose, makeup offers a whole range of colorful possibilities. In this era of social media, creators like Meredith Duxbury are increasingly popping up on our "For You" pages, advocating for the "more is more" philosophy when it comes to foundation application. "People try it and they're like, 'I apologize, I love this,'" the creator told E! News, referring to recent heavy makeup converts populating her page. 
She also admitted, "Honestly, before I tried it, I was like, 'Is this going to work?' And it ended up being amazing." Almost as if in direct contradiction to this growing trend, the "no makeup" makeup look is also having a moment, touted by famous "clean girls" like Selena Gomez and Bella Hadid. Though both methods have their drawbacks — no-makeup makeup isn't representative of those with acne and skin texture, for instance — their fanbases are equally passionate. 
When it comes to excess foundation, the possible side effects for your skin, not to mention the financial strain, also shouldn't be ignored. If you're trying to find a healthy balance in your makeup routine, consider the viral "one pump challenge."
The challenge makes the most out of a single squirt
The "one pump challenge," aka the "one dip challenge," isn't just limited to foundation. As creator Audge Podge demonstrated in the viral video above, the rules of the challenge require a single portion of each makeup product. That means one pump of things like foundation and primer, and one dip of mascara, cream blush, concealer, and brow gel. 
"This one dip one pump challenge reminds us not to waste product," she explained, adding, "Also, it helps you find what products are pigmented." When experimenting with the challenge, the creator used her fingers as applicators so as not to waste any color. When trying this method out for yourself, keep in mind that certain techniques can make less look like more. 
For starters, let your concealer "marinate" before blending it out. As the formula dries, it's absorbed into the skin, becoming more high-coverage in the process. As TikTokers have found, you may be surprised to learn how little makeup you actually need to cover all your bases. It's no wonder that the #onedipchallenge and #onepumpchallenge have well over 160 million combined views on the site and counting. 
The 'one pump challenge' is great for your wallet too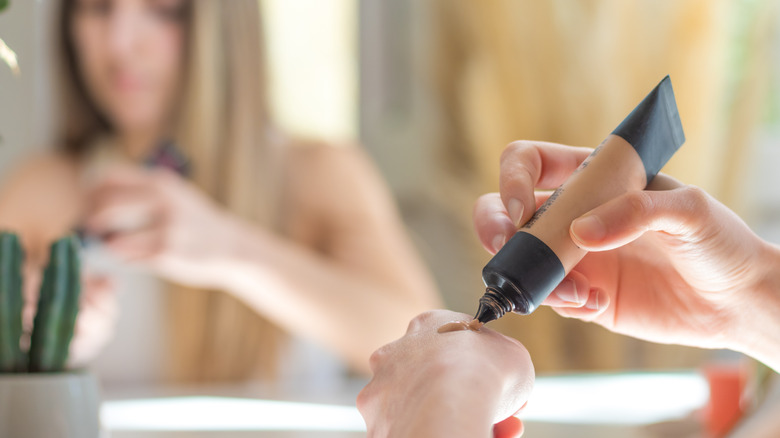 Pablo Vivaracho Hernandez/Getty Images
Citing a OnePoll study, SWNS Digital notes that women spend an average of $91 a month on their faces, with much of that budget going towards beauty products — that's well over $1,000 each year. Due to influencer-driven viral makeup, those expenditures are only going up. At the same time, an increasing number of discarded products are entering our already-crowded landfills. Ultimately, the more pumps of foundation you use, the more your bank account will suffer (and the more plastics you're sentencing to the trash). 
Likewise, heavy makeup use can hurt your skin health and self-esteem in the long run. Failing to cleanse properly after a day of heavy foundation often results in exacerbated breakouts. As Donni Davy, the makeup artist behind "Euphoria's" viral glam, asserted in an interview with The New York Times, "I think it's really important to reflect on why there is this tendency to use really heavy foundation to give ourselves this filtered look in person or for our social media." 
When foundation acts as a security blanket, it can be hard to feel confident baring your natural skin to the world. To ease into the "less is more" method, Davy recommends diluting a small pump of foundation with a tinted moisturizer or illuminator — this way, you're getting full coverage with less product. It's also an easy way to get involved in the "one pump challenge" since a single squirt is all you need.