'Marinate' Your Concealer To Get The Most Out Of Your Product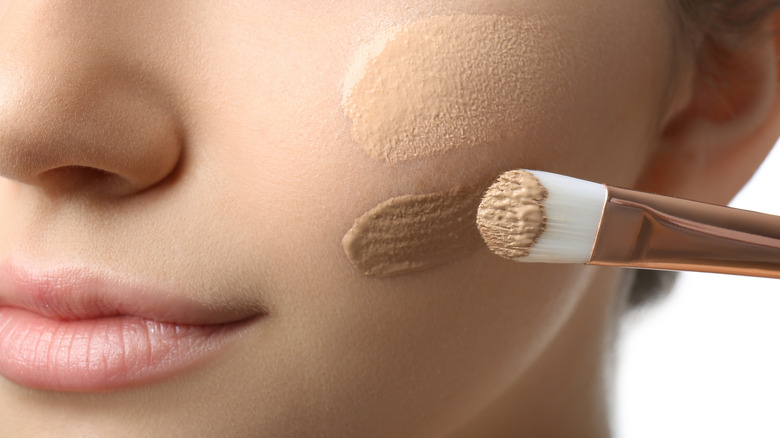 New Africa/Shutterstock
There is a long list of things that TikTok made you buy, but there is perhaps an even longer list of things it made you want to try — especially when it comes to makeup.
There is no shortage of TikTok trends that people succumb to in the name of beauty. Remember that time when makeup artists recommended mixing blush with your under-eye concealer to help reduce the appearance of dark circles? Or how about that one time that people started frothing their liquid foundations to create a "whip" consistency and make it feel lighter when applied on the skin? Trends usually teeter on the edge of bizarre, partly because of virality's sake and partly because some people believe that the hack really works, even if it means smearing red lipstick all over your face for contouring purposes.
But of course, not all TikTok makeup trends are strange or useless. There are still plenty that makes sense, like the trend that suggests "marinating" your concealer to maximize the use of product.
How does marinating makeup work?
Foundation may make your skin appear more even, but concealer is the real hero of your makeup routine, as it's specifically formulated to hide most — if not all — of your blemishes, including acne, redness, sun spots, dark spots, and other hyperpigmentation. But if you've got a lot of concealing to do, you naturally want to make the most out of your concealer to avoid wasting the expensive goop. And per TikTok, the most effective way to do that is to let it "marinate," aka letting it sit for a few minutes before blending.
Instead of immediately putting your brush or sponge to work after applying concealer on your face, you may want to wait a few moments before doing so to allow the product to settle and get absorbed by the skin. When you start blending, you may find that you no longer need an additional layer of concealer because part of the product has already been deposited into the skin.
If you want to ensure its longevity, you can also try cooking or baking, which requires you to add powder on top of the concealer. "It involves covering a layer of concealer with powder, letting it sit, then brushing it away," Lorac National Pro Artist Dean Fournier explained to Redbook Magazine. "It allows the powder to heat up and melt the concealer into the skin so that there's no creasing or fading."
Other concealer tricks to try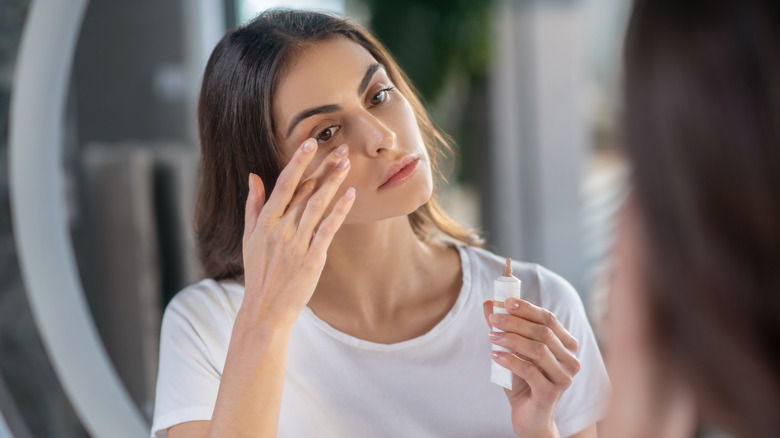 Zinkevych/Getty Images
Even though concealer only exists to mask your blemishes, there are countless other ways you can play around with it. For instance, celebrity makeup artist Aliana Lopez notes that you shouldn't be afraid to try out color-correcting concealers that come in different shades. "A rosy-toned concealer helps with blue and purple tones in lighter skin, and an orange-red concealer helps cancel out dark areas on darker-toned skin," she told Well+Good. You may even want to use concealer in contouring and highlighting, especially on the top of your nose, chin, and above the cheekbone area to illuminate those points.
It should be noted, though, that you must use different concealers for different concealing purposes. You wouldn't want to, say, apply a thick or creamy concealer under your eyes as it will only create a caked-up effect. "Undereye concealer should be less dry and thick in texture and consistency compared with pimple concealer," Mai Quynh, a celebrity makeup artist, told Glamour. "You want to make sure your pimple concealer stays put, while your undereye skin is delicate and thinner, and you want a concealer that won't settle into fine lines."