How Much Should You Be Tipping At Nail Salons?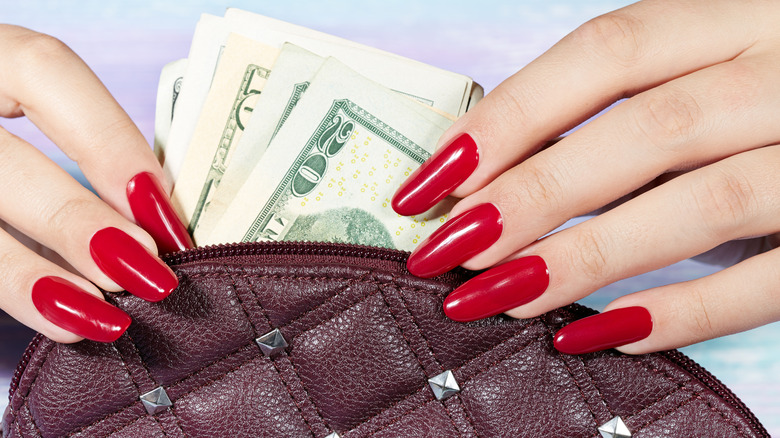 natkinzu/Shutterstock
There's something exciting yet relaxing about going to the nail salon for a manicure or pedicure. Whether your goal is to achieve a minimal look or make a statement similar to the iridescent nail trend, there are a variety of nail services you can receive. That being said, you may not look forward to the moment when it comes time to figure out whether or not you should leave a tip after your appointment. It's possible that you may not understand its purpose or you may be unsure of how much to tip.
There's a misconception that nail techs make a good deal of money but that's not necessarily true, especially for those who are new to the industry. According to Mint, nail techs in states like Georgia may only bring home $26,000 annually. It's important to note that this doesn't factor in the cost of supplies. When put into perspective, this means nail techs can't always rely on their hourly wages to make a living.
It's the reason why tipping is often crucial. Tipping is a way of expressing gratitude for the amount of time and level of care that goes into services provided at nail salons. 
According to a nail tech, there's one important factor to consider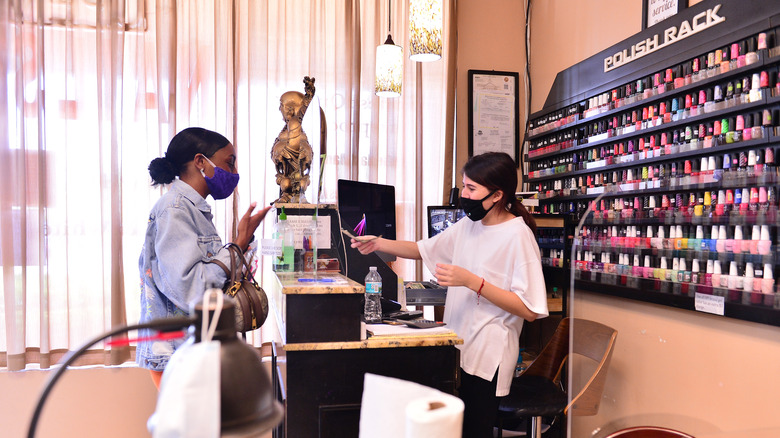 Johnny Louis/Getty Images
According to Glamour, you should aim to tip anywhere from 15 to 20 percent after a nail appointment, but there are a few factors to consider. If you receive multiple services during your appointment that you're satisfied with, it's common practice to tip more. Manicures and pedicures often involve more than a polish change, and can take up to 60 minutes to complete if you add on services like cuticle or callus removal treatments. 
On the other hand, if you're receiving acrylic nails with designs such as painted artwork, encapsulation, or crystals, even more time goes into ensuring each aspect is up to par with what you desire. This is especially true if you bring in a picture of a nail set you're inspired by from platforms such as Instagram or Pinterest. 
Manicurist Jin Soon Choi told Byrdie that most important thing customers should consider when it comes to tipping is "quality of work." She explained that since the amount of time a customer spends in a salon can vary, it's important to base the tip on how satisfied they are with the work of their nail tech and the finished product. 
Preferred methods of tipping and what to do if you're dissatisfied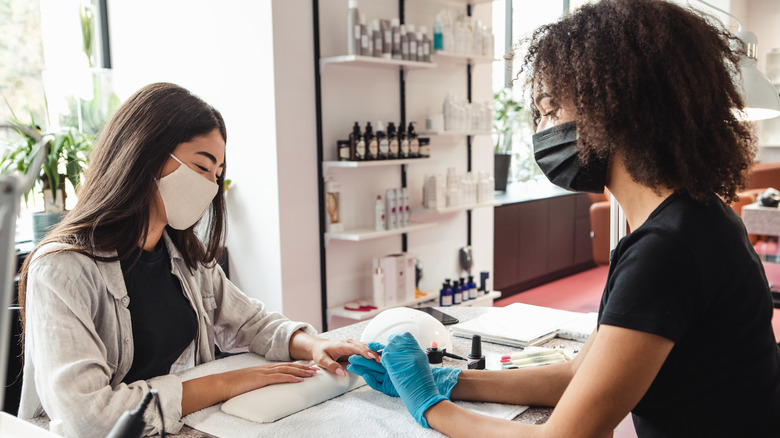 Prostock-studio/Shutterstock
Although we've come to rely on using credit cards to make payments, nail techs prefer you to tip in cash. The reason? Cash tips are immediately received whereas tips placed on credit cards aren't processed until it's time for nail techs to be paid. Tati Dantzler, founder of Tati's Nails XoXo, told Instyle that cash tips are helpful on the salon owner's end as well "because it's less paperwork and fewer taxes they're responsible for."
In the event that you're completely dissatisfied with your service(s), you may be wondering if it's still appropriate to tip. Some nail techs are divided on this, but it's agreed that you should voice any concerns you have before the end of your appointment. This can give the nail tech or the owner, if present, a chance to rectify the situation instead of immediately resolving to tip less or skipping out on it altogether. And if poor service becomes a regular thing, you just might want to consider breaking up with your nail tech.