Strange Things Everyone Ignores About Sarah Ferguson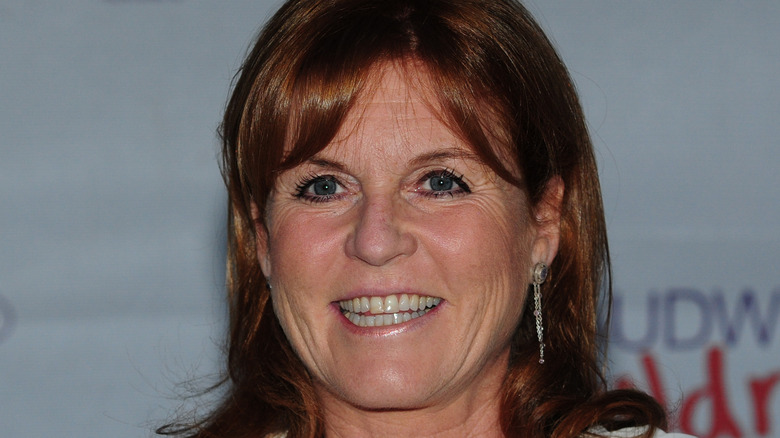 Featureflash Photo Agency/Shutterstock
Of all the members of the royal family who have struck out on their own, Sarah Ferguson is a maverick. The Duchess of York, Sarah (affectionately known as Fergie) has been in the public eye since the mid-1980s and was married to Prince Andrew from 1986 until 1996. Their divorce was just one of three imploded marriages that rocked the royals: Then-Prince Charles and Diana Spencer, as well as Princess Anne and Captain Mark Phillips, separated roughly at the same time. Unlike the other spousal outcasts, however, Fergie managed to maintain somewhat of a friendly relationship with the firm and has continued to represent the royal family to this day, albeit in an unconventional way.
Of course, her ex has been in the headlines over the last years for his problematic relationship to the late and disgraced Jeffrey Epstein, and Andrew's settlement with accuser Virginia Giuffre was the last straw for the royals. Andrew was pulled away from the public eye, stripped of his military titles, and has essentially remained behind closed doors ever since. What may shock you to learn, however, is that Fergie has been right there with him, supporting him in the questionable aftermath. 
There are, in fact, quite a few things about Fergie that are a bit odd — like how she dragged the royals in her 1996 memoir and the fact that she is technically related to her husband — that everyone seems to ignore.
Sarah still lives with her ex-husband, Prince Andrew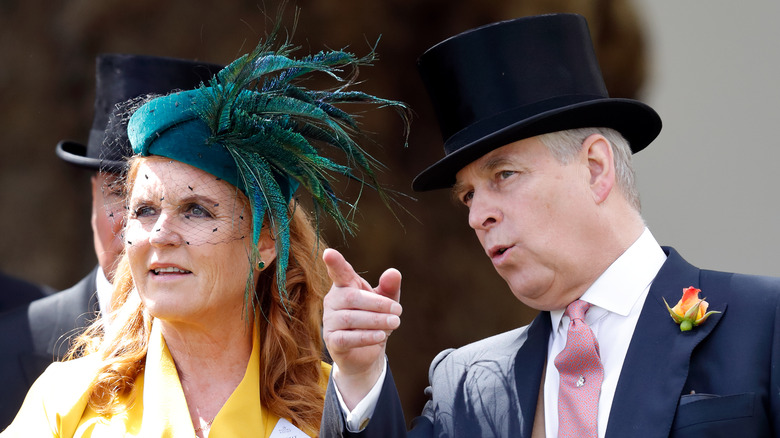 Max Mumby/indigo/Getty Images
One of the oddest facts about Sarah Ferguson is that she still lives with her ex-husband, Prince Andrew. Not only do the divorcees cohabitate, but they've bought real estate properties together like any married couple would — except for the fact that they've been divorced for almost two decades. The couple have called the Royal Lodge home for years, and though there are whispers that they will be kicked out due to Andrew's allowance from the royals being slashed, they are still within its walls. Speaking to Fox News about the dynamic, British public affairs officer Shannon Felton Spence said that not only do Fergie and Andrew live together, but "[Fergie] speaks glowingly about him." 
"She constantly talks about how she got the best looking prince. They have maintained an extremely close relationship," Spence said of the exes' dynamic, which has survived divorce, scandal, and the Epstein saga. "By all accounts the Yorks are a very tight-knit family. A real unit."
Of course, the Epstein scandal did rock the family of four, and Spence estimated that Fergie likely focused on her daughters, Princess Eugenie and Princess Beatrice, throughout the headline-making debacle. Still, however, she has chosen to maintain her living arrangement with Andrew and stay by his side despite the drama.
Fergie is oddly not included at all on the royal website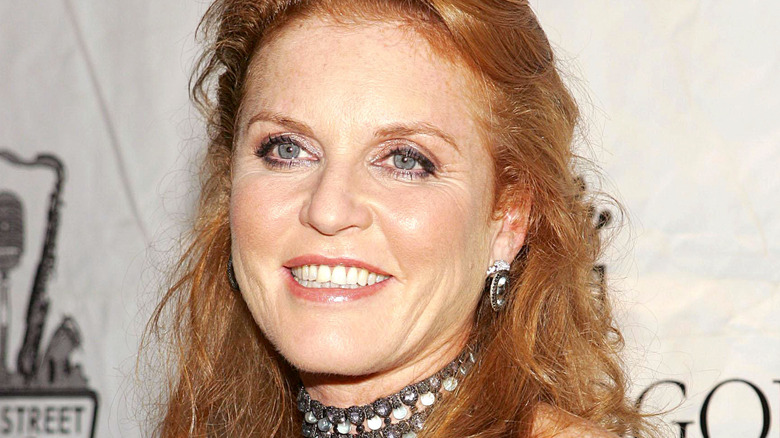 Everett Collection/Shutterstock
Any royal watcher will tell you that the royal website has been a point of contention lately. Prince Harry and Meghan Markle, whose children were entitled to prince and princess designations, did not see an update on the royal website in a timely fashion. It was a fight for their children to be given the titles, anyway, in part thanks to the couple's estranged life in California. But they aren't the only ones who have experienced a snub at the hands of the website. Sarah Ferguson is completely absent from the highly trafficked landing page, and isn't even included in Prince Andrew's "about" section.
While on the website's royal family member page, you have to scroll all the way down — past royals you may never have heard of — to get to Andrew's section. Unlike all the other members of the family who have their work detailed on their own pages and sections, Andrew's simply reads, "On 13 January 2022, Buckingham Palace made a statement regarding The Duke of York. With The Queen's approval and agreement, The Duke of York's military affiliations and Royal patronages have been returned to The Queen, and The Duke will continue to not carry out public duties." There is no mention of Fergie, their royal wedding, or the welcoming of their two children (who are also princesses). 
The duchess surprisingly reunited with her first serious boyfriend in 2022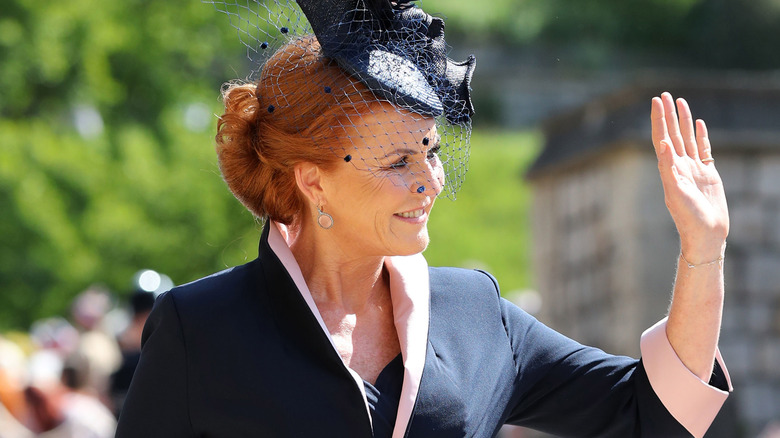 Wpa Pool/Getty Images
It's been a bit surprising to most that Sarah Ferguson has remained so close to Prince Andrew, given that their divorce was quite the scandal and they didn't see a way through their marital difficulties. But he isn't the only ex she is close to. In fact, during a skiing trip in 2022, Fergie reunited with her first serious boyfriend: Paddy McNally, who she left for Andrew way back in the day.
Joining her two daughters and their husbands on the trip, Fergie and McNally rang in the new year together at his impressive home in Verbier, appropriately dubbed "The Castle" by him and his crew. Though he had a girlfriend at the time, a source told the Daily Mail amid the celebrations that McNally and Fergie picked up their friendship right where they left things off, and it was clear that they were reminiscing and relying on each other to get through a rather tough spot given Andrew's ongoing scandal.
"Paddy spent a lot of time with Fergie, rallying round her by putting on a lavish fireworks display for her family, minus Andrew of course," the source said at the time. "Most of Andrew's remaining friends, the ones who used to go to Tramp with him, were there. Fergie enjoyed spending time with her dear friend Paddy, whom she adores."
Fergie has defended her ex-husband despite the allegations against him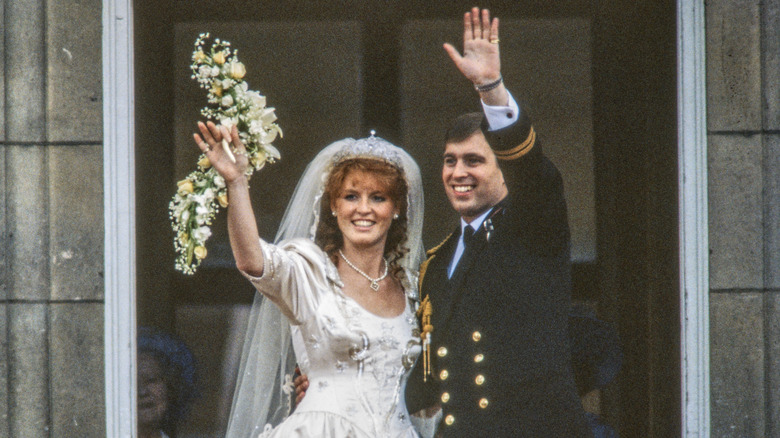 Derek Hudson/Getty Images
In the time since her divorce from Prince Andrew, Sarah Ferguson maintained her firecracker persona, and made it clear that she would not be losing her fiery spirit despite her marriage ending. In fact, she's carved out a space for herself as an author, releasing both memoirs and books, hitting the headlines amid press tours to promote her work. 
Speaking of her reputation and status as a rule breaker — especially by royal standards — Fergie told People in 2021 that she hasn't always enjoyed being at the center of attention. Of course, her ex-husband's scandal made all of that much more intense. "When you have a sense of humor and you're a redhead, everyone takes you for a big hurricane," she said. "But sometimes, you don't always want to be the storm." 
In the brief moment that she addressed Andrew and his association with Jeffrey Epstein, the stripping of his military titles, and the general fallout he experienced, Fergie had nothing but supportive comments for her ex-husband — a move that was a bit surprising. "Whatever challenges he has, I will stand firm to the co-parenters that we are together," she said. "I believe that he's a kind, good man, and he's been a fabulous father to the girls."
Sarah attended Diana Spencer's wedding, but not for the reason you think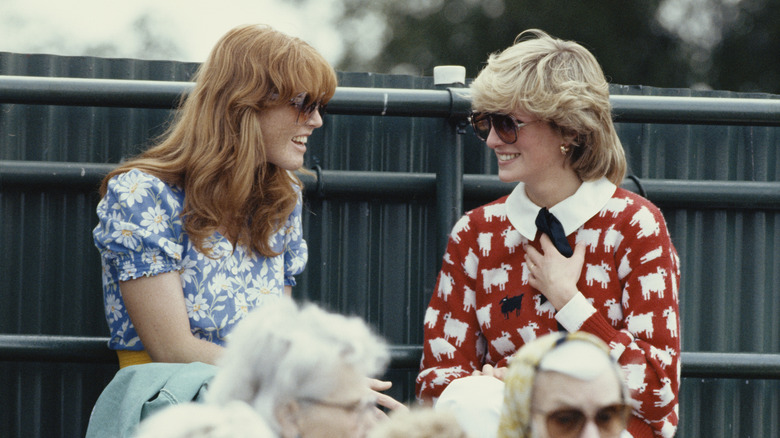 Georges De Keerle/Getty Images
When then-Prince Charles got engaged to the young Diana Spencer, the world anxiously waited for the royal wedding. Tying the knot on July 29, 1981 in the "wedding of the century," Charles and Diana looked to be the picture of a fairytale (though we all know that was a far cry from the truth). Nevertheless, Westminster Abbey was full to the brim of invited guests, and the streets of London were overflowing with supporters who wanted a glimpse at the bride. In attendance at the wedding was a young Sarah Ferguson, and while you may think that she was invited due to her affiliation with Prince Andrew, you'd be mistaken.
As it turns out, Fergie and Diana were actually fourth cousins (and when Diana and Charles got married, Fergie and Andrew weren't even dating yet). The two women were connected familially by the Duchess of Devonshire, Georgina, who was born into the Spencer family. Also linking Fergie and Diana were their mothers, Susan Barrantes and Frances Shand Kydd, whose connection dated all the way back to their days in school. Though they would eventually become sisters-in-law, Diana and Fergie clearly had a link that dated back generations.
The two became quite close in the 1980s, and certainly became the picture of youth amid the royal family. Their relationship, however, was not without its drama.
The duchess doesn't consider her mother to be her real parent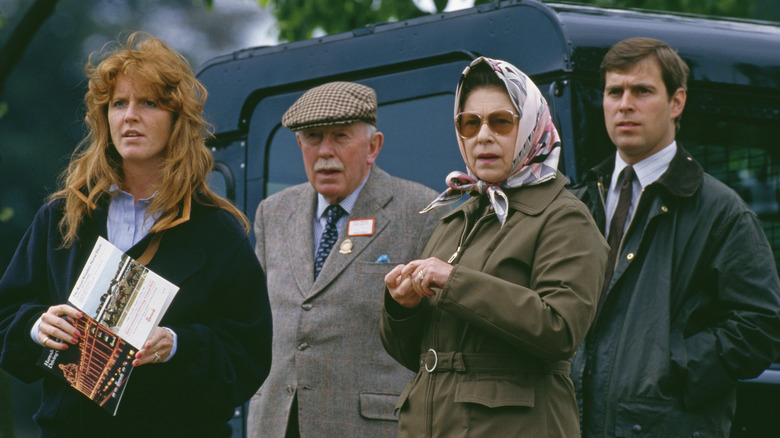 Georges De Keerle/Getty Images
Though we were all expecting it given her declining health and age, Queen Elizabeth II's death in September 2022 certainly rocked the world. So many of us had simply become used to her always being around, and to think that she was no longer the monarch was a fact that everyone had to come to terms with. As for Sarah Ferguson, she was able to maintain a good relationship with the queen despite her divorce from Prince Andrew, and in the aftermath of her death, Fergie shared just how deep their connection was. The queen essentially filled the role that Fergie's mother would have, if she had stayed in the duchess's life.
"[We were] very close," Fergie said of Elizabeth while appearing on "Live! With Kelly and Ryan" in March 2023, before recalling the strained relationship she had with her own mother. "I put it like she was more my mother than my mother because Mum went to run off with a very good-looking Argentine when I was about 14, and that's when the queen [was first] in my life because [of] polo and things like that. Then, she became my mother-in-law [after I married Andrew] and she was always there with that wonderful hand, that you could never see, behind your back. It was the support, that's what the nation felt [and] that's what the world felt."
Sarah and Diana had a massive falling out over an odd medical condition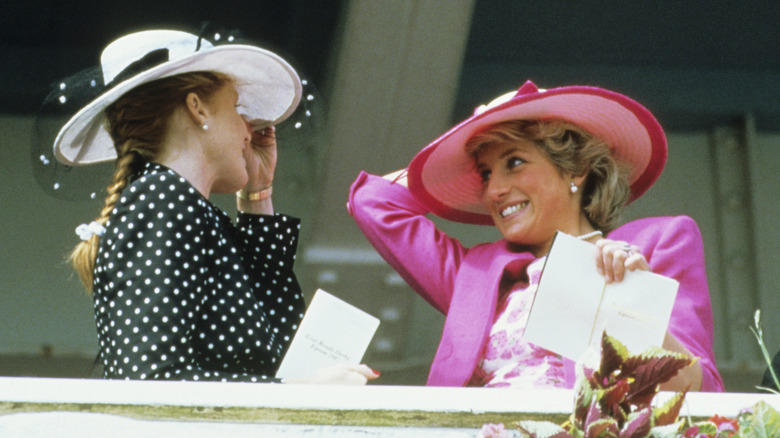 Georges De Keerle/Getty Images
While undeniably deep, Sarah Ferguson and Diana Spencer's relationship was not without drama. The two women were at incredible odds as their bond came to an end in 1997. 
Though both women married into the royal family and certainly bonded over their shared experience, it was Fergie's first book, "My Story," that firmly placed a wedge in their relationship. Released in 1996, Fergie talked quite a bit about her life in the book. Despite Diana's wish to be excluded from the pages, Fergie detailed an interaction between them involving a weird medical condition. Writing of a time where the then-Princess of Wales loaned her heels to wear, Fergie shared, "Diana helped me by giving me all her shoes (and less happily, her plantar warts)." Plantar warts, also called verrucas, aren't exactly the most pleasant to deal with, and Fergie's inclusion caused an all-out row between her and Diana.
Fergie's decision to write about the shoe interaction and other aspects of her relationship with Diana caused the two ex-royals to stop speaking to one another. Tragically, Diana died in August 1997, before she and Fergie had the chance to heal the wounds in their friendship. Fergie has continued to speak about her dynamic with Diana to this day, but they were not able to overcome their differences before her untimely death.
Fergie lets her dogs have the command of her house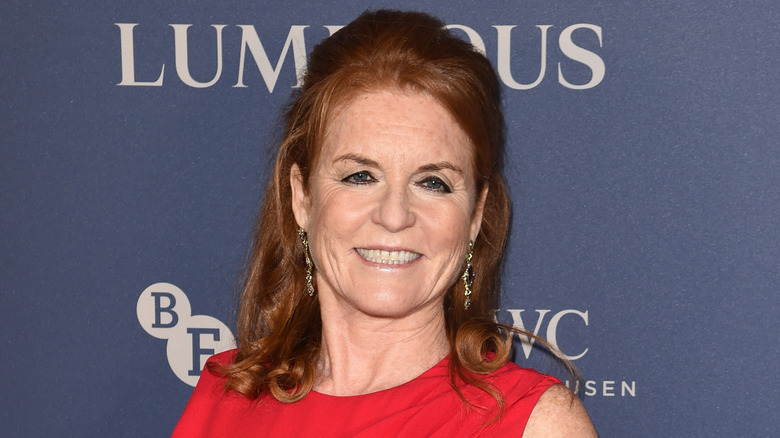 Featureflash Photo Agency/Shutterstock
This odd fact about Sarah Ferguson will appeal to the pet owners out there: The duchess's dogs rule over her home, all seven of them. In addition to the five Norfolk terriers that she already owned, Fergie adopted the late Queen Elizabeth II's two corgis after her passing, adding to the brood already habitating the Royal Lodge. Speaking to The Telegraph and giving a much-desired update on the queen's dogs, Muick and Sandy, Fergie said, "They all balance out. The carpet moves as I move, but I've got used to it now," before calling the queen's dogs "national treasures."
While the decision to give the queen's beloved corgis to Fergie and Prince Andrew surprised many, it actually was for good reason. Fergie and the queen's relationship often included conversations about their mutual love of animals, and a source told Entertainment Tonight that Fergie was the best person for the job.
"It was the duchess who found the puppies which were gifted to Her Majesty by the duke," the source explained, before adding that Fergie and the late queen were able to connect given their mutual interests. "The duchess bonded with Her Majesty over dog walking and riding horses and even after her divorce, she would continue her great friendship with Her Majesty, by walking the dogs together and chatting."
Sarah and her husband are technically related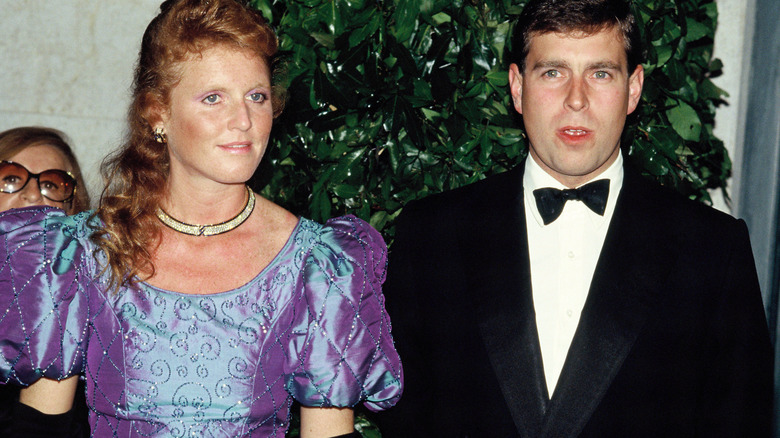 Georges De Keerle/Getty Images
If there's one thing about the royal family that a blind eye is turned to, it's the fact that a number of their married couples are technically related. For instance, the late Queen Elizabeth II and her husband, Prince Philip, were married for more than seven decades and had four children together, despite the fact that they were third cousins. Sharing Queen Victoria as a great-great-grandmother, the presence of incest was a bit more removed than in previous royal history, but it was certainly still an aspect of their marriage that couldn't be ignored. As for Sarah Ferguson and Prince Andrew, the once-married couple are also related, though their common ancestor isn't as close to them as a great-great-grandparent.
Hitting the headlines ahead of their royal wedding, Fergie and Andrew's mutual connection to both King James I and the fourth Duke of Devonshire were flushed out, linking the soon-to-be wedded couple in a rather peculiar way (via the Washington Post). Despite this, Fergie and Andrew went ahead with their plans to wed — and if the royals were uncomfortable with the idea of relatives getting married, they certainly didn't express that.
The duchess chose not to omit a very choice phrase during her wedding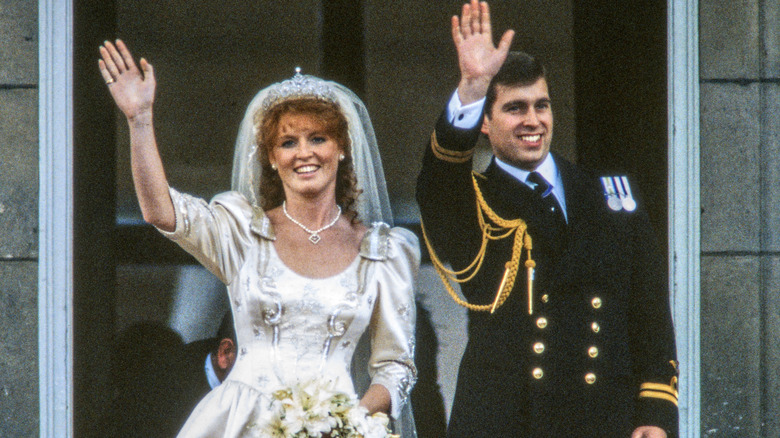 Derek Hudson/Getty Images
When then-Prince Charles and Diana Spencer got married, the young bride notably omitted a phrase within her vows. Despite marrying the future king, Diana refused to say that she would obey her husband, and such a choice definitely showed the world that she would one day be a woman not to mess with. So, when Sarah Ferguson and Prince Andrew got married five years later, it was a bit surprising that Fergie didn't follow in Diana's footsteps when it came to her vows. Instead, Fergie chose to say that she would obey Andrew throughout their marriage, and she ended up having to defend her choice during an interview with AP News ahead of the wedding.
"I was thinking of obeying in moral terms, as opposed to physically obeying," Fergie said at the time about her wedding vows. "But I am not the sort of woman who is going to meekly trot along behind her husband,″ she pointed out. "When I want to, I will stress a point. When we have a dilemma to resolve or we find ourselves in a situation which needs a decision, then it will be Andrew who will take the lead because he is the man of the marriage. Therefore in that sense, I will obey him at one stage or another."
People forget that Fergie was on an American sitcom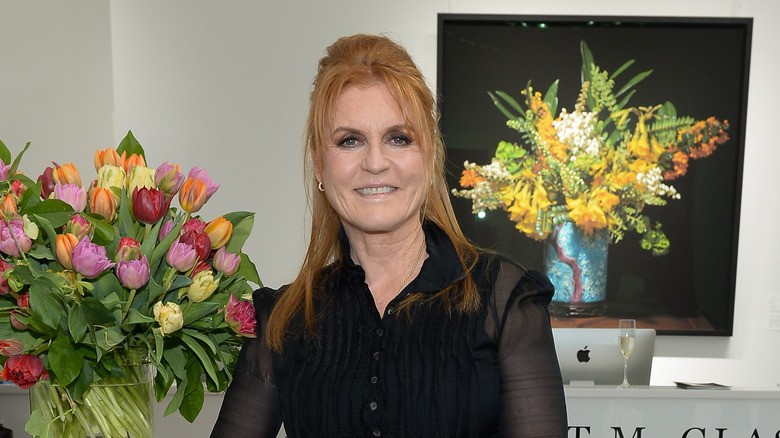 George Pimentel/Getty Images
As soon as Sarah Ferguson came onto the royal scene, she was dealt an awful hand by the British press. Relentless in their pursuits and characterization, Fergie was seen as the chubby sidekick to Diana Spencer's graceful Princess of Wales persona, and she was regularly bashed in one way or another (per Yahoo!). Such coverage did not stop when she got divorced from Prince Andrew; if anything, it got worse. But the duchess did something very uncharacteristic to bring a little bit of levity to her situation: She appeared on the hit sitcom "Friends."
While in London to attend the wedding of Ross (David Schwimmer) and Emily (Helen Baxendale), Joey (Matt LeBlanc) hits the streets, capturing his explorations on video. Later on, he shows his best friend Chandler (Matthew Perry) the footage of his day out, which includes a moment shared between him and Fergie (who he ran into while wearing an obnoxiously British hat). As it happens, Fergie was encouraged to cameo as herself on the hit show due to her daughters' love of the sitcom, and her appearance certainly did not disappoint. 
In her book "I'll Be There For You: The One About Friends," author Kelsey Miller wrote about Fergie's decision to join "Friends" for the brief episode (via InStyle). "[Fergie had been] coaxed into the appearance by her daughters. At a time when Fergie-bashing had become a national pastime, 'Friends' was a welcome relief."
Fergie was one of the first royals to drop a scandalous memoir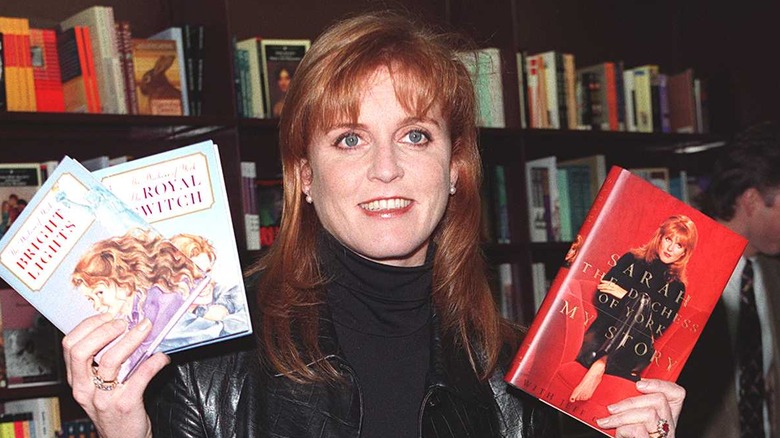 Stewart Cook/Getty Images
When we think about royal drama, two members come to mind: Prince Andrew, for obvious reasons, and Prince Harry, who has charged ahead with his own life in California outside of the confines of the firm. Sitting down for interviews and releasing his memoir "Spare," Harry has not left anything out of the official record and has continued to speak his truth. It might seem as though the prince has gone rogue, but he is certainly not the first royal to release a tell-all. 
As it happens, Sarah Ferguson hit the bookshelves with a memoir, "My Story," all the way back in 1996, and held nothing back when it came to the royals. Addressing her split from Andrew head on, Fergie wrote, "From early on that year [1992], Andrew and I had been discussing a separation. Not because we'd stopped caring for one another, but because I had reached the end of my royal rope. For six years I had shouldered the demands of Palace life."
Fergie went on to detail her experience within the firm, asserting that she had not received support from the royal family members when it came to her faltering marriage and the harsh media coverage she was facing. "I'd endured the constant scrutiny of the British press and the barely veiled hostility of the Royal Household, the courtiers who run the show. Gradually, relentlessly, they had beaten me down," she shared.