One Thing To Keep In Mind While Shopping For The Perfect Blush Brush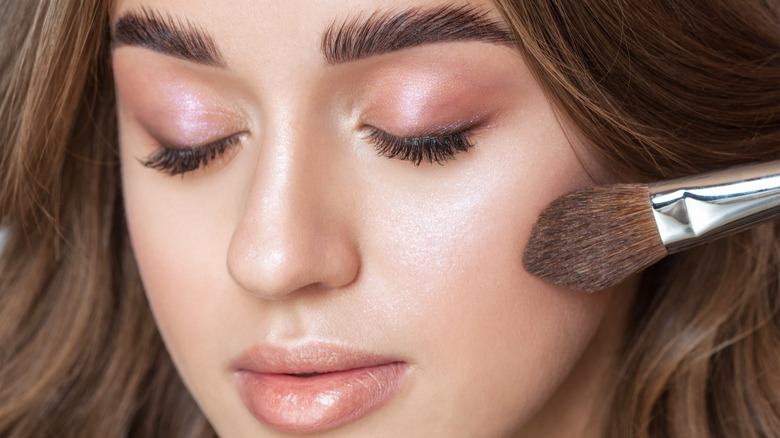 Dimid_86/Getty Images
Having high-quality makeup brushes improves makeup application like you wouldn't believe. Top-quality brushes are intuitively designed for specific purposes, making them easier to use. One good brush could be more useful than 20 bad ones, and that definitely includes blush brushes.
Blush is an invaluable makeup product, even if you don't naturally have pale skin. This is because foundation and concealer can steal your skin's natural rosiness, leaving you looking a bit dull. Blush is the best way to combat this lack of color. Properly applied blush can give a realistic flush — as if you've been out getting some air. However, getting your blush to look natural to enhance your look can only be done with a really good blush brush.
The best way to apply blush is to use two blush shades; one that's the right shade of the best blush color for your skin tone and another that's a shade lighter than the base. To apply and blend one or two shades of blush, you need a perfect blush brush that blends like a dream. Luckily, there's just one major thing to keep in mind when shopping for the perfect blush brush.
Bristle shape and quality can make the perfect brush blush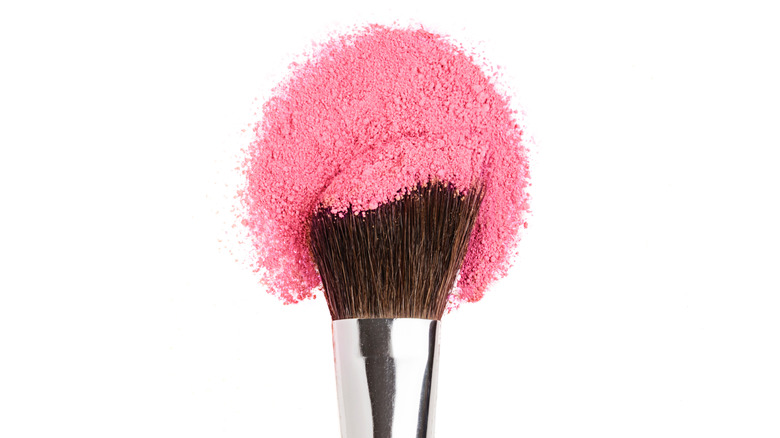 Moustachegirl/Getty Images
The major thing you want to consider when choosing a powder blush brush is the quality and condition of the bristles. You want soft, fluffy bristles that will give you that perfectly blended blush look. Firm bristles are a no-go because they feel awful against the skin and can damage the layers of makeup you have beneath. If the bristles pass the fluffy test, you should consider how they are shaped.
Angled bristled brushes like the Charlotte Tilbury Powder & Sculpt Brush will simplify your application process if you prefer to apply blush on your cheekbones for a sculpted look. This is perfect for lifting your face or making it look more angular. Denser brushes like the Sephora Collection Pro Blush Brush #99 – which are packed with more fibers — are perfect for applying cream formulas.
Blush brushes with rounded bristles are a better fit for you if you typically apply blush to the apples of your cheeks to make your face look rosier, fuller, and shorter. If you often switch between these looks and want a blush brush for your cheeks and cheekbones, you don't have to buy both. Go for a brush with a rounded curve, but a narrower and flatter body than rounded blush brushes usually have. A great example is the Bobbi Brown Blush Brush, which perfectly applies blush to the cheeks and cheekbones because of its slender build.
How to use a blush brush the right way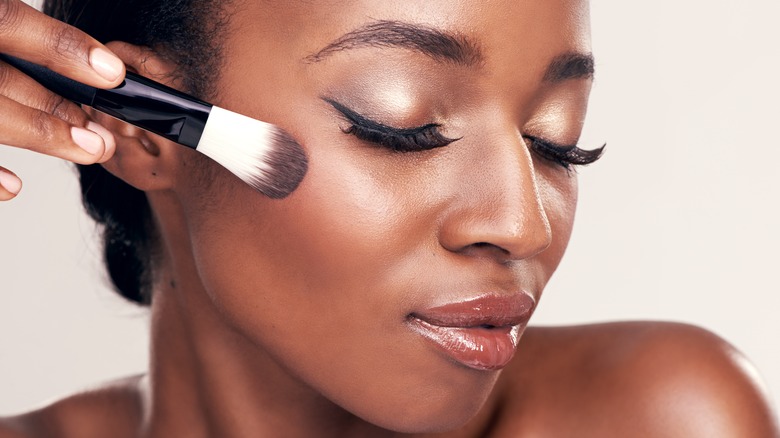 PeopleImages.com - Yuri A/Shutterstock
Even with the right blush brush, things can go awry if your technique is wrong. For starters, you want to avoid going in and scooping out a lot of product. The best blush applications look natural, and you cannot attain that look with heaps of product. Begin with your lighter blush shade; you want to rub the flat side of your blush brush on it to pick up some product.
It's always better to use the flat side because the top of the bristles can shift any foundation or concealer underneath. One simple hack for getting the most out of your blush is tapping it lightly against a table edge to get rid of excess product. Many people blow on their blush brushes to get this effect, but doing so is rather unsanitary. Tap to get rid of excess product and you're all set to apply your blush.
But first, test how much blush your brush has by rubbing the flat side against the back of your palm. Then, if you're satisfied, go in with light tapping motions that will lay your blush naturally against your makeup. After your lighter blush, use the same technique to apply your normal blush color over it. One last tip to remember when shopping for blush brushes is that purchasing directly from the manufacturer is the best way to eliminate the possibility of buying fakes that shed.