A Look At Rose Hanbury Through The Years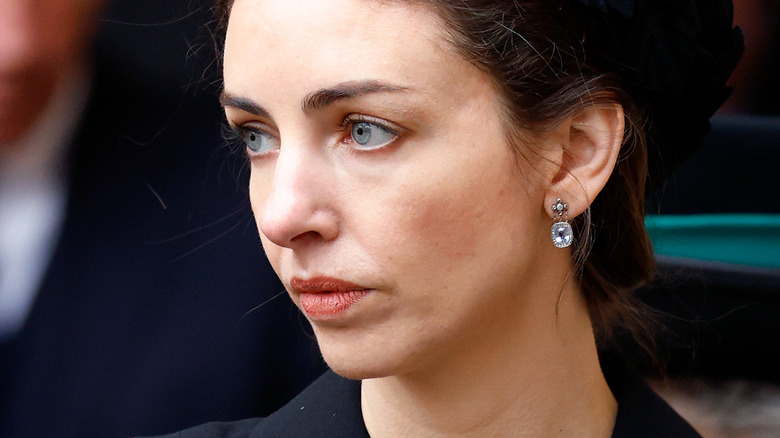 Max Mumby/indigo/Getty Images
Sarah Rose Hanbury Cholmondeley (which is pronounced Chum-ley), the Marchioness of Cholmondeley, was born on the 15th of March, 1984 in England. The 38-year-old peerage member, who goes by her middle name "Rose," has had close ties to the royal family since she was born and has remained a royal socialite for some time. Her parents are Timothy Hanbury, a website designer, and Emma Hanbury, a fashion designer, who haven't had much of a fixture in the royal family's circle. Despite this, Rose Hanbury has managed to work her way into the aristocracy, thanks in part to her marriage to David Cholmondeley, the 7th Marquess of Cholmondeley, and her friendships with the socially elite.
Rose Hanbury has been making headlines yet again after some unsavory rumors that concerned her relationship with Prince William have resurfaced. With her name plastered everywhere by the media, you might be wondering who she is and what her ties and pertinence to the royal family all mean. So, if you've been out of the loop on the royal drama all this time, read on to learn about the woman behind the scandalous rumors that have had everybody talking, as we take a look at Rose Hanbury through the years.
She's had ties to royalty from the start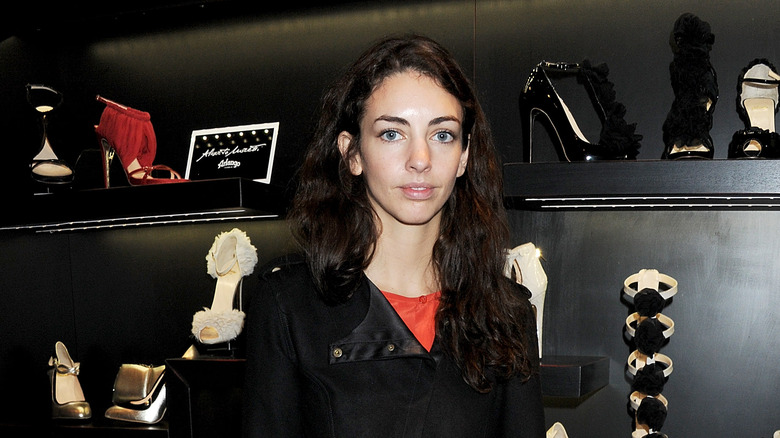 Dave M. Benett/Getty Images
Queen Elizabeth II had eight bridesmaids by her side on her wedding day in 1947, back when she was known as Princess Elizabeth. One of the women supporting Her Majesty's wedding to Prince Phillip on this day was Lady Elizabeth Lambert, Rose Hanbury's grandmother. She was one of two non-royals in attendance, and was a dear childhood friend of the queen. Their fathers, the 10th Earl of Cavan and King George VI, were reportedly very good friends, which strengthened the women's bond. Lady Elizabeth Lambert married a publisher, Mark Longman with the queen in attendance. The couple had three kids and eventually several grandchildren, too — including Rose Hanbury, of course. 
This goes to show that Hanbury had ties to the royals from the very beginning. The position Hanbury was born into provided the perfect starting point when it came to climbing the ladder, as her family certainly weren't "nobodies" in the eyes of the royal family. She has since managed to keep a highly regarded inner circle, and perhaps wouldn't have been making headlines today if it weren't for her maternal grandmother's relationship with Queen Elizabeth II. Lady Elizabeth Lambert passed away in 2016 at the age of 92, having lived a long and full life.
She boarded at the prestigious Stowe School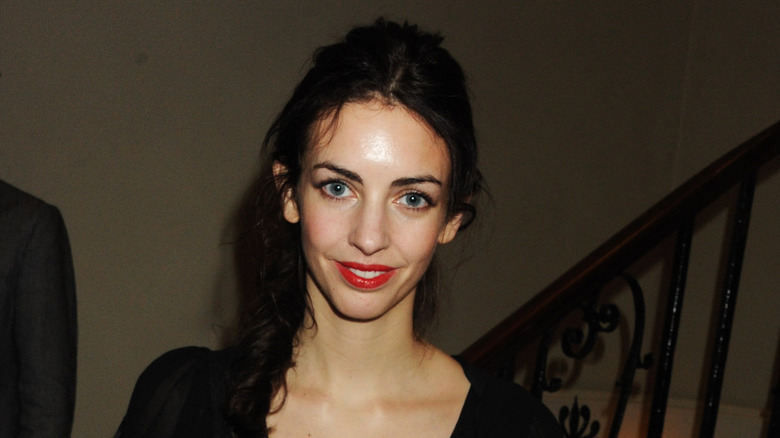 Dave M. Benett/Getty Images
The Stowe School, located in the countryside of Buckinghamshire, has been open for a hundred years and is considered one of the most prestigious schools in all of the U.K. The boarding school aims to prepare students to graduate with stellar grades and move on to other highly-esteemed schools like the University of Oxford or University of Cambridge. Notable alumni of Stowe School include Reine III (the Prince of Monaco), Henry Cavill of "Man of Steel," and Sir Ricard Branson, also known as the billionaire entrepreneur who founded the Virgin Group.
Rose Hanbury boarded at Stowe School and, when it came time to enroll in higher education, received her degree from the Open University, a public research university that is the largest university in the U.K. This was an interesting choice, given that instead of opting for a typical aristocratic university education, Hanbury elected to attend a school with a larger acceptance rate. Very little is known publicly about her studies, however many speculate that she went in the direction of politics, as she's dabbled in this field throughout the span of her career.
She began modeling at the age of 23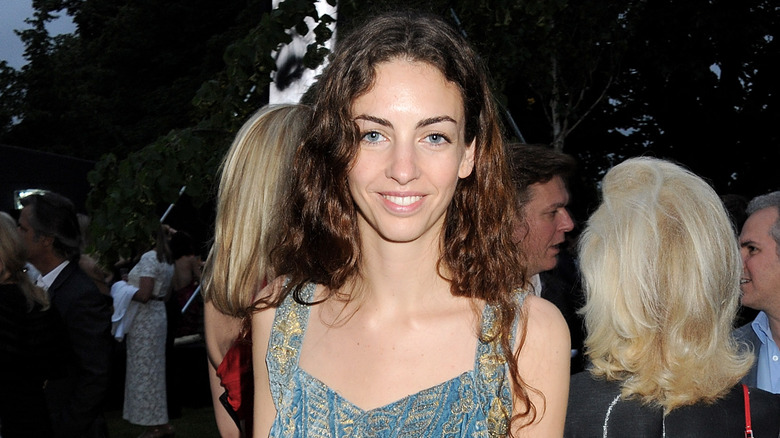 Dave M Benett/Getty Images
Rose Hanbury and her older sister, Marina, got their first taste of public recognition in 2005 when they were pictured together with then-British Prime Minister, Tony Blair. The three were on vacation in Italy, with the sisters wearing pink bikinis next to the smiling former P.M. Barely two years later, in 2007, Hanbury had gained national recognition and decided to become a model. She signed on to be represented by Storm Models, the agency which most notably discovered Kate Moss in 1990. The agency has also represented famous names like Cindy Crawford and the Delevingne sisters, Cara and Poppy.
Although Hanbury no longer models professionally, she has shared photos from time to time on social media of past shoots she's done. One of which was a photo posted in 2016 of she and Amanda Seyfried when they were featured on the cover of Vogue, modeling for Miu Miu. Although her Instagram account is primarily dedicated to Houghton Hall, her beautiful home, Hanbury occasionally shares old photos, reliving her modeling days.
She worked as a political researcher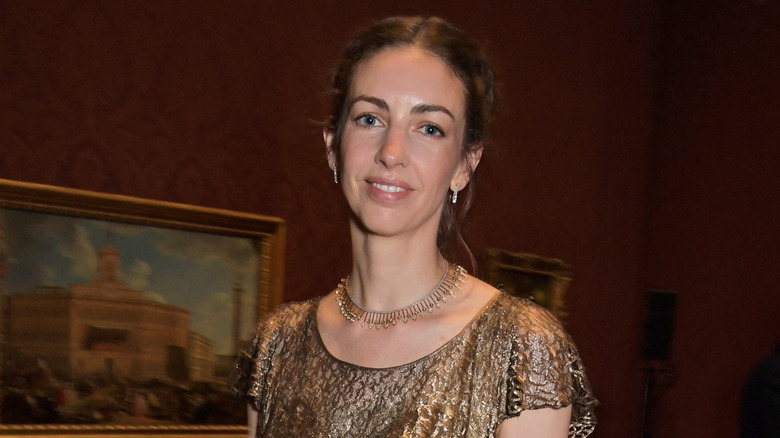 David M. Benett/Getty Images
Although it was only for a short time, Rose Hanbury worked as a political researcher in Westminster for conservative Member of Parliament, Michael Gove. Gove was serving as the Shadow Education Secretary at the time. Although the timeline of her role as a researcher hasn't been publicly confirmed, her stint in politics was short lived. In 2009, Hanbury was forced to quit the role, reportedly due to the overwhelming morning sickness she was dealing with, as she was pregnant with twins at the time.
Over a decade later, in 2019, Hanbury was spotted at the state dinner, which honored Trump's arrival to the U.K., walking alongside Sarah Vine, a columnist for the Daily Mail, who is also Michael Gove's wife. Some have wondered if this means that Hanbury has remained close with the couple following her work with the politician, and given their political views, if she might share in their conservative values. Hanbury hasn't pursued any other professional ventures as of yet, as she's taken on a full-time role of motherhood and renovating her estate.
She and Kate Middleton are patrons of East Anglia's Children's Hospices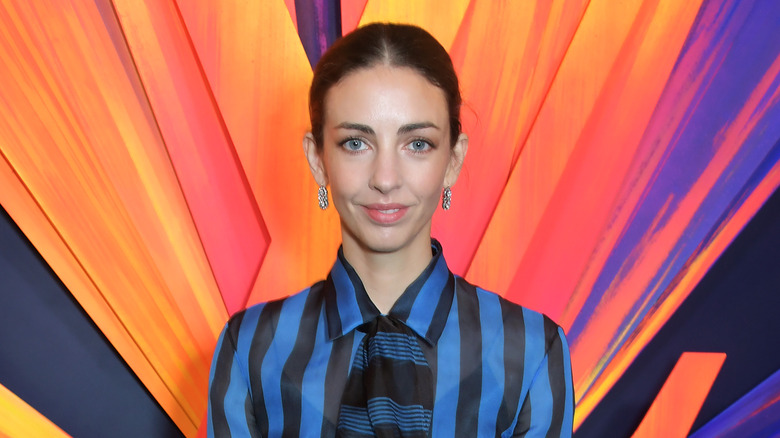 David M. Benett/Getty Images
As is expected, with peerage titles comes social expectation to use the status and influence for good. Rose Hanbury and Kate Middleton may not be getting along right now (more on that later), but they know an important initiative when they see one. The women are both patrons of East Anglia's Children's Hospices (EACH), which supports children and young people with life-altering or life-threatening illnesses in Cambridgeshire, Essex, Norfolk, and Suffolk. They're a beloved institution in the U.K. and they strive to make a difference using family-centric care.
Ed Sheeran serves as one of the hospice's ambassadors, and EACH's patrons include the Marchioness of Cholmondeley, the Countess of Leicester, and listed as their "Royal Patron" is Kate Middleton. Because the Princess of Wales has a higher title, and therefore more recognition, she has worked as Royal Patron by opening hospices, reaching out to the public to donate, and touring facilities to raise awareness of the important work EACH is doing. Despite the lack of publicity Hanbury has received for her charitable efforts, it would seem that because she has the means to do so, she's striving to make an impactful difference nonetheless.
She married David Cholmondeley, 7th Marquess of Cholmondeley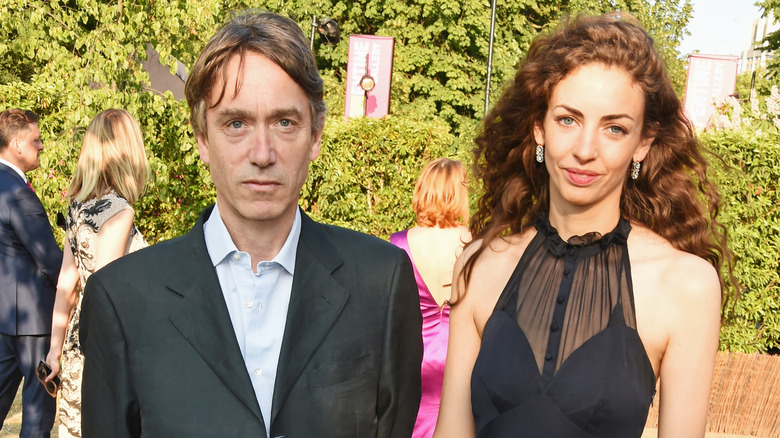 David M. Benett/Getty Images
Rose Hanbury hit the jackpot when she met David Cholmondeley, the 7th Marquess of Cholmondeley and filmmaker, in 2003. His royal duty used to entail walking backwards in front of Queen Elizabeth II annually as she opened Parliament and made her way to the throne in the House of Lords. Hanbury and Cholmondeley hit it off when they met on a vacation in Italy and have been inseparable ever since, but the relationship caused quite a stir. Cholmondeley had been known as a bit of a lady's man, having dated many models and actresses before Hanbury, but the real source of gossip was that the Marquess is 23 years her senior.
2009 was a very busy year for the couple. Hanbury and Cholmondeley got engaged in June, announced she was expecting only a day later, and then held their wedding at Chelsea Town Hall the day after that. Some thought the wedding may have been rushed due to the pregnancy, as she gave birth to her first children just four months after the announcement. Despite all of the talk, the couple have appeared to be very happy together, and their 20-year relationship is still going strong. In 1990, David Rocksavage inherited a £112 million estate, including Cholmondeley Castle, so given the couple's status and proposed net worth, it can be assumed that they live an extremely comfortable life together.
She has three children
In 2009, a day after their engagement, Rose Hanbury and David Cholmondeley announced that they were having twins. There was a moment of concern when Hanbury was admitted to the hospital while she was pregnant, but she was discharged soon after and all was well. They held off on announcing the sex of the babies for a while, and just a few months after Hanbury became the Marchioness of Cholmondeley, David had an heir. But there was a problem. In the instance of granting titles to twins, usually the baby who arrives first in the delivery room would become the heir, naturally being the eldest, but both boys were born at practically the same time via C-section. So, the couple decided that they would decide which of their sons would someday become the future Marquess based on which baby weighed the most, giving Oliver Timothy George the title of Lord of Cholmondeley.
Alexander Hugh George, the slightly lighter baby, became the Earl of Rocksavage. A friend of the family told The Telegraph, "There was only eight ounces in it, but they will be a very significant eight ounces." The couple also welcomed a baby girl in 2016, named Lady Iris Marina Aline Cholmondeley. The family of five live a fairly private life in their beautiful Houghton Hall home, with only a handful of pictures of the children having ever been published for the public thus far.
She's had a relationship with William and Kate for some time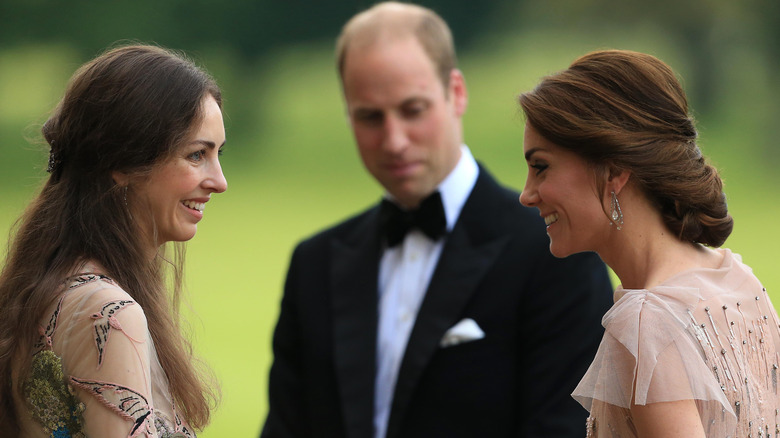 Stephen Pond/Getty Images
We're working our way up to the rumors surrounding Rose Hanbury and Prince William's relationship, but to fully understand the circumstances, let's first take a look at the friendship timeline between Hanbury and the Prince and Princess of Wales. Hanbury and her husband were pictured at William and Kate's wedding back in 2011, and why wouldn't they be? The royal wedding had around 1,900 guests in attendance, with a guest list filled with recognizable names. But, apparently, the two couples didn't become close until 2014, when William and Kate lived at Anmer Hall, just a few miles away from the Marquess and Marchioness' home. The foursome also ran in the same social circle, dubbed the "Turnip Toffs," which is a group of wealthy socialites in the area that link up with royals regularly. Other Turnip Toffs include the van Cutsems, the Pettmans, and the Carters.
The Cholmondeley children are also similar in age to William and Kate's kids, and they were playmates for a time, which worked well given the proximity of their homes. According to New Idea, a source that is reportedly close with both couples said about the rift that would split the friends apart just a few years later, "It's very sad because they were close friends and Rose's children played with Kate's George and Charlotte." So, what was it that led to the end of the seemingly perfect royal friendship?
Rumors surfaced of her having an affair with Prince William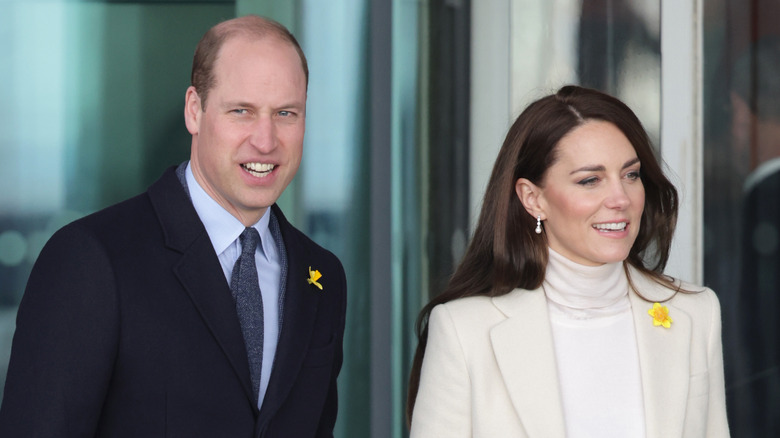 Chris Jackson/Getty Images
Back in 2019, unfounded rumors surfaced that Prince William and Rose Hanbury had an affair while Kate Middleton was pregnant with Prince Louis. The British tabloids then dubbed Hanbury the "rural rival" to Kate Middleton. The drama subsided after some time, firstly, because all parties involved denied the rumors. Secondly, there was no proof. And, most importantly, William and Kate's lawyers served legal warnings to at least one publication for promoting the rumors. But, since the release of Prince Harry and Meghan Markle's Netflix special, Hanbury's name has come up again in relation to the royal couple.
"Harry & Meghan" premiered in December 2022, in which Harry said, "[the Palace] were happy to lie to protect my brother. They were never willing to tell the truth to protect us." Followers of the royals jumped back on to the 2019 cheating rumor, assuming that the royal family had been lying to protect Prince William after his infidelities, rather than stepping in to help Harry and Meghan when they were going through hardships.
Hanbury received a fair amount of backlash over the allegations and, according to a source for a since-deleted article by the Daily Mail, "The most loyal friends are sticking by her but others, they haven't." Despite the public's scrutiny and Hanbury's potential lack of support, she hasn't seemed all too phased, as she's still attended royal functions and made an appearance at Queen Elizabeth II's funeral.
She and Kate Middleton had a falling out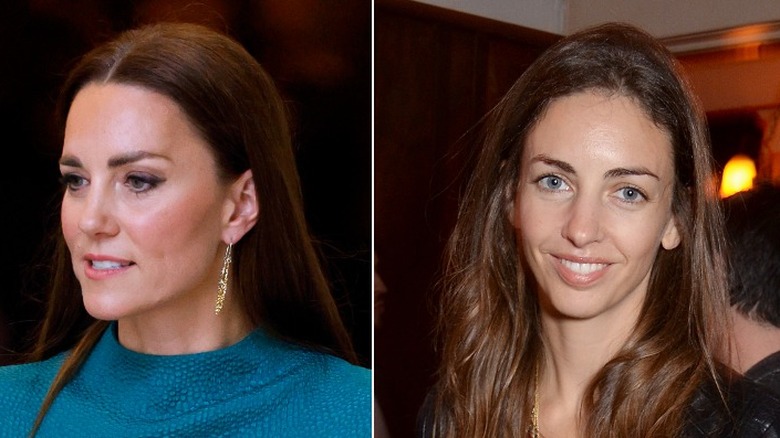 Max Mumby/indigo & David M. Benett/Getty
Whether Kate Middleton believed the rumors or not isn't clear, but it seems she either didn't have the patience or couldn't afford the controversy because her relationship with Rose Hanbury has crumbled. Middleton has even reportedly tried to phase Hanbury out of her social circle completely. A source reportedly told The Sun that Middleton and Hanbury "had a terrible falling out." The source continued, "They used to be close but that is not the case any more. William wants to play peacemaker so that the two couples can remain friends... But Kate has been clear that she doesn't want to see them any more and wants William to phase them out, despite their social status."
Of course, much of this is hearsay and the royals have yet to comment on the circumstances publicly. They likely never will, as it seems that William and Kate would rather let the dust settle than delve into the unfounded rumors and supposed rivalry, which would ultimately give the tabloids more to dish over. William and Kate still see Rose Hanbury and David Rocksavage at various events attended by the elite and they've remained cool-headed enough to not let this apparent rivalry become any more public.
She lives at Houghton Hall
Rose Hanbury's home is seriously stunning. Located three miles from William and Kate's Anmer Hall home lies Houghton Hall. It was built in the 1720s for England's first Prime Minister, Sir Robert Walpole. The property has since been passed down from generation to generation, and although he grew up living in Cholmondeley Castle, the home eventually landed in the lap of David Cholmondeley. He and Hanbury moved to Houghton Hall after their first children were born, and are currently raising their family there.
The extravagant mansion is a work of art in itself and guests are permitted to tour the home's decadent rooms, sculpture park, garden, and museum. Houghton Hall is also the desired venue for various exhibitions and events as a publicly open art space. It's no wonder, seeing as how Cholmondeley is an avid art collector and selects many pieces to display at his home himself.
It seems that an eye for art is a shared quality between the couple, as Hanbury has taken it upon herself to showcase the grandeur of her home to entice guests through her Instagram account. She frequently shares brilliant snapshots of the wonders on the property, often with its bright green garden in the background. Suffice to say, Hanbury seems to live a comfortable life and could probably live in Houghton Hall for all of eternity, ignoring the snide remarks and ruthless gossip going on behind her back.