How To Apply Bottom Lash Mascara For A Smudge Free Finish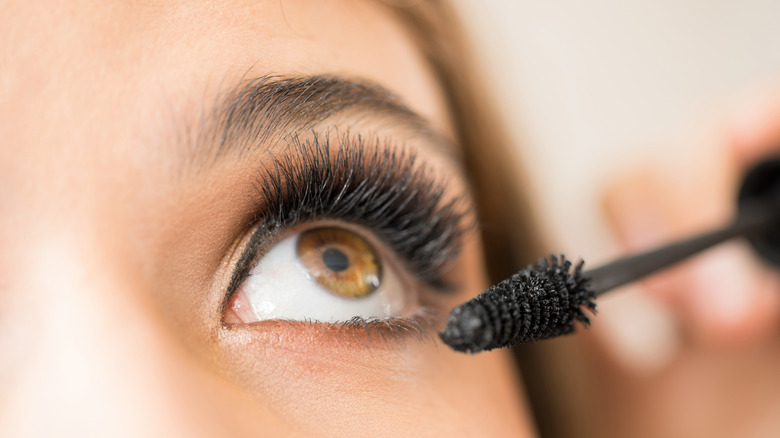 Antonio_diaz/Getty Images
We may receive a commission on purchases made from links.
Wherever you fall on the falsies or mascara scale, most makeup lovers find that the focus of their eye look is the top lashes. Whether you like to smudge a bit of dark shadow under the eye or add a pop of color with tear duct liner, bottom lash mascara probably isn't something you think about. Once you've gone through the stress of applying false lashes or ensuring that the mascara wand catches each individual lash at the top of your eye, all you want to do is move on with your makeup look.
With the revival of '70s fashion coming back into style, why not pair your bell bottoms and flared sleeves with bold bottom lashes? Although the look is admittedly cute, the thought of mascara smudging and ruining your under-eye concealer is definitely not. Thankfully, there are tips and tricks to prevent your mascara from giving you raccoon eyes.
How to apply bottom lash mascara
Whether you use Vaseline as a lash primer or stick to a proper pre-mascara step, it's important to prime before you put mascara on your bottom lashes. As makeup artist and creative director of Guerlain makeup, Violette, explained to Byrdie, a primer will help the mascara stick to the lash, preventing it from smudging and transferring. Before you put the mascara on, ensure that the undereye area is free of product or oil that can cause it to smear. Feel free to hold a small piece of tissue under the eye when applying it so flecks don't fall onto the skin.
Instead of using horizontal strokes to apply your mascara, makeup artist and product development manager at Credo, Alexandra Compton, suggests moving in tiny, vertical movements, per mindbodygreen. This technique gives you better control over the amount of product you use and the way it's applied. To catch excess product that may dry up and flake onto your makeup, take a spoolie or clear mascara to run through your lashes. When done, apply your concealer as normal. If you don't want to risk getting product on your lashes, use a small concealer brush that will allow you to get into small corners and crevices without ruining the mascara.
Shop the best mascaras for bottom lashes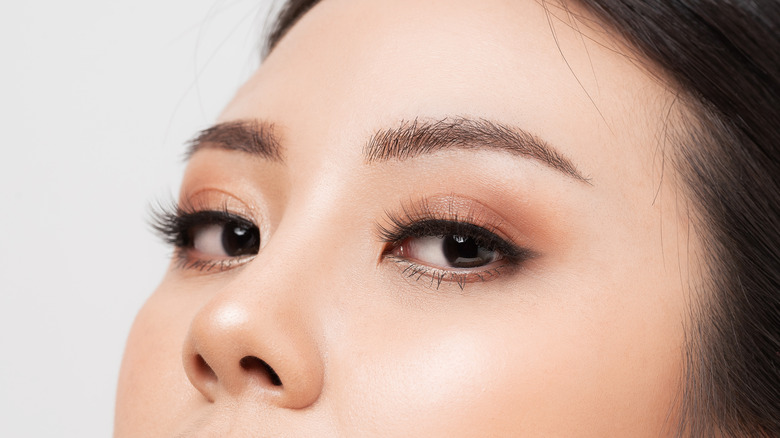 ME Image/Shutterstock
Created specifically for lower lashes, the Pixi by Petra Lower Lash Mascara will give you the Twiggy look without getting mascara absolutely everywhere. Created with a small, thin wand, it's the perfect size for bottom lashes. Formulated with Vitamin E and panthenol, this waterproof mascara is gentle on sensitive eyes.
Made with a curved wand, the Lancôme Lash Idôle Mascara easily catches hold of lashes, lifting and volumizing them with ease. Its gel formula creates a no-smudge finish and gives long lashes with a lightweight feel. If you want your bottom lashes to look as full and voluminous as the top, try the Essence Lash Princess False Lash Effect Mascara. This mascara was designed to give your eyelashes a false lash effect, lengthening and filling them out, unlike any other mascara. Cruelty-free and made without oil or parabens, it's gentle on the eyes.
The L'Oréal Telescopic Original Waterproof Mascara is a godsend for watery eyes. Defining and lengthening each lash, this mascara gives a natural look with an extra bit of oomph. Great for people with sensitive eyes or contact wearers, the thin wand easily fits underneath the eyes to catch each bottom lash.