King Charles Is A Good Sport When Fan Offers Up A Not-Very-Royal Crown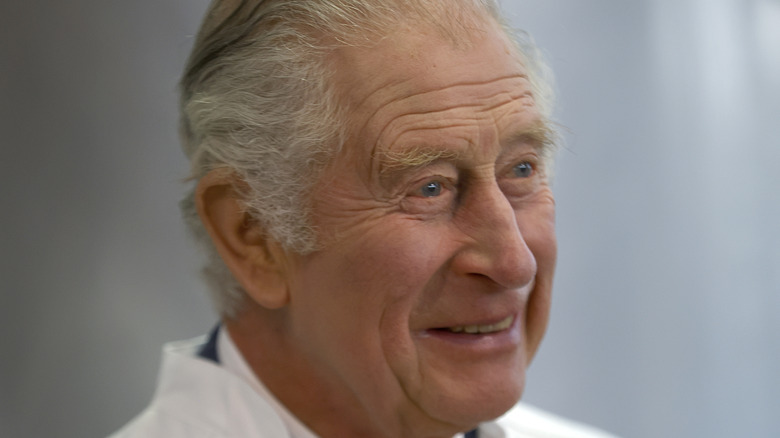 Pool/Getty Images
King Charles III is on his first overseas royal tour as King, and he's starting his journey in Germany — a country where he and his family have deep connections. Initially, his first stop was going to be France, but his trip to Paris was canceled due to ongoing protests and safety concerns.
Besides official business, including giving a speech in German to the German Parliament, Charles also took time for a family reunion dinner with some German cousins during his visit. Even though his family name is Windsor, it was originally Saxe-Coburg-Gotha before his great-grandfather, George V, changed it during WWI. All told Charles is about half German, with German ancestors on both sides of his family.
Queen Elizabeth was a fan favorite in Germany, and Charles has been a frequent visitor, spending time in the country on 60 occasions. The country's excitement for the British monarchy continues, with Charles and Queen consort Camilla being greeted by throngs of cheering fans and well-wishers. One admired Charles' reputation as an environmental advocate. "The King was one of the first people ever talking about pollution and climate change and things like that," he told CNN, "I think maybe he's the right person for this moment to be King." Another fan offered the king a humorous present in honor of his visit — one that he declined with characteristic levity.
Charles politely passed up a Burger King Crown
Great scenes today during the King's first walkabout in Berlin.
He was affectionately offered a crown - a paper Burger King one - by a well-wisher who told him politely:`This is for you, if you want it'.
Charles smiled broadly and said: 'I'm alright!' pic.twitter.com/KqHypSjopV

— Rebecca English (@RE_DailyMail) March 29, 2023
During a royal appearance outside Berlin's Brandenburg Gate, King Charles and Queen Consort shook hands and greeted excited fans waving German and British flags. Some participants also donned Burger King crowns in honor of the monarch's visit. In a video tweeted by Rebecca English, the Daily Mail's royal editor, one fan tried to give Charles a BK crown of his own, saying, "This is for you if you want it." The King declined with a smile, replying, "I'm alright," and the fan chuckled and smiled back. Later, Charles had a similar response to another fan who told him, "I have a present for you," indicating another BK crown, per Mirror.
Once again, Charles' sense of humor connected with the crowd, just like when he showed his silly side with school children who asked his age during a meet and greet. Regardless of his personal taste, Charles isn't permitted to wear a crown officially until his May 6 coronation, even if he had accepted the tongue-in-cheek gifts.
Even though the King won't be sporting a cardboard Burger King crown, it hasn't been all gold and jewels in his crown collection. When he was crowned Prince of Wales in 1969, his headgear was topped with a ping pong ball. Made primarily of gold, diamonds, and emeralds, a gold-covered ping pong ball was used for the top orb due to time constraints—and so cleverly disguised that Charles wasn't aware of it. 
Camilla already accepted a BK crown gift
Perhaps King Charles declined these fast-food crowns because there was already one in the family collection. Previously, on a March 7 visit to Colchester, a fan gifted a Burger King crown to Queen Consort Camilla. The experience was shared in a TikTok video captioned, "We were all wearing Burger King hats, and she loved it." As Camilla passed by, the fan extended a green BK crown to her, adding, "It was a last-minute gift." Camilla accepted the crown, commenting, "Oh, lovely, that's very nice of you. Burger King!" before smiling and moving on.
While the fan was charmed by the exchange, body language expert Judi James wasn't convinced. "Queen Camilla's signals of ongoing awkwardness are visible in this 'moment' when a fan gifts her a paper crown," James told Express. However, she did concede that Camilla "does use the kind of 'point' gesture that Charles uses to imply a sense of fun and connection."
Even so, Camilla's sense of humor is well-documented. As part of her life philosophy, the Queen Consort has said, "you also have to laugh at yourself because if you can't, you may as well give up," per Daily Mail. This strategy has also been observed by The Telegraph's Anna Pasternak. "Key to her appeal is that she doesn't take herself too seriously," wrote Pasternak. "Her guileless mirth is contagious." One viewer of the video agreed, commenting, "She genuinely found it funny. She's got a good sense of humor."