King Charles' Exchange With School Children Shows His Silly Side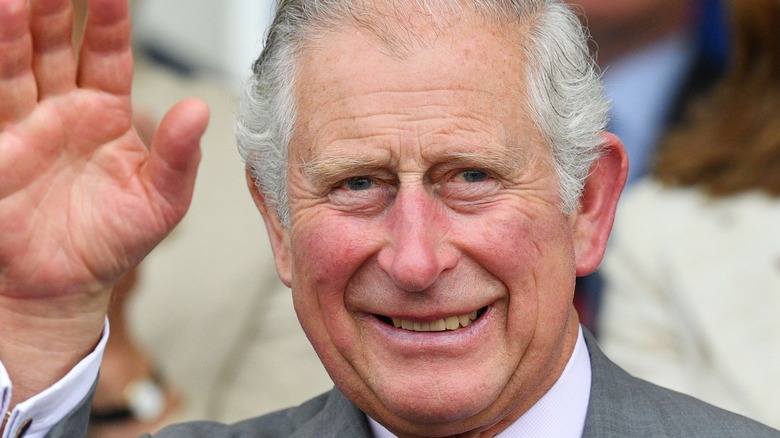 Wpa Pool/Getty Images
Like his mother, King Charles III knows the importance of humor. But while the late Queen Elizabeth II's funniest moments tended to lean towards quips that showcased her dry sense of humor, Charles showcases his silly side. In addition, the king often joins in on the laugh.
Back in 1980, then-Prince Charles tried to ski incognito wearing a fake nose, bushy mustache and glasses. After the hilarious get-up failed to conceal his identity, "he took his cover being blown with good spirits," The Sun reported.
A YouTube montage of Charles' funniest moments including him wrestling bagpipes, showing his skills on the dance floor, and doing an impromptu impression of "Doctor Who's" daleks. More recently, a throwback video featured King Charles' silly side at the 2022 Commonwealth Games. The king endeared himself to royal fans on TikTok with his entertaining response to a fan's invitation to join him for a beer.
"He has a wickedly self-deprecating sense of humor," Julie Bishop, chair of the Prince's Trust Australia told Sky News. Speaking of a 2018 trip she took with Charles, Bishop remarked, "He was utterly hilarious and he's very respectful, of course, and it's just these asides that can have you giggling."
At a recent royal outing, the king's quick wit was on display once again as he engaged with some London schoolchildren during a meet and greet.
Charles responds to an age-related question with humor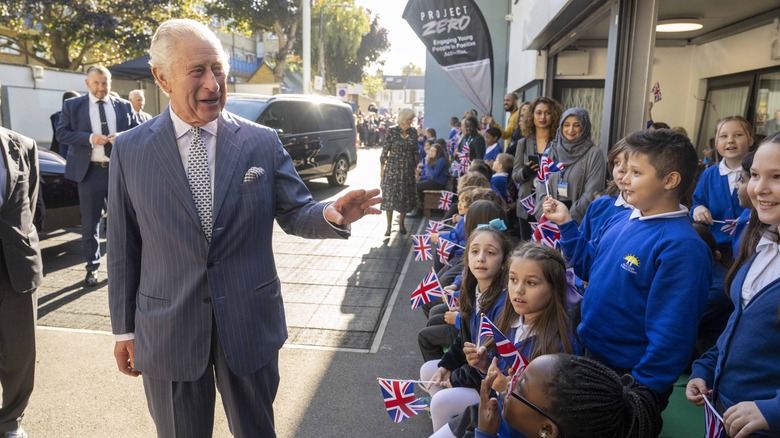 Pool/Getty Images
On October 18, King Charles III and Queen consort Camilla made a joint appearance in London to learn about Project Zero Walthamstow, per People. When they arrived, the royal couple received a warm welcome from students at Barn Croft Primary School. As they discussed school lunches, one student interjected, "How old are you King Charles?" A Twitter video shows the monarch replying without hesitation, "Have a guess, have a guess." One student shouts "96." Charles walks away, laughing and turning his attention to the adults in the crowd.
As noted by Royal U.K., Charles is less than a month away from his 74th birthday. After the heartbreaking death of Queen Elizabeth II, he made British history as the oldest person to ascend the throne (via Insider). Even so, "Seventy-three is so young," Dr. Sara Bradley told NBC News. "Presumably he has good genes and will be around for some time."
When he turned 70, the king's self-deprecating humor was on display. In response to a question about how he was feeling at the time, Charles answered, "Older. It's rather like indigestion – Many Happy Returns are not quite the same as you get older."
Jokes aside, Bradley told NBC news she's confident Charles has many successful years ahead. "People who think you can do a lot when you're older have less cognitive decline. It applies to him. He has the role model of his mother, a highly active older adult."
Banter aside, Charles and Camilla's visit made an emotional impact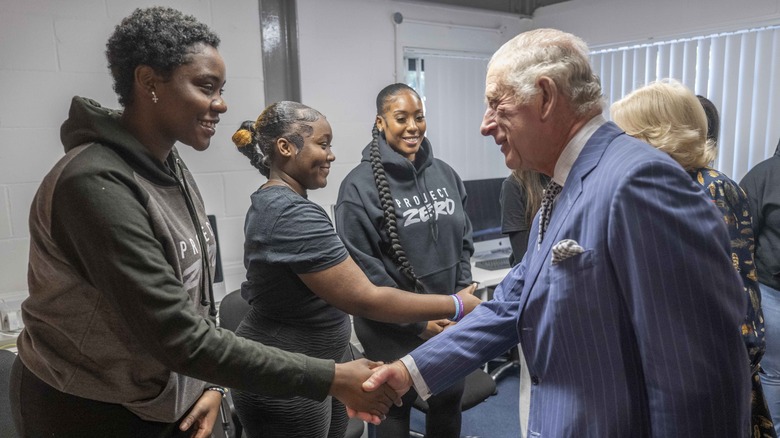 Pool/Getty Images
King Charles III and Queen consort Camilla were invited to visit Project Zero during Queen Elizabeth's Platinum Jubilee celebration in June. As reported in The Telegraph, 19-year-old Rico-Thai Edwards, a youth worker, met Camilla at the event and told her about the organization's mission of care and mentoring as a crime-prevention strategy. Project Zero's name comes from its goal "to see a year of zero deaths of a young person due to knife crime or youth violence."
During their visit, the royal couple had an opportunity to speak one-on-one with the organization's participants. "I never really had that attachment to the Royal Family but, seeing them today, I've seen a different side to them, I've seen a personal side to them, and they really seem invested in making a change," Rebecca Higgins told Sky News. Higgins was particularly touched by the queen consort's caring questions concerning an abusive relationship she experienced. Support for domestic violence victims has been important to Camilla since she became involved with SafeLives in 2016 (via British Vogue), and Camilla continued this work during her first solo outing as queen consort.
For his part, Charles made an emotional impact during his conversation with Natasha Johnson, who had lost her nearby home in a fire over the summer. "I felt held, I felt kind of contented as well that he understood and listened and so did the Queen as well," Johnson told Sky News.
If you or someone you know is dealing with domestic abuse, you can call the National Domestic Violence Hotline at 1−800−799−7233. You can also find more information, resources, and support at their website.