The Bold And The Beautiful's Thorsten Kaye On Who He Missed Most During Break From Playing Ridge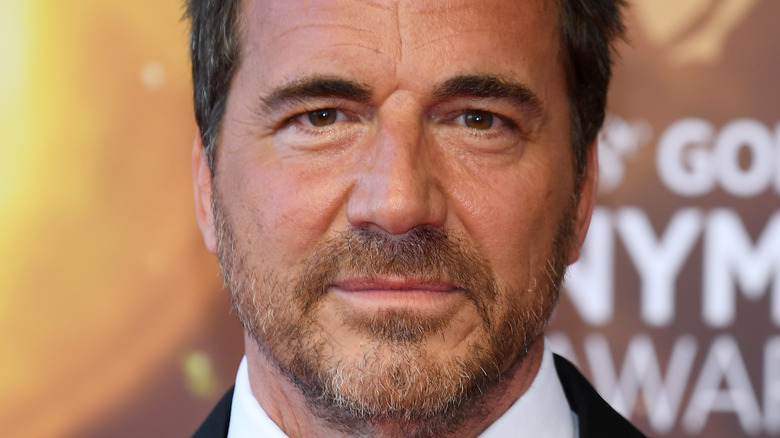 Pascal Le Segretain/Getty Images
The character of Ridge Forrester has been a prominent fixture on "The Bold and the Beautiful" since the first episode in 1987. Ronn Moss originated the role, but after he departed the series in 2012, daytime television veteran Thorsten Kaye assumed the role. With Kaye at the helm, Ridge has been featured in a variety of significant storylines on the show, including the legendary love triangle between Ridge, Brooke Logan (Katherine Kelly Lang), and Taylor Hayes (Krista Allen). 
In late 2022, Ridge's son, Thomas Forrester (Matthew Atkinson), devised a plot to permanently put a wedge between Brooke and Ridge by framing her for a CPS call. However, it backfired in Thomas' face, and after Taylor tearfully admitted to knowing what happened, Ridge was left torn between the two women. Unfortunately for Ridge, after decades of dealing with him flipping back and forth between them, they'd had enough of his antics. Instead, for the first time, Brooke and Taylor chose themselves, calling it quits and ending the cycle. 
After being rejected by both women, Ridge took some time away from Los Angeles, leaving his family behind. Recently, his whereabouts have been revealed, and he's working behind the scenes to take down Sheila Carter (Kimberlin Brown). Although Ridge technically never left town, Kaye was off-screen for quite a while, and the actor's opening up about who he missed the most during his absence. It's not necessarily who viewers might think. 
Kaye missed his father-son time the most
Thorsten Kaye recently returned to "The Bold and the Beautiful" after his character, Ridge Forrester, left town after his breakups with Brooke Logan and Taylor Hayes. Viewers are now aware Ridge never left Los Angeles, instead working deep undercover with Bill Spencer (Don Diamont) to send Sheila Carter to prison. With a significant time away from the canvas, Kaye is speaking out about which of his "B&B" costars he missed most. 
In an interview with Soap Opera Digest, Kaye revealed it was his on-screen father. He said, "John McCook [Eric], hands down. I talk to John every week about everything because that's just who he is. We always have a beer after work and talk about the important things like family and life and [Detroit] Red Wings." On the series, McCook's character, Eric Forrester, is a father figure to many, something the actor does with ease. As a result, his connection to fellow actors like Kaye is a natural transition from fiction to reality. 
It remains to be seen what direction Ridge's story will head in following the Sheila drama, but there are infinite possibilities now that his relationships with Brooke and Taylor have been severed. Ridge is returning to an entirely different life than the one he left behind many months ago.