Are Dry Eyes The Cause Of Your Flaky Eyeshadow? Here's How You Can Fix The Problem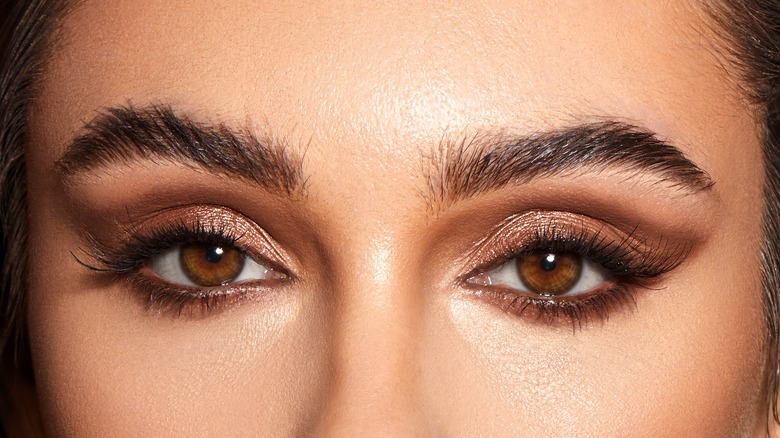 Wirestock Creators/Shutterstock
We may receive a commission on purchases made from links.
Having dry, irritated eyes can be... well, irritating. The constant blinking and incessant use of eye drops can be bothersome, especially when allergy season rolls around, with pollen making the situation worse. Caused by the inability to produce the proper amount of tears, dry eyes can result in redness, burning, and, surprisingly, watery eyes.
It can come with having a hard time putting contact lenses in and problems with applying eye makeup. You don't have to forgo eye makeup completely, but you have to be careful about where you're placing it in order not to exacerbate your dry eyes. Avoid placing eyeliner on the waterline since that's the part of the eye that helps to keep them moisturized. It's also important not to put mascara on the roots of your lashes when applying it; if possible, put it on the top of the lashes.
Simply having dry skin around the eyes can result in issues with makeup. The flakier the skin, the flakier your eyeshadow will be. Even when you use one of the best eyeshadow primers, your makeup might still flake. In order to fix it, you have to go to the root of the problem.
How to treat dry eyelids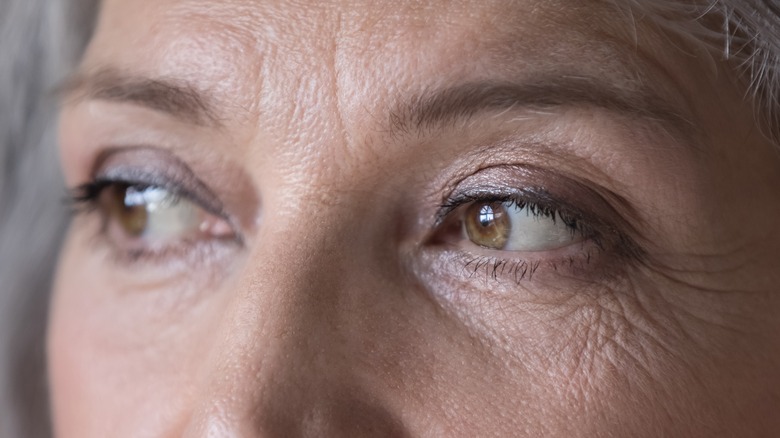 fizkes/Shutterstock
Dry skin on the eyelids can come from multiple sources, such as aging, the environment, or dermatitis. If you have atopic or seborrheic dermatitis, dry eyelids may manifest as itching, pain, scaly skin, or oozing skin. While both can be a result of inflammation in adulthood, atopic dermatitis, or eczema, they can also be a result of infection.
To fix your dry eyelids, a doctor can recommend low-strength corticosteroids to treat the area. If you experience contact dermatitis, knowing your triggers and avoiding them is key to not getting dry lids. Ingredients such as fragrances or metals, like gold, are common allergy triggers. For dry lids that result from age or environment, ensure that you're hydrating your eyes properly.
Use a humidifier when at home, and try to avoid baths and showers with scalding hot water. Opt for gentle cleansers and use emollients on the eyes that can seal in moisture. Vaseline or Aquaphor under the eyes and on the eyelids can help lock in hydration without irritating the skin.
Shop the best eyeshadows for dry lids
Instead of using a powder eyeshadow that has the potential to flake, use cream and liquid eyeshadows that won't crumble apart. To increase the longevity of the shadow and create an even base, prime beforehand. For an eyeshadow free of irritants and harmful ingredients, try the Glossier Lidstar Cream Eyeshadow. With eight shimmery colors, this long-wearing cream eyeshadow delivers a sheer wash of color and shine that's easy to apply for touch-ups and quick makeup looks.
Made with Vitamins C and E, the Julep Eyeshadow Stick boasts a hydrating and nourishing formula. Coming in a stick form, the product is easy to apply and blend out, thanks to the built-in smudger. The cream shadow dries down into a crease-free powder that's smooth and gentle on the lids.
The Jones Road Just A Sec Clean Eyeshadow contains Vitamin E, perfect for hydrating flaky lids. Whether you use a finger or a brush, the shadow applies smoothly, thanks to its lightweight and cushiony formulation. With nine colors, this cruelty-free shimmery shadow fits a range of skin tones.