Can This SkinCeuticals Gentle Cleanser Help Clear Breakouts?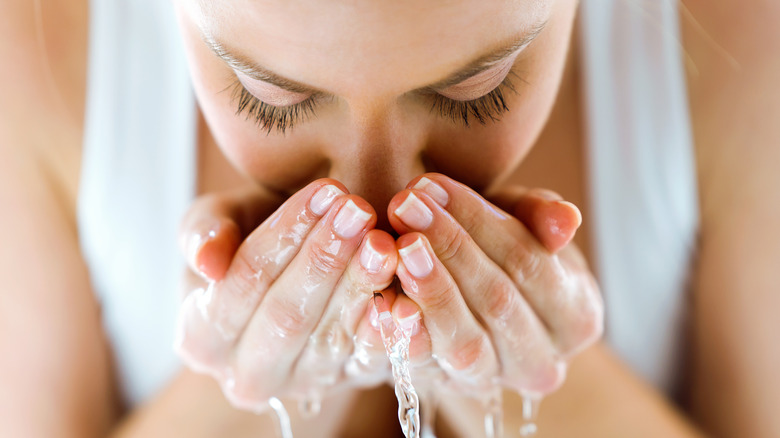 Josep Suria/Shutterstock
There's more to breakouts than just clogged pores. Stress, climate, poor nutrition, and overly dry skin are other lesser-known culprits, many of which are more common around the holidays. And let's not forget "maskne," or mask acne, which is 100% a real thing and much more common because of the pandemic. "Anything that causes friction can cause the skin to get irritated and inflamed, trap bacteria, oil, and sweat — and result in acne", Dr. Shari Lipner, an associate professor of clinical dermatology, tells Health Matters.
The harsh winter months can also wreak havoc on the skin, causing irritation and dryness that leads to breakouts. For those of us with sensitive skin, potent face cleansers can make the issue worse. The best face cleansers are those which purge dirt and dead skin cells, while simultaneously balancing oiliness and dryness to keep breakouts at bay, according to Byrdie. SkinCeuticals' Gentle Cleanser is a great pick when it comes to keeping sensitive skin calm and blemish-free, but what did an expert have to say about the product?
SkinCeuticals' Gentle Cleanser calms breakouts
Face cleansers are the first step to clear, healthy-looking skin. Those of us with inflamed or acne-prone skin need to find a cleanser which is gentle enough for sensitive areas, and cleans without stripping the skin of hydration. This is no easy feat, as most conventional face washes contain alcohol and foaming agents which can be extremely drying, per Everyday Health. In May 2021, an editor at Byrdie tested SkinCeuticals' Gentle Cleanser on her hormonal acne and was pleasantly surprised to discover "that it calmed my pores like no other product could." Many gentle cleansers on the market are so subtle that they don't do their job, but she explains, "This face wash gets deep down into pores and even removes eye makeup, which left my acne-prone skin feeling fresh and well-cleansed." She also recommends that those with oily skin double cleanse to make sure pores are clear of any residue that may provoke a flare up, but those with combination or dry skin may want to stick with a single wash.
Ingredients always matter but are especially critical when dealing with breakouts. This cleanser has glycerin as the main ingredient, promoting hydration, and orange peel oil, which works as an antibacterial for the skin, per Byrdie. As the editor summarizes, she was "finally back to being acne-free" after using SkinCeuticals' Gentle Cleanser twice a day. "I was amazed by how a gentle cleanser could take over my stubborn acne so effectively," she added.