The Eyeshadow Placement Trick That Will Open Up Hooded Eyes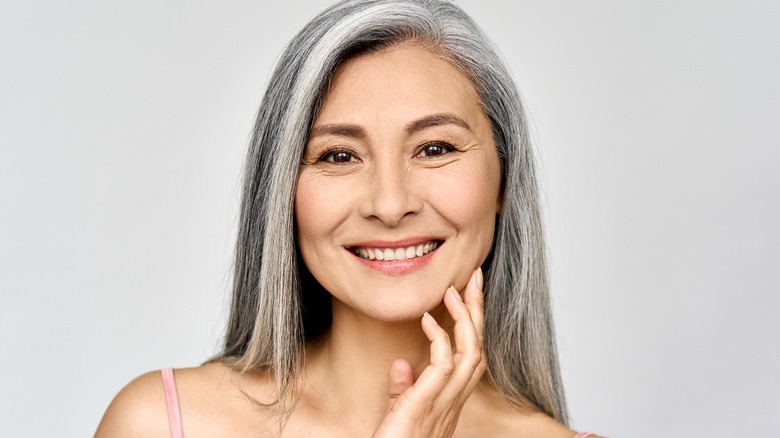 Ground Picture/Shutterstock
You saw a new blue eyeshadow trend on TikTok that you just must try. But after watching the video at least a dozen times and meticulously placing your eyeshadow with expert care, it's a complete failure. Sometimes, it's not the hack that's the problem. Not all eyeliner and eyeshadow trends work for all different eye shapes. Therefore, it can be helpful to find tips and tricks for your hooded eyes. 
Before breaking down the best eyeshadow placement for hooded eyes, it's important to know what this eye shape is all about. Hooded eyes have a bit of extra skin on the lid covering up the crease when you open your eyes. This means that the bold eyeliner you spent 15 minutes perfecting is all but invisible the moment you open your eye. So, it's important to work with your beautiful eye shape to get that perfect application and avoid wasting time. 
Get a fail-proof makeup routine that's perfectly crafted for your hooded eye shape. Here are a few tips for the perfect hooded eye makeup.
How to place eyeshadow for hooded eyes
Hooded eyes have a unique shape that's different from their round or almond eye counterparts. Therefore, it's important to work with the shape when it comes time to apply your shadow and liner. It only takes a few minutes to make your eyes the star of the show. 
Instagrammer @alexandra_anele offers an easy hack for hooded eyes using dark brown and shimmery beige eyeshadow. To start, you need to focus on the outer corner. Using the darker color, create a V-shape on the corner to extend the shape of the eye. Blend this out well to cover the outer corner and the crease. On the top of your eye, add a shimmery, light color to make it pop. Work it around well.
Once you have the shimmer in place, grab your favorite eyeliner. Hooded eyes benefit from a special lining technique to ensure you don't add heaviness to the eye. Start at the crease and pull the line out. Move to the bottom of your lash line and connect. Follow that angle from your eyelid to about where your pupil starts, and fill it in. That's all it takes for this eyeshadow hack. You'll want to stay away from putting the shadow high on the eye and focus on the corner instead. Now, you can explore a few other tips perfect for your eye shape.
Makeup tips for hooded eyes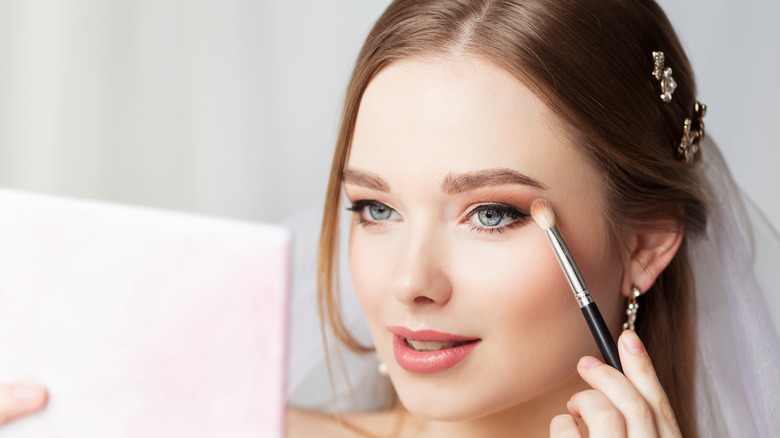 Inara Prusakova/Shutterstock
You might not realize the importance the application of your eyeshadow plays in your makeup routine. However, adding eyeshadow in a way that complements your eye shape is vital to getting an Instagram-worthy look. Be sure to get your application right by following a few key tips from the pros.  
One of the most important things to do when you have hooded eyes is to prime your eyelids. You have a crease built in, so you want to be sure that makeup stays where it should, and eyelid primer can help. It's also important to use brighter colors, even to create smokey looks, and avoid putting your transition colors right in the crease since the color gets lost, according to L'Oréal Paris. They also point out to avoid the water line and stick to thin lines with your eyeliner to avoid making your lid look heavy.
Hooded eyes are beautiful, and you can create some stellar eyeshadow looks that flow with your eye shape. Stick to bright shimmery colors on the top of your lid and pull the darker colors out from the corner of your eye. It's also essential to use a light hand with the liner. More than just being the perfect kitten eyeliner trend, thin eyeliner complements the shape of your eyes.