Here's Why Your Favorite Liquid Lipstick Is Drying Out Your Lips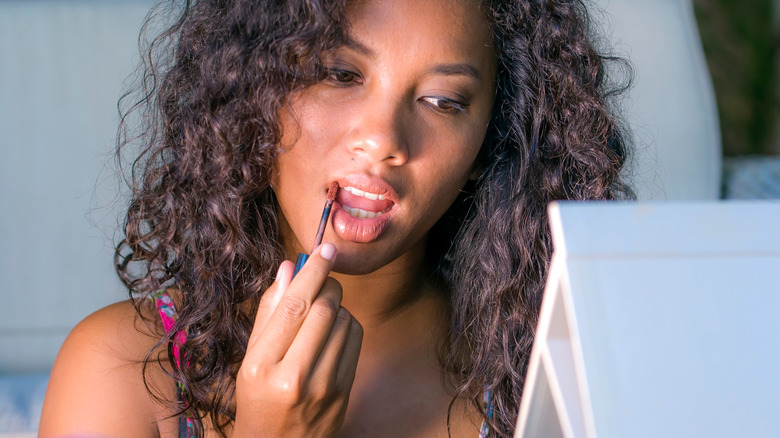 TheVisualsYouNeed/Shutterstock
We may receive a commission on purchases made from links.
Lipstick is such a versatile makeup element. You don't even need to have on a full beat to wear lipstick because it can stand on its own, or it can be the cherry on top of a fantastic look. The thing about lipsticks is that they come in different formulas, and hence, have different textures. These different lipsticks serve a variety of purposes and they have their pros and cons. Some lipsticks are creamy and smooth, while some are watery and would dry up. The problem with liquid lipsticks is that they leave the lips feeling cracked and dry, not to mention that they often end up crumbling as well.
It's hard finding the perfect liquid lipstick in the right color, only for it to dry out your lips and leave it peeling and uncomfortable. In order to figure out how to prevent your favorite liquid lipstick from literally flaking on you, you have to know why it's doing so in the first place.
Why matte lipsticks and stains dry lips out
If you are prone to dry, chapped lips, then drying liquid lipstick will only make matters worse. You should know the ideal lipstick formula if you have dry lips so you don't go buying one that only worsens your situation. Lots of people prefer to wear liquid lipstick because it doesn't stain as easily as creamy or oily lipsticks, and it stays on longer. This comes in handy when you have a long day planned and don't want to run to the restroom every hour to reapply your makeup. However, lipsticks that dry out tend to do you more harm than good, especially if you're already prone to dry, chapped lips.
Board-certified dermatologist Dr. Shereene Idriss explains why this happens in an interview with Huda Beauty. Liquid lip products like matte lipsticks and stains contain less oil and more wax. This leads to "richer color on the lips, but less hydration." According to Dr. Idriss, hydration is vital to preventing liquid lipstick from drying out the lips. She recommends rejuvenating your lips using a chemical exfoliant. After that, an occlusive agent such as jojoba oil or petroleum jelly should be used before finally applying your matte lipstick or stain. Occlusives work by sealing the moisture in your skin and preventing it from drying out, which is perfect for the lips.
Other ways to prevent dried-out lips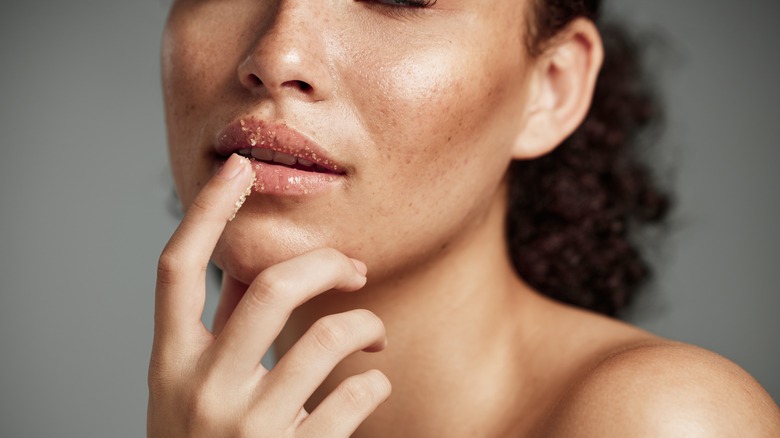 PeopleImages.com - Yuri A/Shutterstock
Just because you wear liquid lipstick doesn't mean you have to condemn yourself to dried-out lips forever. Once you know how you should apply liquid lipstick, you can make sure it doesn't turn your supple lips into an arid wasteland with rocky valleys and ridges.
Firstly, you need to exfoliate your lips, particularly if your lips are already chapped and peeling. Exfoliation will smooth out the rough edges and give you a softer feel. If you aren't comfortable using acids, you can use a lip scrub. After your lips are clean and free of debris, then use a lip primer like Nyx Pencil Lip Primer which contains jojoba esters. If you don't have a primer, you can actually use concealer which would come in handy when lining your lips as well. Priming your lips will reduce the chances of matte lipstick flaking and peeling throughout the course of the day. Once you've finished prepping your lips, then you can apply your liquid lipstick on top.