The French Manicure Trick That Makes Creating The Classic Look Even Easier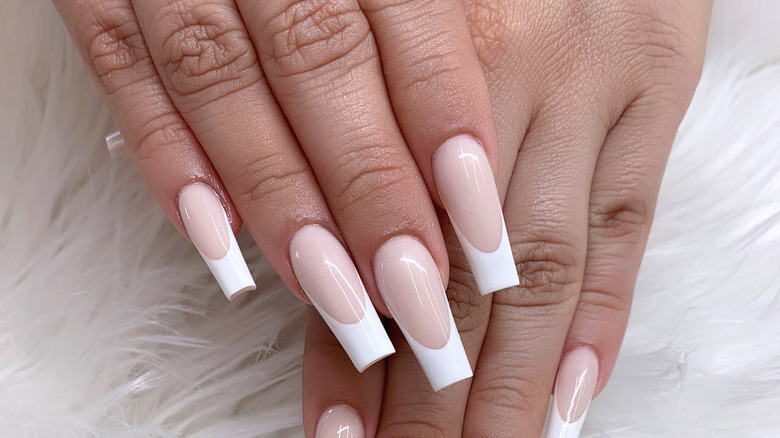 Huan N. Phan/Shutterstock
The French manicure is a timeless design that transcends the vaults of time. Despite its name, the French manicure didn't start in France. It was invented in Hollywood and with it came immense popularity. The look has been sported by celebrities such as Barbra Streisand, Beyoncé, and Kim Kardashian. The gorgeous nude lacquer and staple white tip on a square or sometimes oval-shaped nail appealed to anyone looking for a delicate design that just screamed elegance. Because of its effortless beauty and design, the French manicure probably won't ever go out of style.
This design is known for being sophisticated and simple, yet difficult to replicate at home. It used to be that only the steadiest of hands could achieve the manicure's signature curved white tip without making any mistakes. A crooked tip meant you had to wipe it off and start over again. Necessity is truly the mother of invention, because a new hack has emerged on social media that makes the whole application ordeal a lot easier and a lot less chaotic.
A nail stamp can easily recreate the signature white tip
The French manicure has managed to solidify itself as the classiest nail design of the new world. It has made another comeback into mainstream society, and thanks to TikTok, this time we are ready for it. The minimalist white tip has always proved to be a difficult feat to undertake, but there is light at the end of the tunnel. What once would have taken an expert hand and an unholy amount of time to perfect can now be done at home in just a few seconds with this new trick.
TikTok creators are using nail stamps to add polish onto their nail tips instead of drawing it painstakingly by hand. You can use a silicone stamp, or even a beauty blender to do this. What you have to do is apply your desired color of polish onto the stamp or beauty blender, and then press it onto the tip of your nail carefully. TikTok creator @jamaloukimag shows how to use a beauty blender to stamp on French tips by first covering the sponge with plastic wrap to protect it from staining.
You can also push the tip of your nail into the polish-laden stamp or beauty sponge instead. Creator @clawsbytasmia demonstrated how to accomplish this look by using a silicone nail stamp. This trick likely won't work on very short nails, because, since you have to sink your nail into the applicator, you'd need enough nail in the first place.
You can tailor the traditional French tip to suit your personality
With French nails, there is no limit to the number of styles you can pull off. Nail artists are experimenting beyond just the modus operandi and are revamping the classic style to a more modern French manicure. People are switching up the traditional solid white bar to use different stencil designs to customize their nail tips. One TikTok creator @clearjellystamper added a green textile design to their nails and the result was fabulous.
Another popular style you could pull off is the matte French manicure which departs from the usual glossy finish of the standard look. To achieve this look, first paint over your nail with matte polish, and then coat the tip with a glossy one for a desirable contrast. 
Finally, you can swap the typically nude French nail body for different colors like creator @lalarileite who went for a black body and stamped white tip.