How To Pull Off A Matte French Manicure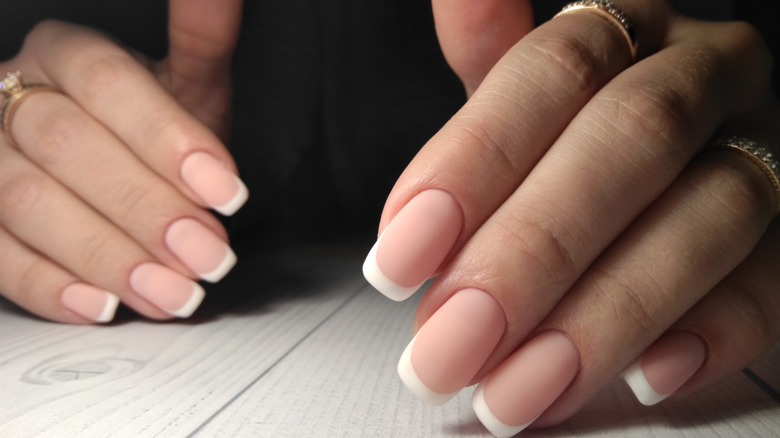 Shutterstock
Nail trends come and go, but some styles, like matte nail looks, are timeless. Matte nails will always look classy, cute, and chic, and they're incredibly versatile, as they can elevate any outfit. Whether you go to a salon or give yourself a manicure at home, matte nails should always be an option in your tool belt.
Like all styles, matte nails come in different varieties. A French matte manicure, for example, features mostly matte nails except for the tip, which is glossy (via Allure). The most common color for French matte nails is black, with the matte black finish complementing the glossy nail tip nicely. Celebrities like Kylie Jenner have been rocking the matte French manicure lately, with their influence making others want to try it, too (via Seventeen). This combination of black and gloss is in itself timeless — it's elegant and sophisticated, and it shows that you're not only fashionable but also up to date with trends. However, as with any manicure trend, you can go with whatever color you most prefer.
While the timelessness and elegance of a matte French manicure may seem like its best qualities, it may actually be its easy application that makes it a standout nail style. The style only requires one or two nail polishes to complete, along with just a few minutes of your time.
This is how to pull off a matte French manicure at home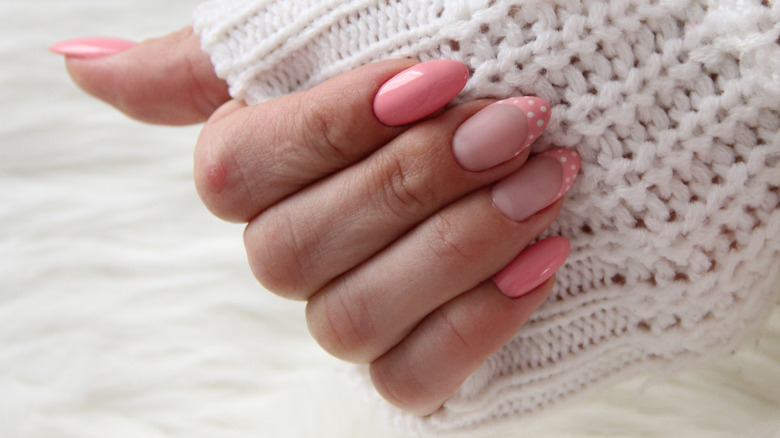 Shutterstock
According to Allure, the process of creating your own matte French manicure at home is simple. You first paint your nails with a layer of matte topcoat polish. Then, you let them fully dry before adding the gloss to the nail tip. To do this, you simply take the glossy polish you want to accent your base color and swipe a single stripe of it horizontally across the tip of your nail. The best part of this is that it's completely customizable. You could do matte black nails with a silver or white stripe, colorful nails with a black or white stripe — anything you want to do to express yourself! 
Some nail products are particularly suited for this trendy look. According to Seventeen, LAQA and Co.'s Tuxedo Dual-Tip Nail Polish Pen contains both the matte and the gloss polishes in one pen, and mistakes are harder to see due to the two polish styles being the same shade. Moreover, they recommend Revlon's Nail Art Shiny Matte Duos, which also come with two polishes to create a matte and glossy combination look.
If you've never tried this style before, why not give it a shot? It's quick, and you can use any nail products you have at home to create something cute that you — and everyone that sees you — will adore.