What Drew Hallmark Star Noemí González To Undercover Holiday?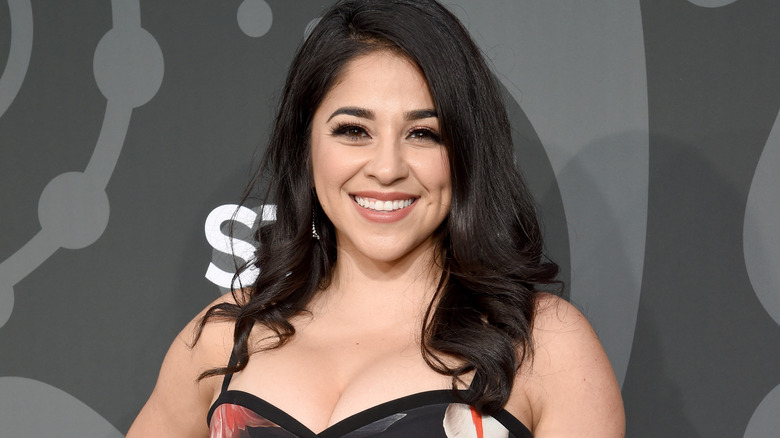 Michael Kovac/Getty Images
There's a lot to love when it comes to Hallmark and its famously wholesome romance films. The network of positivity has been delighting us with lovable, heartfelt messages for over 100 years now. To this day, the TV channel of the brand continues to drop new content at an even higher rate than ever before. The lineup for all the Hallmark movies you can expect to see in April 2023, for instance, is already shaping up to be an excellent month of movie nights best spent sharing popcorn with your loved ones.
It makes sense that films like these would be every actor's dream job. Who wouldn't want the chance to work in a positive environment and with a company that has such a long history of making people happy? That could explain why you find so many familiar famous faces working with the Hallmark Channel, such as Dolly Parton, whose Hallmark movie set in Dollywood was a winter dream come true.
Noemí González has also taken center stage in a Hallmark film that you might have caught last winter entitled "Undercover Holiday." And, when you find out what drew the star to the holiday flick, it will all click into place why this was truly a role meant for her.
The movie showcased a more realistic representation of her culture
In a classic tale of seemingly mismatched lovers, Noemí González plays an up-and-coming pop star with an impressive set of vocal cords. The singer is back home to visit her family for the holidays, and we all know how those kinds of high-pressure dinners can go. For González's Jaylen, things get even more complicated. She brought a plus one along to the holiday get-together, and her date just so happens to be her bodyguard in disguise. 
Of course, in classic Hallmark fashion, plenty of hijinks and sweet romance ensue. It's a somewhat familiar setup that is sure to make you laugh and get you in the seasonal spirit even if it's way before the holidays. But it was more than just the festive cheer that inspired González to take on the role. In an interview with Fangirlish, González noted that she was sold the minute she read the script, which was written by Nina Weinman. 
The actor added that she felt "blessed" and "humbled" to have been extended the honor to portray the lead role. Not only did González find the script's writing beautiful, but she was also drawn to the theme of family as well as its focus on traditional Mexican holiday culture. "That was a big yes for me that [the movie] had so much of [my] heritage in [its] background," the Hallmark star explained. 
She got the chance to use more than one of her talents too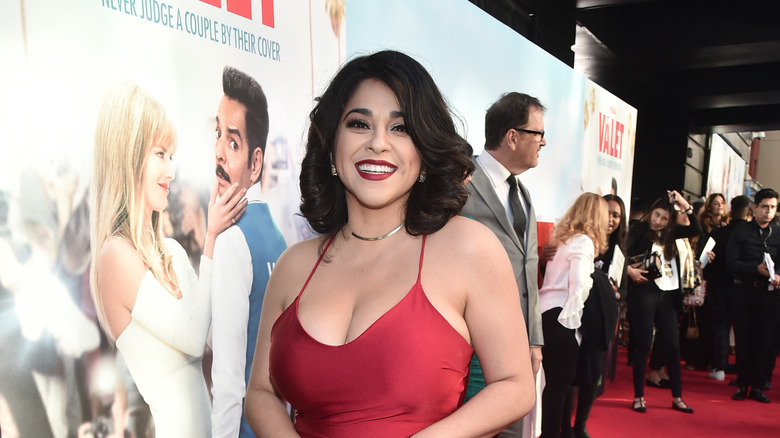 Alberto E. Rodriguez/Getty Images
Along with keeping Noemí González's heritage at the forefront, there was something else that made the role of Jaylen so perfect for the actor. For those not in the know, González is far from a one-talent star. Along with being a prolific actor who has appeared onscreen in numerous roles, including the ambitious Mia Rosales from "The Young and the Restless," González has a background steeped in music. 
In fact, during her interview with Fangirlish, she revealed that her original career trajectory didn't even include being an actor. "I channeled everything through songs, and then as I got older, I thought I was going to be a music teacher," she said. Her love of music is clear in her role as drummer Suzette Quintanilla in the Netflix show "Selena: The Series," which details the life of Selena Quintanilla. 
The much-loved singer's life was tragically taken away from her at a young age and she remains an icon to this day. It makes sense that González would be drawn to the role of a pop star whose life is imbued with a love of music just like we see in "Undercover Holiday." That passion mirrors her own life, and it's awesome to see.