Hinge Voice Prompts: How To Recognize Red Flags In Audio Notes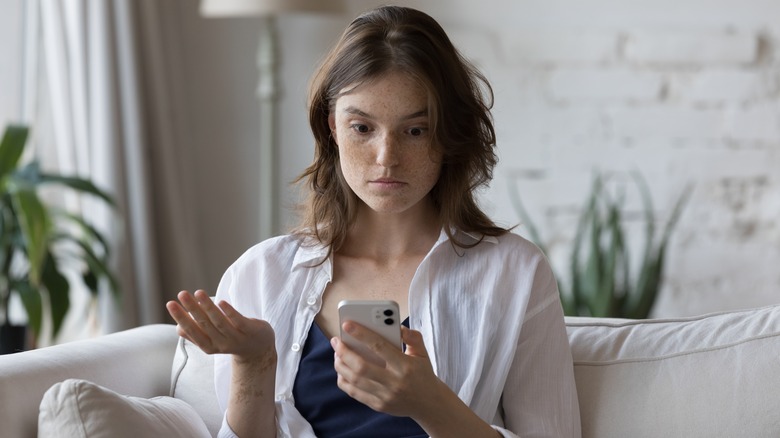 fizkes/Shutterstock
Hinge, known as "the dating app designed to be deleted," takes online dating to the next level with its profile features — one of its most unique additions is the voice prompts. Hinge added the popular voice prompt feature in October 2021, quickly gaining popularity on TikTok as users shared the best and the worst that singles had to offer. A Hinge study found that 65% of users responded positively to hearing a potential match's voice when deciding if they were compatible. According to the dating app's Chief Product Officer Michelle Parsons, "If a picture is worth 1,000 words, imagine how many your voice is worth ... Our team's focus is to introduce product updates that help our daters move from the selfie to new forms of self-expression." (via PR Newswire). Hinge users are definitely expressing themselves with unique responses to voice prompts that range from a simple "How I pronounce my name" to the ever-popular "My best celebrity impression" that usually leads into a vague rendition of the Terminator or Gollum from "Lord of the Rings."
If you're lucky, you'll come across a voice memo that makes you chuckle. However, more often than not, voice prompts give you a preview of just how awkward a date would be if you were to hit that like button. While you're browsing through Hinge for a potential match, be on the lookout for these huge voice memo red flags.
If they have any of these answers in their voice prompts, swipe left
Logan Ury, Hinge's director of relationship science, revealed the do's and don'ts for voice prompts, and we are ready to take notes. He shared with Mashable that many users overthink voice prompt responses and re-record their answers over and over. If you run across a voice memo with a robotic and awkward vibe, odds are your potential match isn't great at expressing themselves. People trying way too hard to be funny is another common offense, according to dating and relationship coach Alison Marie. Certain prompts like "My best dad joke" and "We're the same type of weird if ..." provide ample opportunities to show off your sense of humor, but many responses seriously miss the mark. Some will take the opportunity to make an unfunny or borderline offensive joke that quickly shows you aren't compatible, while others miss the memo that they were supposed to tell a joke at all.
One of the biggest mistakes many men on Hinge make is trying too hard to be seductive or alluring in voice memos. TikToker @emilytatouille came across a super-cringey voice memo while browsing Hinge and felt obligated to warn other unsuspecting singles who may come across Fernando's profile. In response to "my most controversial opinion is..." he used what can only be described as a "bedroom voice" to illustrate what would happen if potential matches gave him "just five minutes of pure, focused attention." It's definitely not a controversial opinion to say that made us seriously uncomfy.
These charming voice prompt responses deserve a rose
Roses are to Hinge what super-likes are to Tinder, and much like everyone's favorite dating show "The Bachelor," Hinge users can give roses to potential matches to indicate that they are super interested. Not all profiles are rose-worthy — especially with the amount of weird voice prompts on the market — but some responses deserve a whole bouquet for their creativity.
We love when pets make an appearance on a dating profile, and this voice memo sets the bar even higher. TikToker @atibc1 shared this most adorable response to the prompt "My BFF's take on why you should date me." The eligible bachelor begs the question to his cat, Tess, who responds with an enthusiastic meow. This is now the only acceptable response to this prompt in our eyes.
Another great way to use the voice prompt feature is to showcase your passions, which this Hinge user definitely did. TikToker @mimosasandlipstick came across a profile with a quick rant about how "Ross Geller is a terrible person." He explains that everyone's favorite "Friends" couple is super problematic and Ross definitely holds Rachel back. We have to agree and would love to discuss this more over coffee.
Finally, this Hinge user gets all the points for creativity. TikToker @oliviaruffiniscoo shared Connor's use of the prompt "Worst idea I've ever had" to create a custom corporate-style welcome message while potential matches scrolled through his profile, complete with jazzy background music. The silliness is totally charming!