Sombré Hair: The Softly-Colored Hair Trend Perfect For A Lived-In Look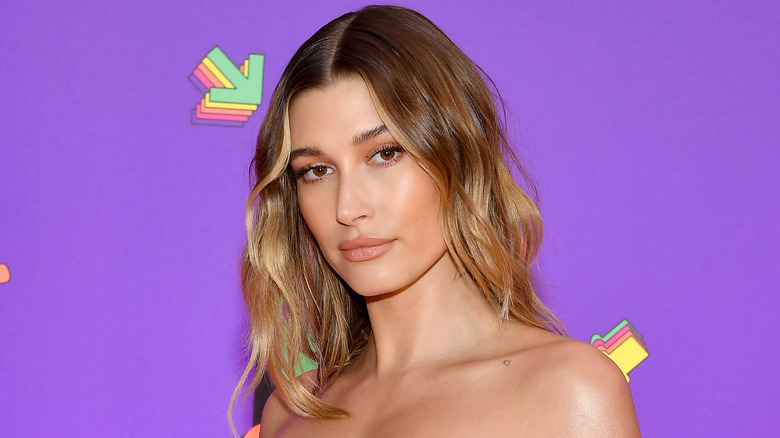 Amy Sussman/kca2021/Getty Images
If you follow the latest hair trends, you've likely heard of the newly iconic ombré hair. The simple technique involves beautiful gradiation from darker to lighter hair and takes care of any problems of regrowth with its smooth, low-maintenance transition. Think of sombré as ombré's little sister, a softer, more gradual variation of the trend. It's the perfect look to copy just in time to give your hair a spring refresh.
Notable celebrities like Rosie Huntington-Whiteley, Hailey Bieber, and Gisele Bündchen have all been seen sporting this dreamy, sun-kissed style, showing us that beachy hair can be achieved all year long. Sombré is a subtle, fun look that's easy to achieve. As per Harriet Muldoon, a colorist at Larry King salon, "It's taking the ombré look and moving the highlights a little higher to create a softer effect, while adding in lots of tones and dimension" (via Glamour UK). 
Sombré hair is easy to achieve
There are many benefits that come with this long-lasting and low-maintenance hairstyle. Since the contrast between dark roots and lighter ends is much less obvious, you won't have to visit your local hair salon for frequent touch-ups.
Matt Rez, a celebrity colorist in Beverly Hills, tells Byrdie, "Sombré hair can help with the health of your hair by allowing the client to only have to put lightener on their hair a few times a year." With this effortless style, you only need to get touch-ups every few months. Not only is sombré low-maintenance, but it's also extremely versatile and looks great on everyone. Regardless of your skin tone or current hair color, there's no doubt that this flattering hue blend will suit you. Whether you're a dark blonde looking to lighten up your locks or simply want a more lived-in color, this hairstyle should be on your radar.
There are many sombré styles you can try
With so many different variations of this trend, you'll never run out of options with sombré hair looks. For a balanced mix of blonde and brunette, go for a bronde sombré shading that will give you the perfect combination of the two hair colors. If you prefer warmer tones, use Sofia Richie's golden girl sombré hair for inspiration to completely brighten up and elevate your already blonde hair. If you're a curly-haired girl, there are plenty of ways you can achieve a stunning sombré look that brings out your volume. Try a sombré with tight curls to lighten up your tone and add dimension to your locks. 
Just like achieving the color, maintaining sombré hair is easy and doesn't take much upkeep. While you only need to visit your hairstylist a few times a year for a touch-up, we recommend going in every eight to 12 weeks for a hair toner. Wondering whether you need a hair toner? If your hair looks too warm or dull, toning your locks will brighten up the color and keep it from going brassy for good.