Why You Might Want To Rethink Coloring Your Hair Red At Home
Dyeing your hair at home is a relatively affordable option in comparison to going to the salon, but it's not always something that's recommended. When it comes to getting the red hair of your dreams, for instance, many experts strongly suggest visiting the salon instead of trying to transform your hair on your own. Going red can be a multi-step process that's difficult to master, especially if you've never dyed your hair before. 
Hair colorist Moran Gallagher emphasizes to Bustle that it's not advisable to dye your hair red at home. She shares, "I especially would never recommend doing it by yourself. I would definitely suggest going to a professional. The subtleties of the tone can make or break the whole outcome." So, if you're thinking about making the change to red hair, it might be better to go into the salon rather than try to achieve the perfect shade at home.
Lighten dark hair with highlights if you're going red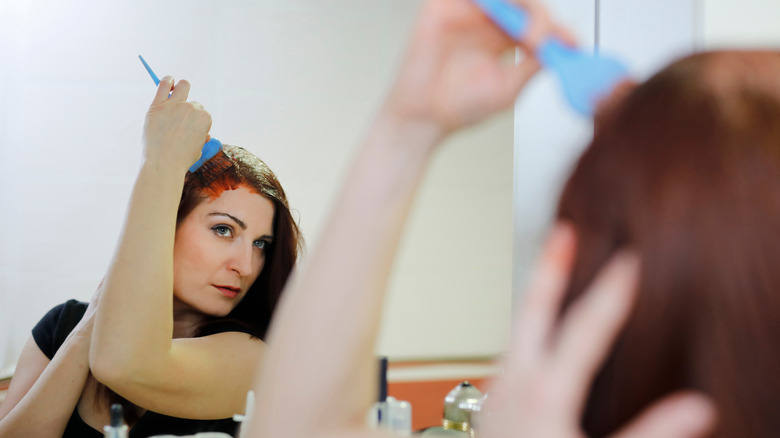 ID stock photography/Shutterstock
There's a high margin for error when you're dyeing your hair red at home. But, if you do decide to go forward with the process, you might have to go through a few different steps to get the color you want. If your hair is a dark brunette, you might want to highlight it first since the red color might not show up. Colorist Stephanie Brown tells Refinery 29, "What I usually suggest is a full head of highlights all over with toned red on top to slowly change the color. So yes, you are lifting the hair, but the damage would be minimal."
The process is different if you have dyed your hair before. If you don't have virgin hair, you're going to have to go through a color correction to achieve your desired final look. Brown suggests adding oranges and reds back into your hair before going in with the red dye. Luckily, if you end up not liking the final look, there are still ways to fix your new hair color without damaging your tresses.
Research your stylist and take care of your red hair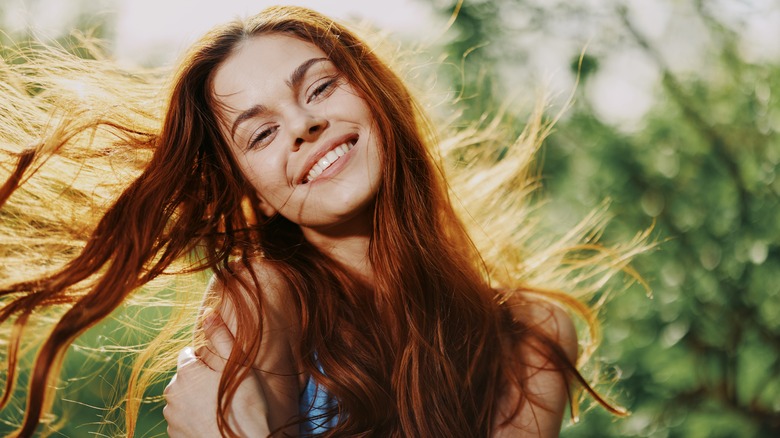 ShotPrime Studio/Shutterstock
To know exactly what you're getting into before visiting the salon, make sure to research your color professional, hair color specialist Michél McKrieth tells Essence. She says, "Research a potential hairstylist/colorist thoroughly. If you see someone with color you love (and if they have the same or a similar texture as you even better) ask them who does their hair!" Also, be sure to bring in different photos of the red hue that you're going for so your colorist knows what they should be looking to achieve.
After dyeing your hair red, remember that it fades more quickly than other hair colors. There are steps you can take to make sure your hair color isn't washing out too fast, however. L'Oréal suggests taking care of it after it's dyed by washing it less frequently, using shampoos for color-treated hair, reducing your use of heat for styling, and using hair masks, oils, and deep conditioners.