Why An Eyeliner Brush Will Revolutionize Your Makeup Routine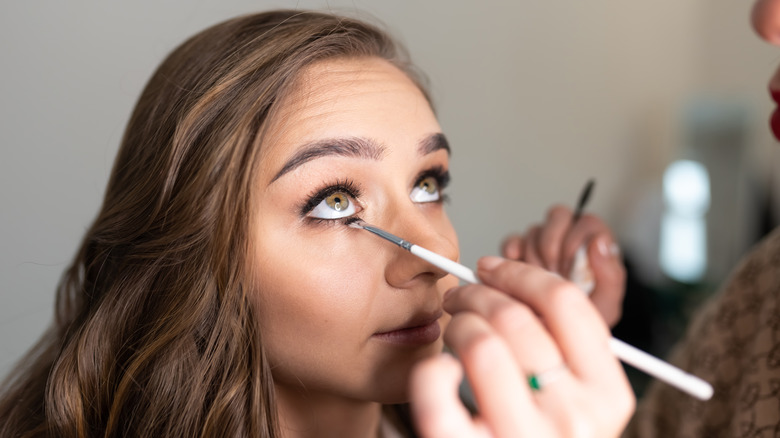 Artsiom Petrushenka/Getty Images
If you like trying new things when it comes to doing your makeup, it's likely that you've spent time finding the best brushes for each step of your makeup routine. One brush that you might not be using regularly, however, is an eyeliner brush. If you're using an eyeliner pencil or liquid eyeliner, you might not have even thought about getting a brush since those types of eyeliner don't require brushes. 
However, if you want to change up the way you apply your eyeliner, consider reaching for gel or powder eyeliner alongside an eyeliner brush. There are some surefire ways to change up your makeup look, and you might even find you prefer it over your usual eyeliner product. Plus, gel and powder eyeliner can last longer if you're looking for all-day wear. Using different eyeliner brushes results in different looks, so you'll want to know which is the best. 
Change up your eyeliner brush for different looks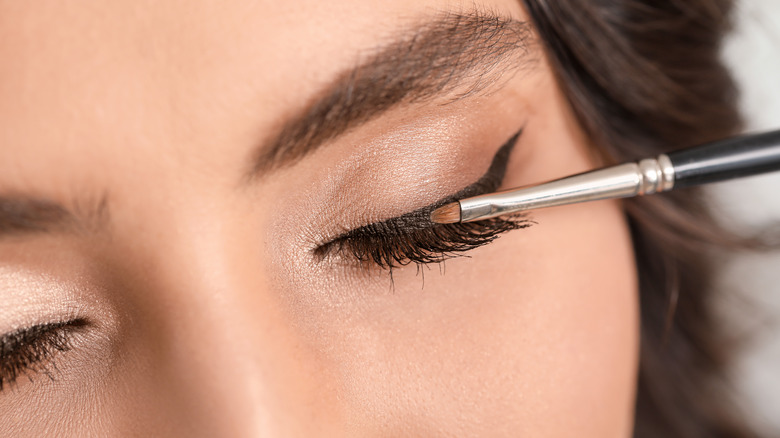 Pixel-Shot/Shutterstock
Eyeliner brushes will change your routine because you'll be able to accomplish completely different looks with them than you are with your regular pencil or liquid liner. This is because they can be more precise. Some eyeliner brushes are angled, while others are round or flat at the end. If you're looking for an application that's most similar to your usual eyeliner pencil or liquid liner brush, reach for a brush with a flat tip. If you want to try for the perfect cat eye look, however, Style Craze suggests reaching for a dome-shaped brush or angled tip brush for precision.
The angled brushes are also perfect for winged-tip eyeliner. Celebrity makeup artist Troy Jensen tells Byrdie, "For a wing tip to last all day and through the night, use a cake or gel liner with a small, flat angled brush." If you only add one eyeliner brush to your collection, choose a versatile one that'll allow you to get different looks like a flat brush since that will allow you ease of application and precision.
How to use an eyeliner brush with powder or gel eyeliner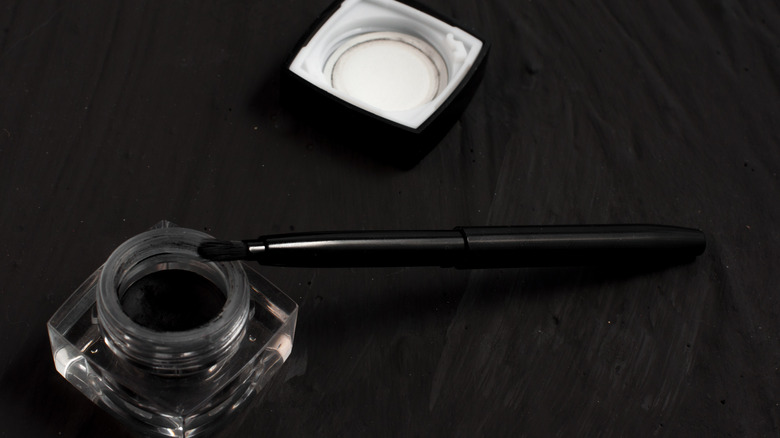 l.marchuk/Shutterstock
If you're new to powder or gel eyeliner, you might find yourself surprised by how easy the products are to use. First, prep your eyes by cleaning them to get rid of any leftover product or oil that may make it hard for your makeup to stick to your skin. Also consider applying a makeup primer to your lids at this point if you want to keep your eyeliner in place all day.
Second, dip your brush into the powder or gel to get a full coating on the bristles. Then, Cosmopolitan suggests using the brush the same way you do with any other eyeliner. Start by bringing the brush to the middle of your lashes and sweeping it toward the outside of your eye. Then, start at the middle again and sweep the brush in the opposite direction to cover the rest of your lash line. You can also apply the liner to your lower lid and customize your look by adding more or less product.