Eyeliner Stamps Are The Trendy Way To Spice Up Your Makeup
We may receive a commission on purchases made from links.
These days, eyeliners are mass-produced, wrapped in plastics, and used to draw everything from colorful, "Euphoria"-inspired graphic designs to classic wings. However, long before you could drive to CVS and pick up shades of brown, black, or blue liner, ingredients like copper ore and malachite were used to darken waterlines. According to National Geographic, Cleopatra wore black and green pigments made from combined leads around her eyes, shielding them from infection. "In my opinion, [the ancient Egyptians] were aware that these compounds brought good health, and they were making them on purpose," French chemist Christian Amatore explained to the magazine.
Millennia later, Taylor Swift sang about cat eyes "sharp enough to kill a man" in her album "Midnights," and TikTok creators began experimenting with the so-called "siren eye" phenomenon. Now, with its origins thousands of years in the making, a new makeup trend is making waves online: eyeliner stamps. Here's how to use these products to spice up your everyday makeup look.
Eyeliner stamps require less precision than regular pencils
In a video with over 100,000 views and counting, TikTok creator Eva Joy (@evajoyxo) shows how she uses eyeliner stamps to elevate her normal makeup routine. "Just go in without a plan and just stamp your way to coolness" she advises, adding, "do not go the symmetrical route." With the help of a NYX stamp, the creator applies stars to the inner and outer corners of her eyes and above her browline, finishing off the look with a generous helping of glitter on her lids for a '70s classic rock-themed beat. Alternatively, shop the virtual shelves of Amazon to find moon, heart, and flower stamps, building your makeup look around tattooed patterns.
However, if you're going for a more classic glam and haven't yet mastered free hand liner, opt for a cat eye stamp from iMethod, completing the look with a bold red lip à la Taylor Swift. Pro tip: rather than stamp up and down, decide where you want the end of the wing to fall and drag it, creating an elongated look. TikTok's Official Lady Venom (@official_lady_venom) demonstrates the method in a helpful how-to. 
Use eyeliner stamps on other parts of your face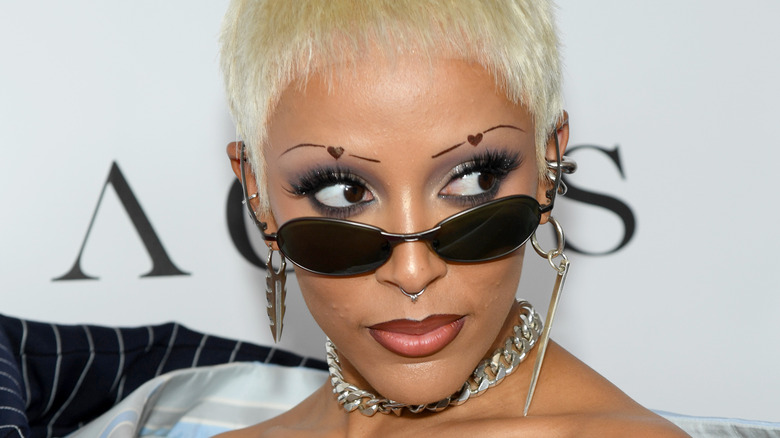 Gary Gershoff/Getty Images
16th-Century French aristocrats, Marilyn Monroe, and Cindy Crawford are all known for their beauty marks. Whereas these glamour spots were used to conceal smallpox scars in past centuries, many modern creators are using them to transform their pimples. Cover stubborn blemishes with your go-to star, heart, or flower-shaped stamp pattern. If you don't have any spots that need addressing, use the eyeliner stamp to create a freckle pattern across the bridge of your nose or draw a single, movie-star-inspired mole on your cheek. Outside the realm of stamps, eyeliner stickers have also grown in popularity — Paintlab sells them in a wide variety of colors and shapes.
Finally, look to Doja Cat for inspiration. The singer, rapper, and songwriter took to Instagram live in 2022 to shave off her hair and brows. Since then, she's experimented with different shapes, styles, and decorative add-ons. For starters, stamp a statement heart in the middle of a pencil-thin eyebrow, completing the look with glamorous lashes and shadow.