What The Cast Of The Amanda Show Looks Like Now
Calling all '90s kids! Buckle up for a bit of nostalgia. If you grew up on Nickelodeon, then you probably remember "The Amanda Show," which was like a kid-friendly version of "Saturday Night Live," but with more dancing lobsters. The sketch comedy show aired in 1999, ran for just three seasons, and featured several actors who would go on to make a name for themselves beyond the Nickelodeon-verse, like Amanda Bynes, as well as some who wouldn't.
Following the success of "All That," another Nickelodeon sketch show on which Dan Schneider worked as executive producer, he created "The Amanda Show" as a series spinoff. It was the second time Schneider and Bynes worked together, but this time, he made her the star. It's been more than two decades since "The Amanda Show" went off the air in 2002, leaving a hole that can only be filled by more Judge Trudy, Totally Kyle, and Moody's Point. Luckily, Schneider went on to launch "Drake & Josh" in 2004, which starred two cast members of "The Amanda Show," and Nickelodeon dominated television for many more years.
In the time since "The Amanda Show" ended, cast members of the show have changed dramatically — some beyond recognition. Here's what the cast of "The Amanda Show" looks like now.
Amanda Bynes was admitted to a psychiatric hold
Amanda Bynes had a classic child actor upbringing, having signed on with her first agent at just 7 years old. In an interview with Paper, Bynes remarked that being cast on "All That" was "a dream come true." A few years later, producers of Nickelodeon told her they wanted to cast her in a show inspired by "The Carol Burnett Show," and thus, "The Amanda Show" was born. Bynes cracked up the audience for three seasons before she decided to move on with her career, landing lead roles in "What a Girl Wants" and "She's the Man."
As she got older, she began experimenting with drugs. While filming "Hall Pass" in 2011, she recounted that "the mixture of being so high that I couldn't remember my lines and not liking my appearance" led to her leaving the movie. After a screening of "Easy A," Bynes said, "I was convinced that I should never be on camera again and I officially retired on Twitter." From there, she isolated further and fell deeper into her addiction.
In 2013, Bynes was placed under the conservatorship of her parents and announced that she had been diagnosed with bipolar disorder. In 2022, Bynes successfully petitioned to have her conservatorship lifted. In March 2023, she called emergency services to report that she'd had a psychotic episode and needed help after wandering in downtown Los Angeles. Bynes was hospitalized and placed on a psychiatric hold for analysis.
Raquel Lee Bolleau swapped Nickelodeon for Disney
Raquel Lee Bolleau was a regular on "The Amanda Show" throughout Season 1, best known for her portrayal of Sheila on the show's recurring sketch, The Girls Room. Bolleau left after only 14 episodes for unknown reasons, though some speculated that she was fired because of the color of her skin. She was then replaced by Josh Peck in Season 2 of "The Amanda Show."
Bolleau continued to act in a couple of smaller shows and TV movies before landing the voice acting gig she's since become known for in 2001. She voiced Nubia Gross, the only speaking member of the antagonistic Gross Sisters, in the animated Disney Channel series "The Proud Family." The show ended in 2005, but Disney+ rebooted it in 2022 as "The Proud Family: Louder and Prouder," in which Bolleau reprised her role as Nubia.
In an interview with Global Grind, Bolleau spoke about being reunited with her co-star, Kyla Pratt, who voices Penny on "The Proud Family." She said, "Kyla and I have known each other and been friends since we were kids ... Now, here we are 20 years later as moms, wives, and businesswomen." Considering she grew up as a child actor, which can be a rocky start to life, Raquel Lee Bolleau has had remarkable success. She launched her vegan hair care line Métisse Natura, married Edouard Bolleau in 2016, and has become a loving mother to two children.
Josh Peck now stars alongside Hilary Duff
When he replaced Raquel Lee Bolleau in "The Amanda Show," Peck hit the big time and stayed on with the cast for the final two seasons of the show. Speaking about Amanda Bynes with Insider, Peck said, "I tried to be this sort of quasi-apprentice to Amanda and watch her ability and try to dissect what it was that made her so great."
After "The Amanda Show" ended, Dan Schneider created another Nickelodeon spinoff with Peck and Drake Bell in mind. "Drake & Josh" ran for four seasons, centering around Peck and Bell as stepbrothers in an "Odd Couple"-esque living situation. Peck told Insider that he's still most recognized for this role, despite trying to break away from the series, and he struggled with being type-cast. Another pain point in his life from the time he was on "Drake & Josh" was his weight. He recounted wearing Spanx while filming, dieting, and exercising, which led to his 100-pound weight loss. Despite his incredible transformation from child star to unrecognizable adult, Peck still dealt with a poor self-image and battled drug addiction between 2004 and 2008.
Now, Peck is sober, married to Paige O'Brien, and a doting father to two boys. He is now working alongside Hilary Duff in the Hulu show "How I Met Your Father."
Nancy Sullivan has continued acting since the show ended
As one of the few adult actors on "The Amanda Show," Nancy Sullivan got to play an array of characters like Mrs. Klutz and Marcy Stimple during her time on the show, spanning all three seasons. But well before Sullivan became a familiar face on Nickelodeon, she had been acting in minor roles since the '80s. She had minor, one-off parts on shows like "The Bold and the Beautiful," "Matlock," and "Doogie Howser."
After "The Amanda Show" ended, Sullivan joined Drake Bell and Josh Peck on "Drake & Josh," playing Drake and Megan's mom and Josh's stepmom. She would reprise the role in the handful of "Drake & Josh" movies that aired in the years following the end of the show, but since then she's remained fairly private. Her most recent credited roles have been voice acting gigs for "Monster Island," and "Barbie Dreamtopia," but it doesn't seem like she's been in film or television since 2017. Wherever she is now, we'll always remember her for the many times she picked Megan's side over the boys' in "Drake & Josh."
Drake Bell now goes by Drake Campana
As an OG cast member of "The Amanda Show," Drake Bell had it made with Nickelodeon from a young age. He stayed on for the length of the show, playing iconic characters like Totally Kyle, Tony Pajamas, and Carter Klutz. Speaking on "Speech Bubble with Butch Hartman," Bell talked about working with Amanda Bynes after watching her on "All That." He said, "Amanda to me was like Carol Burnett, she was Lucille Ball, she was a big star ... I just looked up to her because I watched her growing up" (via YouTube). Bell then moved on to star alongside Josh Peck in "Drake & Josh." After his song "Found a Way," which featured in the opening credits, became popular, it was obvious his true passion was in music.
Although Bell continued to work on small roles in television and movies, his primary focus went toward his music. Unfortunately, his life became swamped with controversy beginning in 2009, which is one of the many reasons we don't hear much from Bell anymore. Amid two DUIs, allegations of abuse from ex-partners, filing for bankruptcy, being charged with attempted child endangerment after inappropriate exchanges with an underage fan, changing his name to Drake Campana, and moving to Mexico, he's had his hands full (per Complex). After being placed under four years of probation, it's been reported that Bell has split from his wife, with whom he shares a son, and has sought treatment.
Jamie Snow worked her way up from actor to casting director
Jamie Snow appeared in seven episodes of "The Amanda Show," most notably playing Tammy from The Girls Room sketches. This was her first credited performance, and she must've caught someone's eye at Nickelodeon, because she's stuck close with the company ever since. Between 2010 and 2015, Snow appeared in a handful of shows, like "Victorious" and "Henry Danger," both Nickelodeon shows.
It would seem that her passion was more in the behind-the-scenes work of these shows because after graduating from college with a degree in dramatic arts and film, she and her casting director friend, Krisha Bullock, formed Bullock & Snow Casting. Together, they've done casting for some of Nickelodeon's biggest shows, like "iCarly," "Victorious," and "Sam & Cat."
In an interview with DirectSubmit, Snow said, "I stayed in touch with the producers of [The Amanda Show] as I went into college and reached out to them when I needed an internship my senior year. The internship turned into a stand-in position which led to my relationship with Krisha and led me to working in her office."
Taran Killam was a forgotten actor on The Amanda Show
Moody's Point was a popular segment on "The Amanda Show" as a spoof of "Dawson's Creek." Taran Killam played the character Spaulding a couple of times in the segment, which is completely ironic now that he's renowned for his time on "Saturday Night Live." In an interview with Brooklyn Magazine, Killam shared that fans still ask him about his time on "The Amanda Show," as well as the Disney Channel movie he did in 2004, "Stuck in the Suburbs." He said, "Nickelodeon and Disney replay stuff so much that things never really go away."
In the nearly three decades that Killam has been acting, "SNL" has certainly been his most recognized work, and one of his co-stars is a fellow Nickelodeon alumni, too: Kenan Thompson. Killam said, "Our common denominator was Dan Schneider, who created 'All That,' he created 'The Amanda Show,' and 'Kenan and Kel,' and has been very good to us, and remains a good friend of both of ours. So, we definitely shared that bond."
He has been married to Cobie Smulders since 2012 and the couple has two children together. Killam continues to act in comedic roles but has since broadened to more dramatic ones as well.
John Kassir is best known for his voice acting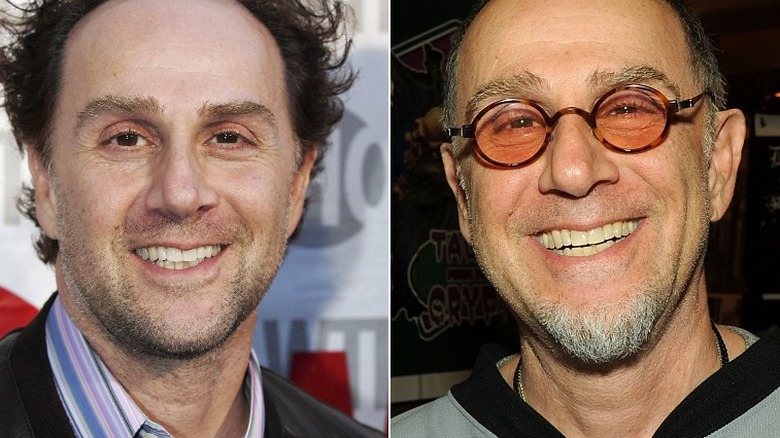 Frazer Harrison & Bobby Bank/Getty
As one of the few adult cast members on "The Amanda Show," John Kassir got to play a range of characters during his time on the show, like Gnocchi Blokey, Mr. Gullible, and Carl Klutz. But in his 40-year-long career, Kassir is perhaps better recognized for his extensive voice acting. With roles spanning television, movies, and video games, he has lent his voice to "Rick and Morty," "As Told By Ginger," and even the lovable raccoon, Meeko, in "Pocahontas."
But there's one trademark role Kassir has become most recognized for, which is the terrifying Crypt Keeper from "Tales from the Crypt." The show, which spanned from 1989 to 1996 and had several spinoffs, developed a large cult following. Kassir remains active today, working on multiple projects a year, with his most recent role as Enzo in "Bayonetta 3," the video game.
Dan Schneider was cut off by Nickelodeon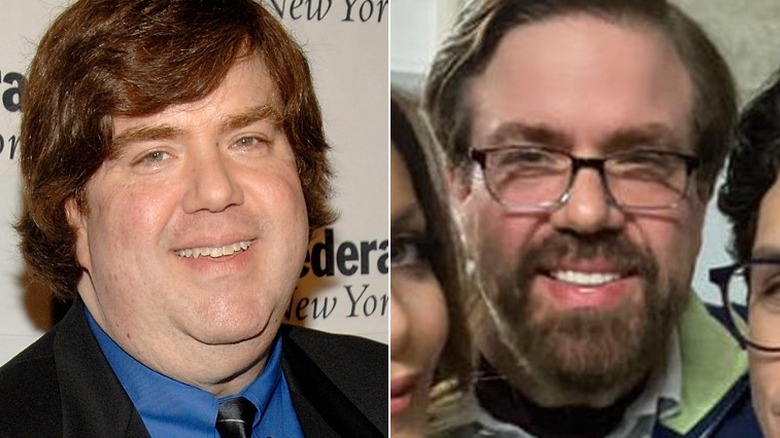 Ben Gabbe/Getty
Dan Schneider, the mastermind behind several Nickelodeon projects, including "The Amanda Show," made a few appearances on his shows. He played Mr. Oldman on "The Amanda Show," an elderly man who is tormented by prank phone calls. With so many successful shows to his name, it wouldn't have been surprising if Schneider ruled Nickelodeon forever.
Schneider got his start as an actor in the '80s, probably best known for his portrayal of Ricky Smith in "Better Off Dead." (The guy who slurps Jell-O through a straw.) Schneider joined Nickelodeon in the early '90s when he was hired to write on "All That." From there, he produced, wrote for, and created numerous television shows that were geared toward and starred children. Rumors surfaced that Schneider had been both a bully to his staff and hypersexualized children on his shows.
Alexa Nikolas, who acted on "Zoey 101," spoke to Insider about some of Schneider's behavior she witnessed. She said there were "traumatizing" tirades on set. Nikolas said when she left the show, she was "so happy to get out of there." Multiple sources said he requested massages from staff. Despite mounting concerns over the way young girls were portrayed in Schneider's shows, it wouldn't be until 2018 that Nickelodeon cut ties with him over his verbal abuse. In a 2021 interview with The New York Times, Schneider said, "Whatever I do next, I want it to outdo what I've done in the past."
Ashley Tisdale's next project is based on her marriage
Before she was a beloved regular on Disney, Ashley Tisdale appeared in three episodes of "The Amanda Show." She played a couple of characters, like Cold Curer and Amanda Bynes' fan, and understandably, most people forgot she was even on the show. Tisdale would go on to appear in "Donnie Darko," "Malcolm in the Middle," and "George Lopez," before she hit the big time on Disney Channel with "The Suite Life of Zack & Cody." Tisdale's music career kicked off with her portrayal of Sharpay in "High School Musical," and she released several albums.
Over the years, Tisdale has undergone a stunning transformation and she is now a busy mother to her daughter, Jupiter Iris, whom she shares with husband, Christopher French. However busy she might be in her personal life, Tisdale is still very much active in Hollywood.
In November 2022, she announced that she is both producing and starring in an upcoming CBS series called "Brutally Honest," which she admitted will be very much based on her real-life marriage. On her Instagram story last year, she said, "It's, like, incredibly scary that this show is based off of me and my husband's relationship and having a baby ... It's so scary because it's so vulnerable. It's real-life s*** that's gonna be in this" (via People). The release date has yet to be set, but we can't wait to see Tisdale back on our TV screens.
Shiri Appleby has gone on to direct television episodes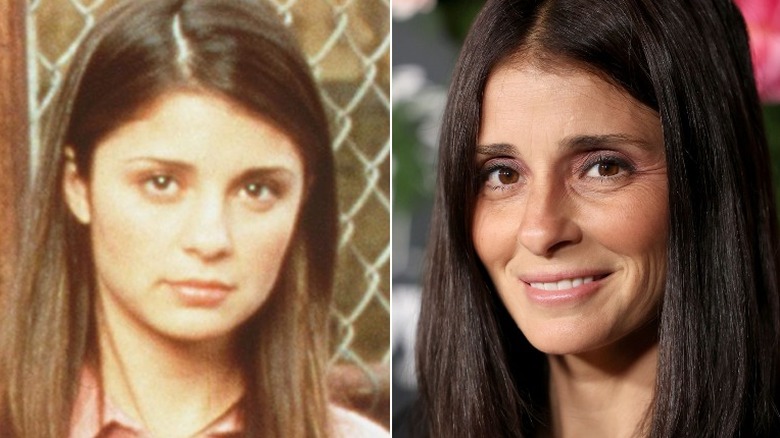 Phillip Faraone & Getty Images
You might know her as Liz Parker in "Roswell," or Rachel Goldberg in "UnREAL," but back in 2000, Shiri Appleby was known simply as "Nerd" in the two episodes she appeared in on "The Amanda Show." In speaking with uInterview, Appleby commented about getting her start as a child actor, saying, "I was 3 years old ... and I remember the first thing I ever did was a Raisin Bran commercial" (via YouTube). Now over 30 years after she did that commercial, Appleby said, "I grew up in this business, and every time I've gone to set it really feels like ... going to Disneyland. ... Now I'm starting to produce and direct, and I have that feeling again, like anything is possible if you really work hard."
With an incredible amount of roles in film and television, Appleby has crossed over to the world behind the camera, directing a number of projects. Some include several episodes of "UnREAL," "Black-ish," and "Young Sheldon." Aside from how far she's come professionally, Appleby is now married to chef Jon Shook and mother to two young children. She told People back in 2015, "What's so exciting about being a mother is you look back on your own childhood in a totally different lens. It really makes you appreciate the way you grew up and your parents in a way that you can't really understand until you have a child of your own."
Steven Anthony Lawrence disappeared for a while
We all know him as Beans from "Even Stevens" in the early aughts on Disney Channel, but Steven Anthony Lawrence had a small role on a couple of episodes of "The Amanda Show" back in the day. Lawrence started acting at a community theater, which led him to landing commercials, and small parts on shows like "Married ... with Children" and "Sabrina the Teenage Witch." He auditioned for "Even Stevens" at the age of 9 off the back of "The Amanda Show," and the rest was history.
Lawrence disappeared from the public for a while, but he cleared up any rumors or misconceptions when he sat down to talk with Vice in 2021. In 2004, at just 14, Lawrence began to lose his hair. He said, "They say baldness comes from the mother's side, but I think that's bull**** because my mother was Sicilian and her dad had a full head of hair." This made it difficult for him to land roles, but when his father was diagnosed with cancer, Lawrence became his full-time caregiver until he died.
In 2015, Lawrence was spotted working as a Santa's helper at the mall. He said, "Dad was really into Christmas. ... So this was kind of my way to feel close to him during the holidays." Today, he's a host of a talk show called "The Rice and Beans Show" and hopes to one day open an acting school for less fortunate children.