Nearly Naked Pedicures Are The Subtle Colors In For Spring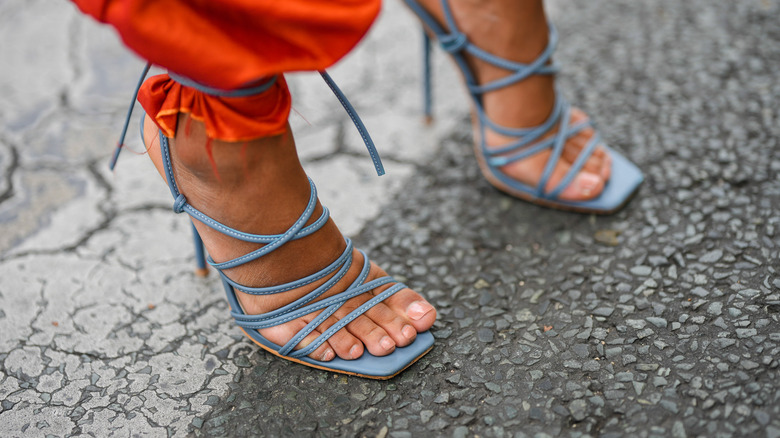 Edward Berthelot/Getty Images
Recent beauty trends have emphasized "clean" appearances, focusing on using products to create a seemingly natural look. This can be seen in the rise of "no makeup" makeup looks, spotted on celebrities like Gigi Hadid, Emily Ratajkowski, and Zoe Kravitz, as well as the prevalence of sleek buns and straight-cut flobs. The clean girl aesthetic, which primarily rose to popularity on TikTok, is also a product of this shift to effortless-looking beauty.
Beyond hair and makeup, the subtleness of seemingly natural looks has also made its way into the nail art sphere. This has manifested in the shimmery glazed donut look and the minimalist American manicure trend. For spring, these subdued looks are also spreading into pedicures, with the nearly naked fad promising to become a staple of the season.
If you're trying to stay on trend this spring, or just want something lowkey and stylish, then the nearly naked pedicure is definitely the nail look for you.
Explaining the nearly naked trend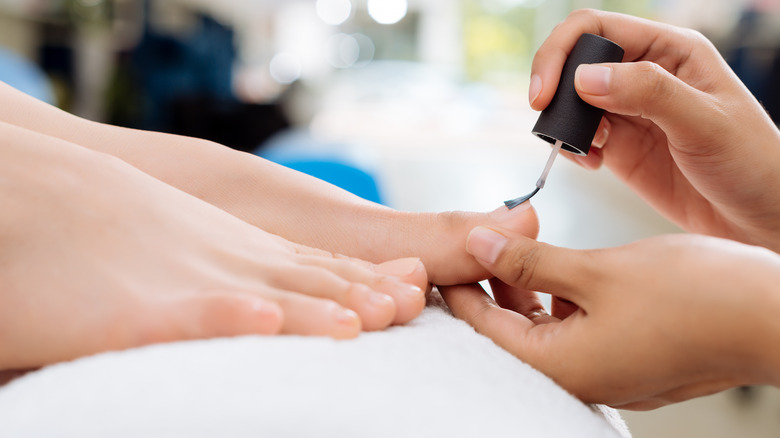 Dragonimages/Getty Images
For the uninitiated, nearly naked nails feature nude and subtle colors that lean toward a more natural, barely-there appearance. This spring is specifically all about sheer, vanilla-tinted whites and pink-toned nudes, as seen on the hands of Selena Gomez and Jenna Ortega. While subtle sheens are the preferred finish for such looks, matte polishes can also work well.
Beyond these lowkey colors, this trend is also about fostering healthy-looking nails. As celebrity manicurist Julie Kandalec tells New Beauty, "The look also includes perfect cuticles and rounded edges. Also known as 'supermodel' nails, the look includes super clean, beautiful cuticles, really even coverage with a gorgeous Bubble Bath type shade mimicking milk bath nails."
With spring ushering in sandal season, it makes sense that pedicures are beginning to reflect the popularity of natural, health-focused beauty. Not only will these subdued colors create a minimalist but stylish look, but the entire nearly naked pedicure will keep your toes looking happy and healthy.
Choosing the best nude color for you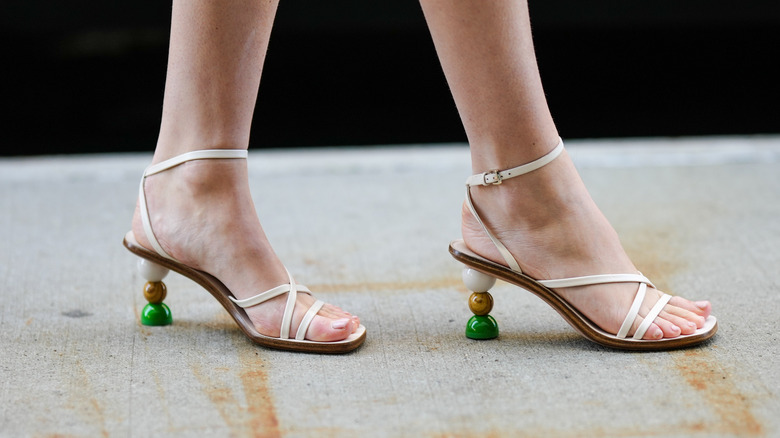 Edward Berthelot/Getty Images
While we mentioned that sheer whites and pink nudes are popular nearly naked colors this spring, we recommend choosing your pedicure polish based on what works best for your skin tone along with personal preference. Finding the right color can require a lot of experimentation, but it's definitely worth it in the end.
When looking for the right nude color, experts typically recommend that you avoid matching your polish to your skin exactly. Instead, try going either two shades darker or lighter. The undertones of your coloring are also important to consider, as you want a nude shade that flatters your skin tone. Professional manicurist and nail polish creator Deborah Lippmann tells Vogue, "If a nude lacquer isn't right for your skin tone, the cuticle will actually look red or dirty."
Beyond these tips, we recommend going with whatever nude polish you like best, because, at the end of the day, it'll be your toes sporting the shade.