Black Lip Gloss Is Trending - Here's How To Pull It Off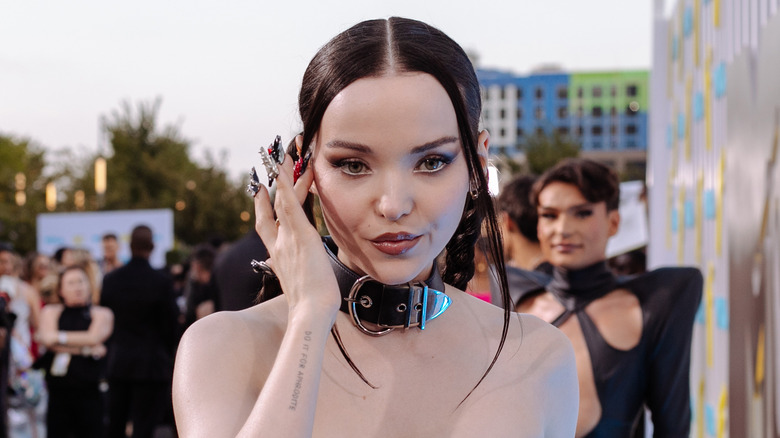 Catherine Powell/Getty Images
Lipstick and lip gloss trends are constantly changing, and it can be hard to keep up with them. Sometimes, the trends are completely different from the types of makeup you're used to wearing, which may make you hesitant to try them. For instance, black lip gloss sounds like something that you'd use for a Halloween look, not something that you could wear every day. 
However, it's possible to pull off the look, which is gaining popularity on TikTok with videos demonstrating the trend gaining over 177 million views at the time of writing. The difference between black lipstick and black lip gloss is what ultimately makes this trend more approachable for people who don't usually go too bold with their lip color. 
The gloss allows the shade to be more subtle than a lipstick would, and it can also be used alongside other colors to change the way the whole look appears, making black lip gloss significantly easier to rock than you might imagine. 
Use black lip gloss to achieve a soft goth look
Black lip gloss is trending hard, partly because people are looking to replicate the soft goth aesthetic seen in hit shows like Netflix's "Wednesday." As Milk Makeup Director of Artistry Sara Wren explained to Milk, "Black lip gloss is a fun take on the soft goth trend and a totally unexpected gloss shade that is surprisingly flattering on many skin tones." She adds that you should go easy with the application before adding more if you'd like a more intense look.
If you want to switch up your look a bit more, you can also apply your black lip gloss on top of red lipstick for an intense, moody look. For best results, begin with a small amount of lip gloss and gradually add more until it gets to the color you're looking for. You don't want to have to wipe off your liner and lipstick after applying gloss if you put on a bit too much, and you can always add more. Use just enough, and it'll be giving trendy indie sleaze aesthetic. 
Make your own black lip gloss
If you don't want to go out and buy your own black lip gloss, just in case it doesn't work on you, you can make it at home. There are a couple of different options for products to mix together to achieve the black gloss look. First, you could reach for your favorite clear lip gloss, rub the wand around in some black eyeshadow, and put it back into the lip gloss tube to mix it all together before applying it to your lips. This will give you a whole tube of black gloss to work with. 
However, if you don't want to make your entire tube of clear lip gloss into black gloss, as the above video demonstrates, you can use clear gloss and black lip liner instead. First, draw on the back of your hand with your black lip liner. Then, put some clear gloss over it before mixing. It'll come out as a black lip gloss that you can blend as desired. This hack also works with other colors of lip liner combined with clear gloss. 
If you want to try this trend out for yourself, be aware that when it comes to black lip gloss that already comes in a tube, the shades range from close to sheer to dark black to black and sparkly, so purchase as applicable.