Evan Hofer Has A New Talent He Wants To Show Off On General Hospital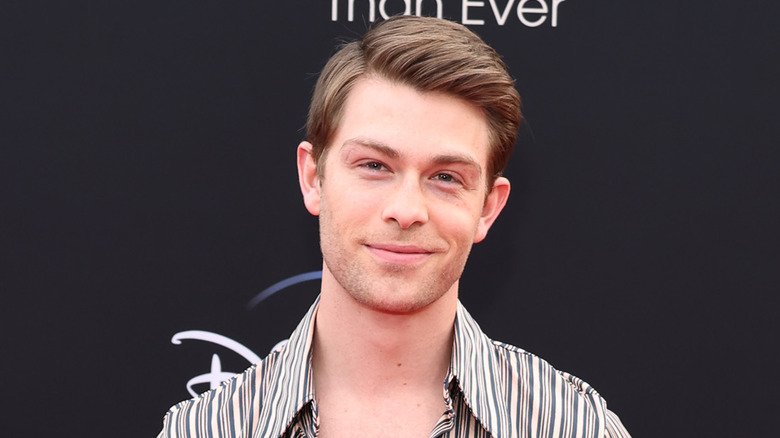 Amy Sussman/Getty Images
As Aristotle once said, "Nature abhors a vacuum," and one has existed on "General Hospital" since anti-hero and mafia enforcer Jason Morgan (Steve Burton) was seemingly killed in a cave-in on Cassadine Island. Jason didn't just do his boss' bidding, he also worked to protect his family and friends and often rode to the rescue of people in the nick of time, and everyone has been distraught since his death. However, Jason's boss Sonny Corinthos (Maurice Benard) eventually recruited Dex Heller (Evan Hofer) who was eager to get into Sonny's business. While Dex has secretly been working for another boss to infiltrate Sonny's organization and take the crime lord down, he and Sonny have been bonding – especially when they saved each other's lives during a sniper attack.
While no one would ever argue that Jason could be replaced, Dex has been doing a good job of it. His military background has also given him limited medical skills, helping him save the life of Ava Jerome (Maura West) when she was attacked by the Hook killer, as well as attorney Diane Miller (Carolyn Hennessy) who was also one of the murderer's victims. Dex even shot the Hook killer when Josslyn Jacks (Eden McCoy) and Dr. Britt Westbourne (Kelly Thiebaud) were attacked on the docks. Joss and Dex became an item since then, although fans remain divided over their forbidden romance.
Now that the Nurses' Ball is returning after a three-year hiatus, Maxie Jones (Kirsten Storms) has asked Dex to perform.
The actor is ready to do whatever the producers ask for the Nurses' Ball
We may get to see a different side of Dex Heller at the Nurses' Ball on "General Hospital." Maxie Jones insinuated that he could be part of the Magic Milo act — a partial strip show consisting of several Port Charles men, and led by one of Sonny's other bodyguards, Milo Giambetti (Drew Cheetwood). In discussing where his other talents besides acting may be, Evan Hofer told Soap Hub, "My New Year's resolution [has been] to get better at singing. I started voice lessons." 
While Cameron Webber (William Lipton) has been one of the show's resident musicians, both the character and actor are stepping away from "GH" briefly to focus on the remainder of their college school year. Referring to Lipton, Hofer said, "I don't know that I'll ever reach the 'Will' level. He's so talented. He's our resident rock star! I'm not getting to that level!" He also stated that he would be open to being one of Milo's "Magic Wands," if the producers asked him.
Hofer went on to explain that he enjoys working with co-star Maurice Benard (Sonny Corinthos) who has become a mentor for him. He also added that "GH" executive producer Frank Valentini knows that he's continuing to hone his craft, stating, "Anything I need to do, I'm there. I'm all about learning."