Amanda Schull Takes On A New Role In Hallmark's 2023 Easter Flick The Blessing Bracelet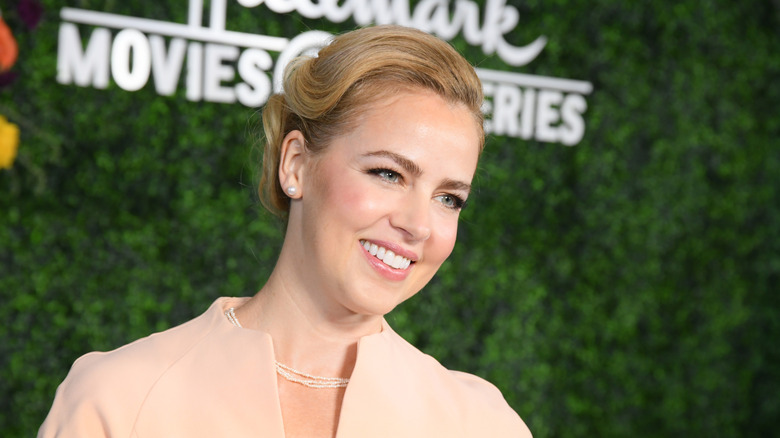 Michael Tullberg/Getty Images
Amanda Schull is coming to a television near you in a brand-new Easter flick called "The Blessing Bracelet." Make sure you have your evening cleared and your popcorn ready to go.
The "Suits" actress is no newcomer to the Hallmark Channel. Fans of the inspirational movie network know that Schull has previously acted alongside Brennan Elliott On Hallmark's "Marry Go Round" and has also starred in a host of other favorites including "One Summer," " Love, Once and Always," and "Project Christmas Wish," via Hallmark. If the title "The Blessing Bracelet" sounds familiar to you, that's because these special bracelets actually exist. They even have their own website — aptly called The Blessing Bracelet— where they sell beautiful, handcrafted blessing bracelets that served as the inspiration for this holiday film.
Although it's not the "Pretty Little Liars" alum's first Hallmark film, her latest movie brings us something a little different from what we're used to seeing the actress play.
Schull plays a financially struggling single mother
Can a tiny piece of jewelry really work miracles? That's the question asked in Amanda Schull's new faith-filled Easter film, "The Blessing Bracelet". In the movie, Schull takes on the lead role of Dawn Spencer, a pessimistic single mother working two jobs to make ends meet for herself and her son. A memory of a bracelet from her past turns out to be the catalyst that turns her entire life around and helps her find happiness in new places.
In an interview with Niagara Frontier Publications, Schull acknowledged that this role is much different from those she's played in the past. The negative, down-on-her-luck character of Dawn is not typically who we're used to seeing Schull play, and that's why she was drawn to the role. "It's always appealing to play something different," she stated. "If you start just playing the same thing all the time, then where is the excitement from role to role?"
"The Blessing Bracelet" premieres this Easter Sunday on the Hallmark Movies & Mysteries Channel, joining the ranks of the other Hallmark movies you can expect to see this April. After a tiring day of hunting for plastic eggs and chocolate treats, catching Schull in this film is the perfect way to finish off your holiday.