Hallmark Star Luke Macfarlane's Unexpected Hidden Talents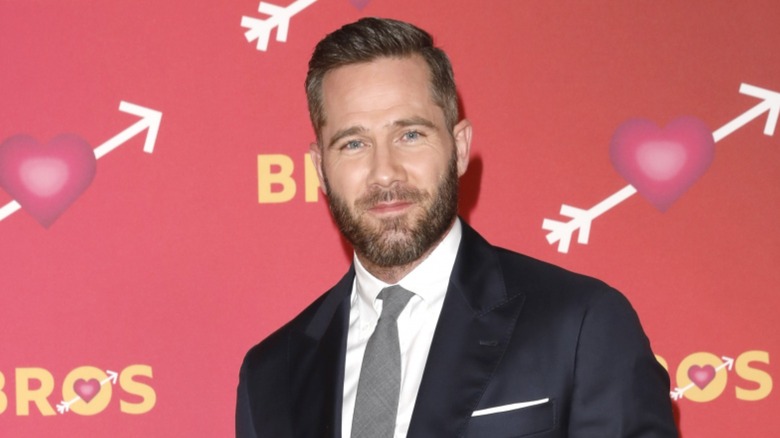 Tristan Fewings/Getty
If you are an avid watcher of Hallmark movies, you're probably already familiar with Luke Macfarlane, who's been featured in several of the network's most beloved films. Macfarlane starred in Hallmark projects such as "The Memory Book" (2014), "The Mistletoe Promise" (2016), and "A Valentine's Match" (2020). Or, you may have seen Macfarlane as James in Netflix 2021's holiday movie "Single All the Way," or even as Aaron in the following year's history-making gay rom-com "Bros," which was written by and also starred Billy Eichner.
Macfarlane is so much more than just an actor, though. Call him a quadruple threat, because he has some seriously impressive hidden talents. Some won't be much of a shock for Hallmark fans because Macfarlane has utilized them in front of the camera before. For example, he plays cello, which the actor showed off in "Chateau Christmas" (2020). Macfarlane's character in that film, Jackson, was originally going to be a violinist but the script was updated for him, as the actor told TV Goodness. 
"The original script was having him play the violin, and I said, 'Let's change it.' It was really fun to practice every day for 14 days. I cannot remember the last time [I did that]," he revealed. Macfarlane's gifts don't end there, however. 
Macfarlane has more musical talents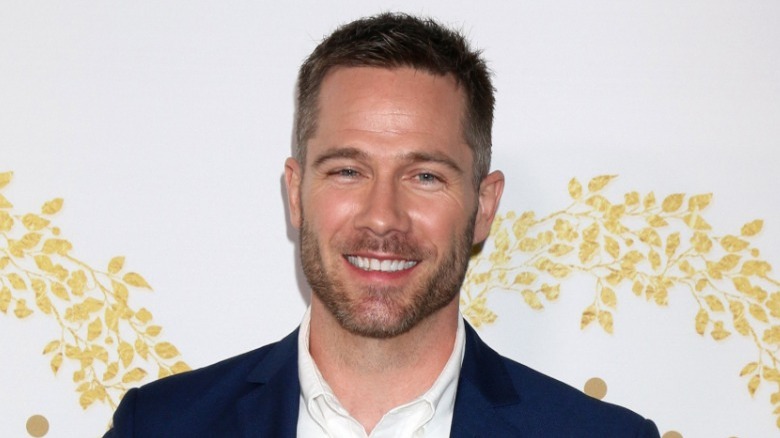 Kathy Hutchins/Shutterstock
In addition to the cello, Luke Macfarlane can also play the trumpet and sing. He sang lead vocals and wrote songs for the band Fellow Nameless, which the Hallmark star formed with classmates from his school days. While Macfarlane was part of the band, they released one album but never ended up getting a record deal.
Despite this and despite leaving the band, presumably to pursue acting, Macfarlane continued singing. Some of his acting roles have required his singing ability. In the Hallmark Movies & Mysteries film "Christmas in My Heart" (2021), Macfarlane's character, Sean, is a country singer who falls in love with a concert violinist.
Sean also was a guitarist, with Macfarlane learning how to play for the role. However, a professional guitarist was used to record the guitar parts of Sean's songs. Macfarlane did get to show off his newly acquired skills for the movie's big finale, though. "For the recital at the end," Macfarlane told TV Goodness, "that was definitely me playing."
The actor is also a keen woodworker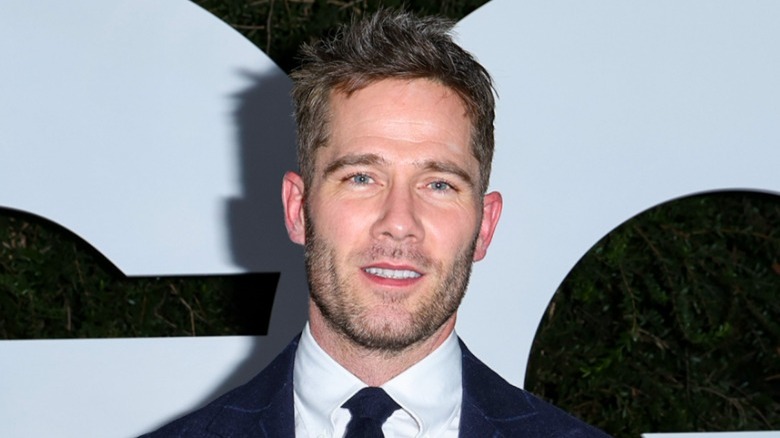 Phillip Faraone/Getty
Luke Macfarlane's talents aren't restricted to the performing arts either. He is also a skilled woodworker. In a Q&A video posted by The A.V. Club to promote "Bros," Macfarlane was asked about his woodworking hobby and his favorite piece that he has made thus far. The Hallmark star mentioned a replica of George Nakashima's Conoid chair. Macfarlane described Nakashima as, "One of the great American woodworkers."
In 2020, Macfarlane shared an Instagram photo of his stunning workshop with the caption: "A shop with a view." He has also shared plenty of photos and videos of in-progress and completed projects. The actor posted a video working on a crib and mentioned in the caption, "Not sure who I am making it for yet." He also shared a clip of him oiling a side table that he'd built, along with a photo of the well-crafted finished product.
Macfarlane evidently has a lot of skills, some of which he's been able to showcase in his acting roles. Maybe in a future Hallmark movie, he can play a woodworker and bring that talent in front of the camera too!