The Fashion-Forward Colors You'll See Everywhere In Summer 2023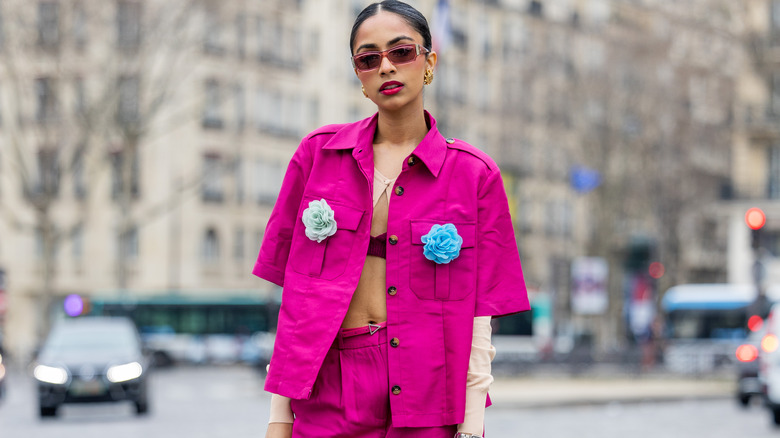 Christian Vierig/Getty Images
It may only just be spring, but the weather is warming up in many places. With summer fast approaching, it's time to reevaluate your wardrobe and find out what's working and what's not so you're stepping out in top-tier fits every day once the sun finally arrives. During the 2023 spring/summer season, pieces such as corsets, Y2K-inspired denim like low-rise jeans and midi skirts, grungy flannels, and utility pants were just some of the trends seen across the runways.
You may have picked out some looks to nail the asymmetrical trend in 2023, but have you considered the colors that will be in once the summer season rolls around? Stay ready and in the know by getting your summer wardrobe prepped in advance and finding out which colors to stock up on before there's a rush in stores. From fresh neutrals to shades so bright they'll make you want to shield your eyes, these are the colors that will be popping up everywhere this summer.
Start looking for your best, brightest outfit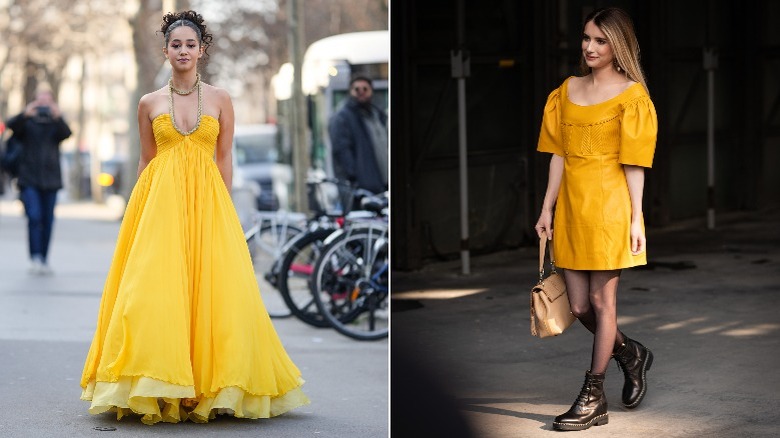 Edward Berthelot/Claudio Lavenia/Getty Images
Firstly, the bold and bright colors. Naturally in this category is viva magenta, a shade in-between pink and red, and Pantone's Color of the Year 2023. Described by Pantone as "a pulsating color whose exuberance promotes a joyous and optimistic celebration," there's no better time to wear the shade than throughout late spring and into summer 2023. 
Another popular 2023 color that will inject some sunshine into your life is yellow. There's no specific shade here — everything from the pale yellow that made an appearance at Stella McCartney to the acid yellow that dominated the Valentino runway is good. Yellow is associated with summer for good reason, and we think the shade would look gorgeous paired with raffia accessories, which will also be everywhere in summer 2023.
Molten metals will be huge too. The best clothing colors for your skin tone vary, especially with metallics, but the general rule is that silver suits cool tones, whereas rose gold and gold are better for warm-toned skin. Another great option if you have warm-toned skin is earthy orange, which will be everywhere once the warmer weather comes. If you love orange, go for burnt or neon shades, or stick to terracotta hues if you're more hesitant.
Lighten up your look with pastels and neutrals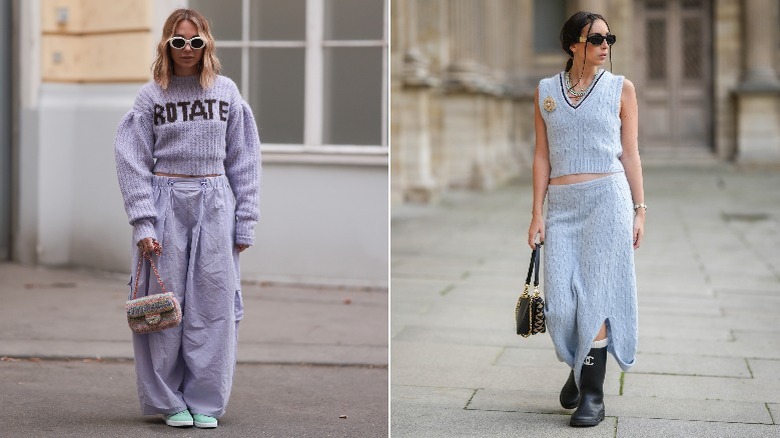 Edward Berthelot/Jeremy Moeller/Getty Images
If you're looking for something in the pastel or neutral realm, there's plenty to choose from this year. Lilac is a main contender for the color of the summer, as is lavender. Both are dreamy shades that lend themselves well to floaty silhouettes perfect for sunny days. Pale pink is also coming in hot for the warmer months. The delicate shade was spotted at Fendi and Stella McCartney, with its lighter hue a far cry from its sister-shade magenta. 
Several shades of blue will be seen making the rounds come summer too, particularly cornflower blue, azure, and turquoise, all of which will effortlessly create a laidback, relaxed look. Not a fan of color in general? Luckily, "creige" is a 2023 summer shade that won't require you to wear anything outside of your comfort zone. 
A super chic mix of cream and beige, creige is sophisticated all by itself but is also a good way to tone down more vivid colors if you don't want to commit fully to a bright, monochrome look. Creige is additionally the sort of shade that leans towards being warmer, so it will complement sunkissed skin perfectly too.