Steffy And Liam's Zip Line Wedding On The Bold And The Beautiful Explained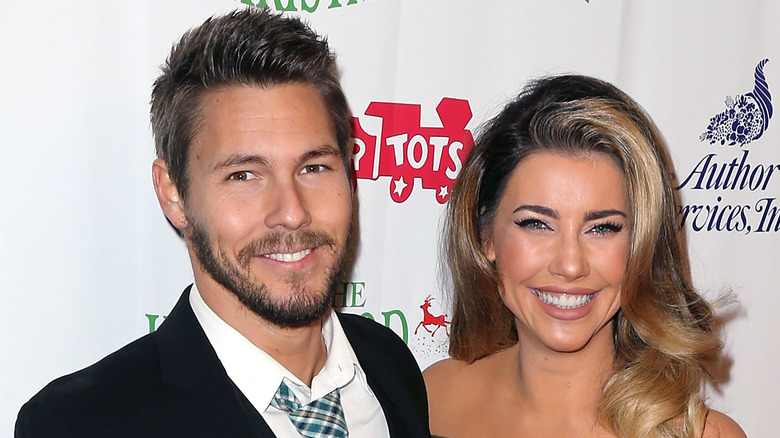 David Livingston/Getty Images
One memorable moment from "The Bold and the Beautiful" that has become soap opera folklore is the Australian wedding of Steffy Forrester (Jacqueline MacInnes Wood) and Liam Spencer (Scott Clifton). As part of the show's 30th anniversary in 2017, the film crew set off for down under to pull off an iconic scene. In the build-up to this special episode, Wood teased audiences with what to expect from her character when she spoke to TV Insider. "What can I say? Steffy is an adrenaline junkie," she said. "She's not about to show up at her wedding like a normal bride."
Wood's portrayal of Steffy has earned her two Daytime Emmy Awards for Outstanding Lead Actress, and having played the character for many years, she has essentially grown up with her. She spoke to Digital Journal, saying, "Steffy has morphed into a strong, super-smart, badass woman. She is a great role model. She balances work — I mean, she's the CEO of a major fashion house — with love and children." Let's look at Steffy and Liam's history and how they went all out for their big day — or at least one of them.
Steffy and Liam wed several times
Steffy Forrester's love affair with Liam Spencer goes back over a decade to when he was dating someone else — Hope Logan (then Kim Matula). When Liam began his relationship with Hope, he understood that she wanted to withhold being intimate until they were married. However, repeated advances by Steffy lured him in, and Hope caught the two kissing. Though initially engaged to Hope, Liam was soon tying the knot with Steffy in Aspen.
Steffy and Liam's first marriage wouldn't last long. Not long after they wed, Liam realized that he still had deep feelings for Hope and was contemplating reconciling with her. Steffy soon suffered severe injuries after an accident, and her bleak medical diagnosis showed she had a blood clot in her brain. However, it was later revealed that Liam's father, Bill Spencer (Don Diamont), had pressured the doctors to deliver a more concerning diagnosis to encourage Liam to stay with Steffy. Once the deception was uncovered, Steffy and Liam had their marriage annulled.
This merry-go-round between Liam, Steffy, and Hope would not stop there. After reuniting, Liam and Hope were due to marry in Puglia, Italy. However, a horrible miscommunication involving a note Liam interpreted as Hope breaking up with him saw him quickly falling back into Steffy's arms. Hope learned of his betrayal and called off the wedding.
The Australian wedding is one of the most memorable
The love triangle between Liam Spencer, Steffy Forrester, and Hope Logan continued for several more years, with Liam marrying each woman another time. In fact, the Australian wedding was the third time Liam and Steffy exchanged vows. Steffy wanted to go all out as she ziplined into the ceremony from the top of the Sydney Opera House. Though the show planned for Wood to actually fly into the scene, actor Scott Clifton admitted that things didn't go exactly as planned on set. He confessed, "I know Steffy was supposed to come flying in on a zipline. I wasn't sure how that was going to be pulled off," adding, "They got her on a green screen doing some of it. I had to look up in the [empty] air as if I were seeing it."
Luckily, the on-screen nuptials went off without a hitch for the happy couple. The icing on the cake for Steffy was watching her rival Sally Spectra (Courtney Hope) fall into Sydney's Manly Harbour after the two had a heated exchange. Wood caught up with ET Canada at the time and explained Steffy's emotions and the prospect of a third marriage to Liam. "I really did catch myself being in the moment, and I was crying ... It's really me crying. It's not me faking anything," the actor shared. Summing up her character's goals, Wood said, "Steffy loves love ... she wants to be happy and enjoy her life with Liam."