Waterfall Bangs Are The Latest Hair Trend - Here's How To Nail The Look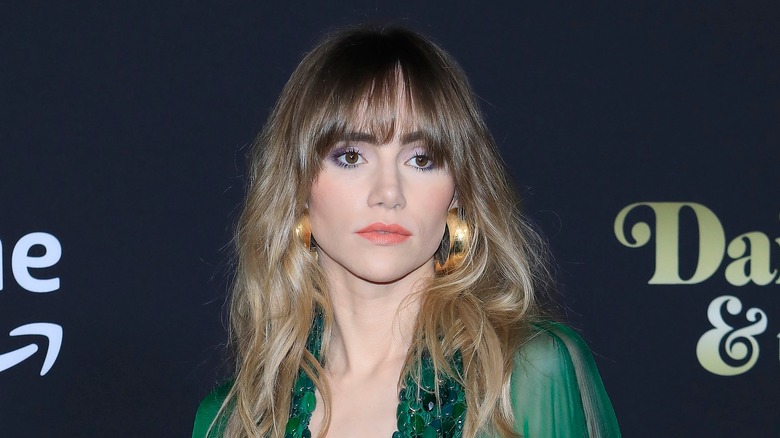 Joe Seer/Shutterstock
When spring rolls around, the feminine urge to completely switch up your look descends upon us. From buying a new wardrobe for the warmer weather to dying your hair, the new season always brings about the desire for change. Among the haircuts we think you'll be asking for in 2023? Bangs. Whether baby bangs or chic bottleneck bangs, chopping off the front layers of the hair will never be out of fashion.
Although pop culture likes to joke that women only get bangs when they're going through a crisis, like a breakup, who doesn't want the fun and experimentation of the youthful look that bangs bring? On top of that, they're so versatile, allowing them to fit every face shape and hair texture. Even fine hair can benefit from the volume bangs bring to your hair.
One trend we're seeing lately is wispy, face-framing bangs. From curtain bangs to French girl bangs, longer pieces that accentuate the features are rising in prominence. With that, we're taking notes from Anne Hathaway and trying waterfall bangs this year.
What are waterfall bangs?
Debuted in a recent Instagram post, Anne Hathaway showed off her new waterfall bangs in an ad campaign for Versace. The bangs are characterized by longer pieces that gradually get shorter as they go inwards, lending the cut the name "waterfall bangs." Reminiscent of the bangs Hathaway donned in "The Devil Wears Prada," the bangs have an edgier feel — as if Andy got to Paris and decided to ditch Miranda and join a French indie rock band.
With a shaggy finish, the bangs frame the face delicately for an effortlessly cool vibe. The rest of Hathaway's hair is slightly tousled, finishing off the look. The more daring sister of bottleneck bangs, waterfall bangs are for people who like the uncomplicated yet still put-together look.
While it may be tempting to cut your bangs at home by yourself, it's best to get them done by a professional. With bangs like these that require layers and equal lengths on both sides of the face, trimming too much to even them out or making the strands the wrong length is too high a risk.
How to style waterfall bangs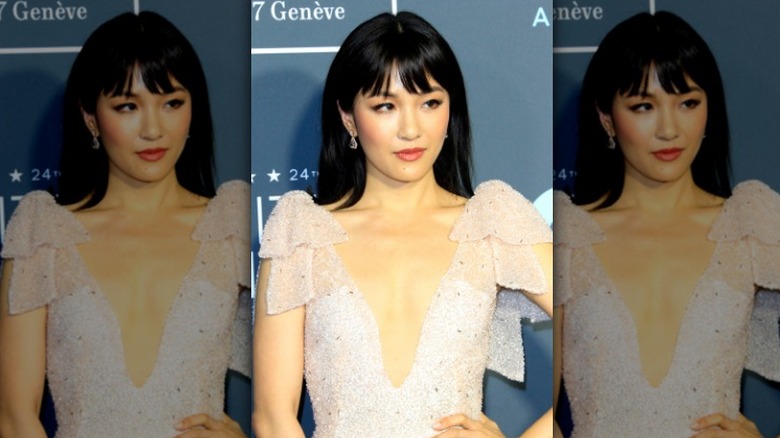 Kathy Hutchins/Shutterstock
To keep the hairs falling in the wispy, breezy way they do, lightweight products that give slight hold and texture can help maintain your waterfall bangs. For straight or wavy hair types, using a texturizing spray or hairspray can give some lift to the bangs while keeping them from clumping together. If you have curly hair, a lightweight curl cream or mousse should do the trick. Apply some to the hair when blow drying and shake your fingers through the bangs a bit, adjusting the hair as needed.
In general, most bangs require quite a bit of maintenance, and waterfall bangs are no different. To maintain the length of the bangs, try to go to the salon about every six weeks. If you want to take the plunge and do them yourself, start by sectioning off your fully dry bangs. Pull away the hair you don't want to cut and pin it up. Then, divide your bangs into three sections.
Instead of using scissors, opt for a straight razor. Pull the hair outwards and place your fingers slightly below where you want to cut, and use the razor right above. When done, add hairspray to set it into place.