The Shoe You Need To Have In Your Rotation For Spring 2023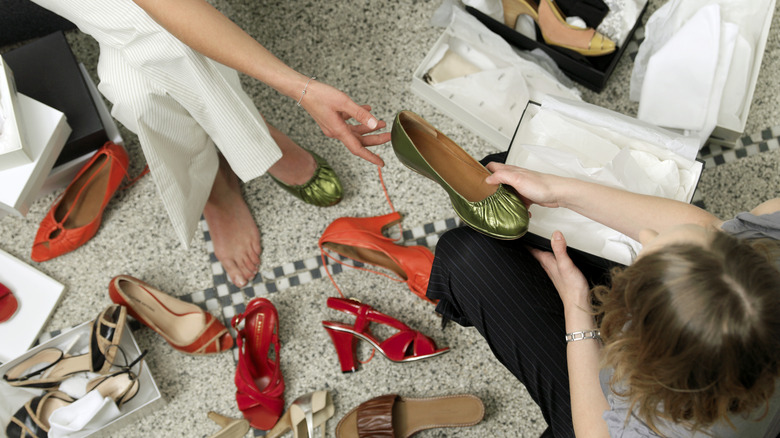 Eileen Bach/Getty Images
The spring season lends itself well to new trending fashion. All the best designers reveal their latest lines, the sun has come out of hibernation, and flowers are blooming — is there really a better season? And this spring's chicest footwear is ringing school bells. As a young 'un, loafers were just a part of the dreaded school uniform. They were U-G-L-Y. It's a good thing we grew up and learned our fashion lessons. 
These preppy loafers are now a cool girl closet staple. Hailey Bieber has been spotted many times rocking her favorite pair of chunky loafers, and we've been hooked ever since. As Ashley Full, stylist and co-founder of plus-size luxury brand AMOUR781, confirmed to Insider, "The lug-sole loafers that were a favorite of 'It Girls' this fall will also continue to be a trend in spring."
Platform loafers, chunky loafers, and lug-sole loafers all refer to the same flat, comfy, yet chic style of footwear. Although these shoes are preppy, they can easily be styled for both a casual or a more sophisticated look.
Chunky loafers are a casual fashion must-have
For an easy casual outfit, you and your loafers need skinny jeans. Yes, they're typically overshadowed by mom or straight-cut jeans nowadays, but it's finally time to dust off your favorite pair from the early 2000s. Styling skinny jeans in 2023 is all about balance. You want to avoid going too skinny. If you can't squat in your jeans without fear of the seams having a breakup worthy of a Taylor Swift album, then they might be slightly too tight.
Along with your jeans, you should choose oversized or layered tops. A long waistcoat will create an optimal balance as it drapes over your skinny denim and complements the chunkiness of the loafers. An oversized vest will tie into the preppiness of the loafers but won't turn your casual outfit formal. Another way to complete your laid-back ensemble is with a wardrobe staple, the denim jacket. Opt for a loose fit, and layer on a scarf. 
This look is perfect for keeping you stylish and comfortable in spring's windy and rainy weather, but it will also transition well for the hotter summer months too. 
They can easily create a more elevated look too
Accessories and patterns will take your chunky footwear from the schoolyard to the runway. For a subtle approach to prints and patterns, incorporate the design into a monochrome outfit. Match the color of your loafers to your bottoms, top, and accessories. Then, you can wear calmer patterns like stripes or polka dots that have the same primary color. Your chunky loafers will blend in and add that sophisticated vibe.
It's best to avoid denim or youthful patterns to really hone in on the elevated vibe. A surefire way to pull off chunky loafers is diving headfirst into the preppy pool. A white button-down shirt and blazer go together beautifully, while a maxi skirt or slacks will create a more formal look. To tone down your apparel, opt for styling the no-pants trend or go for a mini skirt. 
Meanwhile, a matching purse, bracelet, necklace, or earrings are ideal accessories. They will complement the hardware on your loafers and lend a more stylish finish. Simply put, with spring 2023's hottest footwear, you really can't go wrong.