Refuse To Give Up On Skinny Jeans? Here's How To Style Them In 2023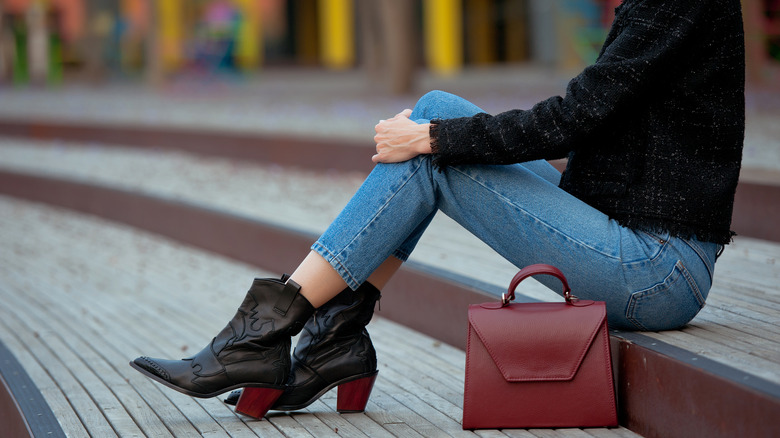 Sabelnikova Olga/Shutterstock
Skinny jeans were basically the default throughout the 2000s and 2010s. From ripped emo black jeans to preppy dark-wash blue, most millennials had a pair of these uber-tight pants no matter what clique they sat with at lunch. Though they're now associated with Ugg boots, Abercrombie, and other trademarks of the aughts, the origins of the slim-fit pant can be traced all the way back to 1950s Beatnik culture and some of the era's most prominent stars like Elvis Presley and James Dean.
By the late 2010s and early 2020s, Gen Z declared the death of tight jeans, preferring their denim wide-legged and high-rise. With stars like Billie Eilish as inspiration, baggy fashion became the newest version of cool. However, thanks to the 20-year nostalgia cycle, many Y2K styles are experiencing a resurgence. Low-rise jeans are back in style, and it's only a matter of time before skin-tight jeans make a full-on comeback too.
However, as is the case with any trend revival, there are sure to be some changes. "I don't think they're going to be skinny-skinny this time around as they were before to the point where you're literally suffocating in them," Simona Rakauskaite predicts on TikTok, adding, "Instead, they're going to be more on the looser side..." Join the cutting edge of the movement, scrounge up your skinny jeans from the back of your closet, and learn how to style them for 2023.
It's all in the footwear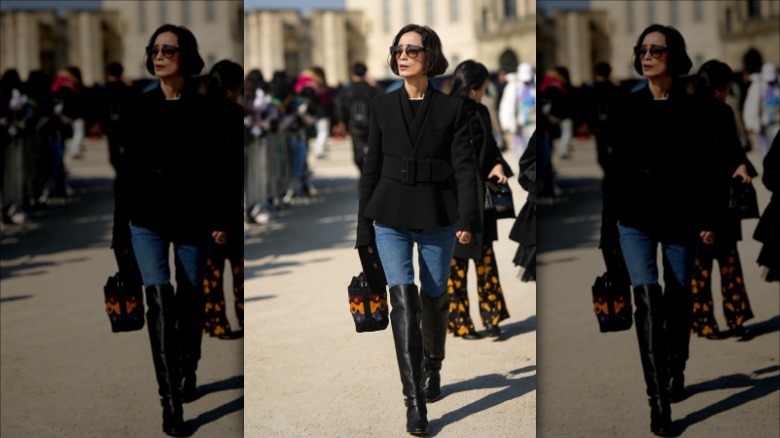 Edward Berthelot/Getty Images
Skinny jeans of the 2010s were cropped above the ankle and often paired with flats, sneakers, and low-rise booties. This time around, compliment your slim-fit pants with knee-high riding boots or midshaft slouchy boots. It's important to add dimension to the form-fitting silhouette. Best of all, you can easily tuck skinny jeans into your shoe of choice. On your upper half, pair a body suit with an oversized blazer and experiment with accessories: a statement handbag, gold jewelry, and celebrity-worthy sunglasses.
Tuck in a loose-fitting shirt
Contrast your slim-fit bottoms with a loose button-down top. If you're headed to a work meeting or a coffee date, perfect the art of the french tuck, a look pioneered by "Queer Eye" style expert Tan France in the second season of the show. As France explains to Fashionista, "When I French Tuck it, it changes up my proportions and it makes me feel cooler. It makes me feel like I'm balanced." Especially if your bottoms are tight, this "balance" is key — let the back of your oversized shirt hang loose and accentuate your waist by cinching the front.
Get preppy in a pair of white jeans
White jeans might not be the best when it comes to hiding stains, but they certainly make a statement. Channel your inner prepster and pair white skinny jeans with a navy striped shirt worthy of the yacht club — check out this design from Madewell. On top, layer a cropped blazer or cardigan, completing the look with white sneakers or loafers. Now that the "old money aesthetic" has nearly 2 billion on TikTok, there's no better time to dress like you have a second home in the Hamptons.
Don't shy away from clashing colors
Just because your pants are slim-fit, it doesn't mean the rest of your look has to be minimalist. In the wake of the COVID-19 pandemic, more and more people are playing with bright colors, clashing patterns, and textures. "During the pandemic, people didn't have those external factors, they had to deal with themselves. 'How do I want to dress today?' 'How does this make me feel?'" explains fashion psychologist Dr. Dawnn Karen in a conversation with Mojeh. Today, finding your personal style means dressing for yourself — pair skinny jeans with bold reds, greens, and florals. 
Double denim is having a moment
Denim on denim is already one of this year's top trends whether or not you're a supporter of the skinny jean. On a night out, pair form-fitting high-rise pants with a blue jean bustier or corset top, extending your legs with a help of open-toed heeled sandals or even sneakers. Complete the Canadian tuxedo with an oversized blue jean jacket on chilly nights, or take it up a notch like Julia Fox. She created her own uber-low-rise jeans by cutting off the waistline with scissors and turning the scraps into a bra top.
Find a Y2K-inspired statement belt
Now that big belt buckles are making a comeback, it's time to make a statement with one of these Y2K accessories. Layer a big belt on top of a high-waisted pair of skinny jeans, adding a form-fitting body suit underneath. Although celebrities in the early aughts wore these larger-than-life belts low around their hips — we're looking at you, Hillary Duff —raising them higher can create the illusion of an hourglass figure, especially if you're wearing tight pants. Complete the look with a pair of classy pointed-toe heels.
Balance out your jeans with a longline coat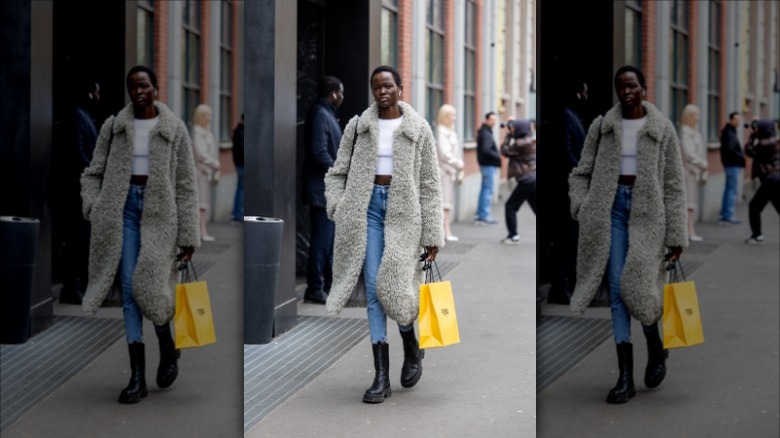 Christian Vierig/Getty Images
Although skinny jeans can sometimes give the illusion of a shorter frame, your outerwear can make you look taller. Stylist Audree Kate recommends something she likes to call "column dressing" to Stylecaster. "Look for straight, tailored pieces that create a 'column' feel," she says, adding, "It will create straight lines up and down your body, making you look taller." For starters, find a voluminous, longline coat, and wear it over your go-to pair of jeans and a white tee.
Pay homage to Indie Sleaze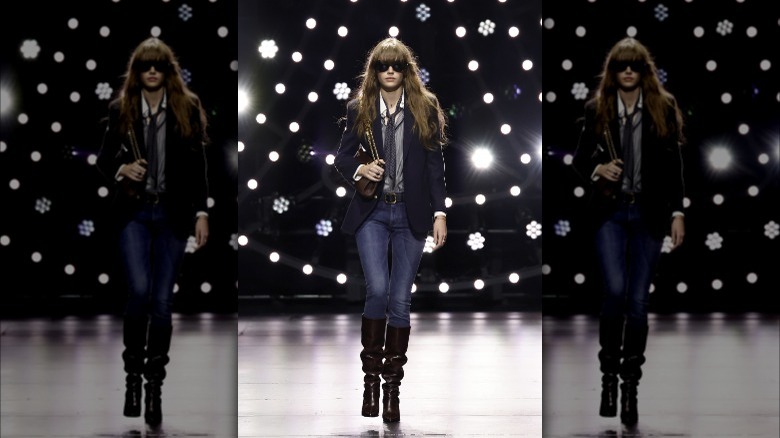 Frazer Harrison/Getty Images
In a conversation with Elle, Writer Camille Charrière calls skinny jeans "rock'n'roll," an edgier version of classy, straight-legged jeans (especially if you add tears). With this in mind, try your hand at Indie Sleaze, a late 2000s and early 2010s-inspired aesthetic currently making waves on social media. For inspiration, take a look at shows like CW's "Gossip Girl" or the British show "Skins," and style your skinny jeans with a form-fitting blazer, a fitted crew new, and an askew tie. Even luxury fashion houses like Celine are trying their hand at the nostalgic look, per Harper's Bazaar. 
Keep it casual with an oversized crew neck
On casual weekend days, pair skinny jeans (or even jeggings) with a comfortable oversized crew neck and white sneakers. Samantha (@samanthastyleblog), a style blogger on TikTok, recommends pairing an oversized top with tight pants, explaining, "When you wear a tight tank and then tight pants you're not creating any shape for yourself." As Samantha tells her followers, "You don't need to buy new things all the time to feel fashionable." Instead, scrounge up an old pair of skinny jeans and adapt it for today. It's okay if you're a little cheugy every now and then.
Wear jeans underneath an airy dress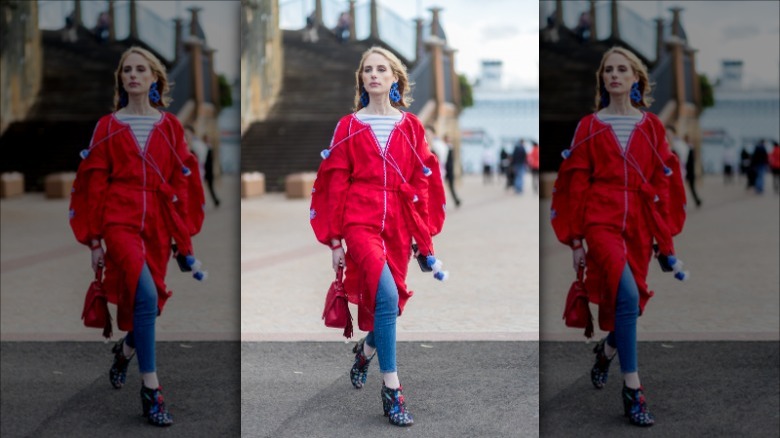 Christian Vierig/Getty Images
Early 2000s red carpets were dominated by the now-infamous dress-over-pants combo. Pretty much every Dinsey channel star gave the look a try, wearing bright sleeveless midis and minis over light-wash jeans. The look is making a comeback in 2023, with A-listers like Katie Holmes and Lizzo ushering it back into the mainstream. This time around, wear an airy sundress over your skinny jeans, tying the look together with heeled boots. Alternatively, try your hand at the sheer clothing trend and wear see-through fabric over your jeans and a bra top.