Layer Face Masks To Address Multiple Skin Concerns At Once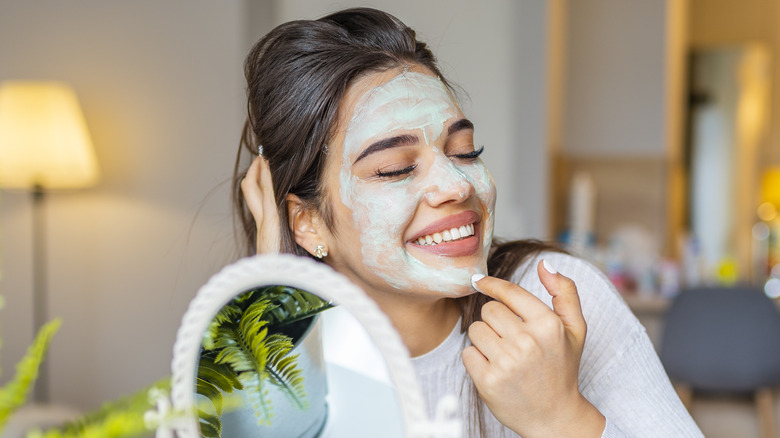 Dragana991/Getty Images
We've all been there. You want to address the various concerns you have about your skin, but you don't have a face mask that fits the bill, and you don't have time to do multiple face masks. So, you choose between the ones that address your dry skin, the ones that help clear up your acne, and those that brighten your skin. Maybe different parts of your face are begging for different products, and you're not sure what to do. 
The good news is that you don't have to choose between your favorite face masks and can instead layer several to address multiple concerns at once. New York City-based dermatologist Kavita Mariwalla told Allure, "I don't like doing masks in sequence, but rather layering them one on top of the other. The occlusion helps the masks penetrate." 
So, the next time you're planning on applying a face mask but can't decide on just one, feel free to reach for both — just remember to exfoliate beforehand and moisturize afterward. Also, soft masks should always come before their clay or mud counterparts. 
Try different masks on different parts of your face
You can certainly apply one face mask over the other, but if you don't want to mix the products, you can choose to put different face masks on different parts of your face too. When applying the masks, think about which parts of your skin benefit from each of the ingredients. For instance, if you have a mask for hydration and a dry face with an oily T-zone, apply an oil-absorbing mask to your T-zone only and then follow up with the hydration mask on the rest of your face.
Likewise, if you want to tackle both your breakouts and dry patches on your skin, skincare expert Sonya Dakar advised Byrdie, "Look for one that has soothing ingredients like chamomile, and hydrating ones, like grape-seed or flaxseed oil. This will relieve irritated skin while also adding hydration to dry patches." She also suggested using a mud-based mask once you're done, to soak up any excess oils left over by the other masks and to ensure your skin doesn't break out either. 
Mask several times a week for the best results
You can apply face masks as much or as little as you'd like or need, but skin experts recommend applying masks multiple times per week. As Noella Gabriel, the founder of the skincare brand Elemis, explained to Stylist, "For maximum results and benefits I would recommend masking two to three times a week." You can also mix and match between different types of masks throughout the week so your face gets the most out of your skincare routine. 
If you have combination skin, using multiple masks could solve the issue of overhydrating certain areas on your face while drying out other parts that are already desperately in need of moisture. However, be aware that you shouldn't overdo it since masking too much can cause further problems. If you're hesitant about buying multiple types of face masks, you could make a DIY face mask at home or concentrate solely on buying the best face masks for your skin type.