How To Soothe Dry And Itchy Skin During Menopause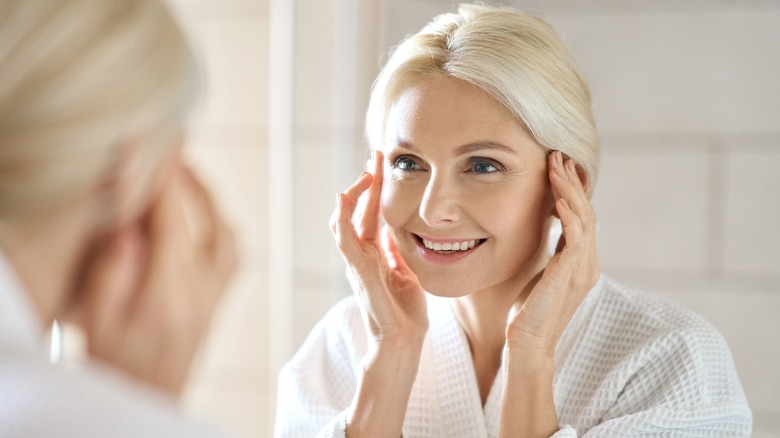 Ground Picture/Shutterstock
Menopause is a biological process that causes the body to produce less of several hormones as the reproductive stage comes to an end. One of these hormones — estrogen — promotes the production of important skin nutrients, including hyaluronic acid, which plays a crucial role in skin moisture. Estrogen also regulates the production of sebum and natural body oils that hydrate and protect the skin.
Consequently, menopause reduces the production of estrogen, hyaluronic acid, natural body oils, and many other vital nutrients that keep the skin hydrated. This can lead to dry, flaky, and itchy skin as well as other menopause symptoms no one prepared you for. Menopause also plays a role in developing dull skin, wrinkles, and fine lines. It could also contribute to thinning skin, age spots, and sagginess. This is because estrogen also promotes collagen and elastin production, which increase skin firmness and flexibility.
The good news is a study published in 2012 in the American Journal of Clinical Dermatology states that the topical application of estrogen may reverse these effects. Estrogen isn't sold to individuals, so you can either see a dermatologist or use skincare ingredients that contain the nutrients that estrogen produces. Changing your skincare routine to soothe dry and itchy skin during menopause isn't tricky. It all starts with a solid five-step routine.
Build a skincare routine for your dry skin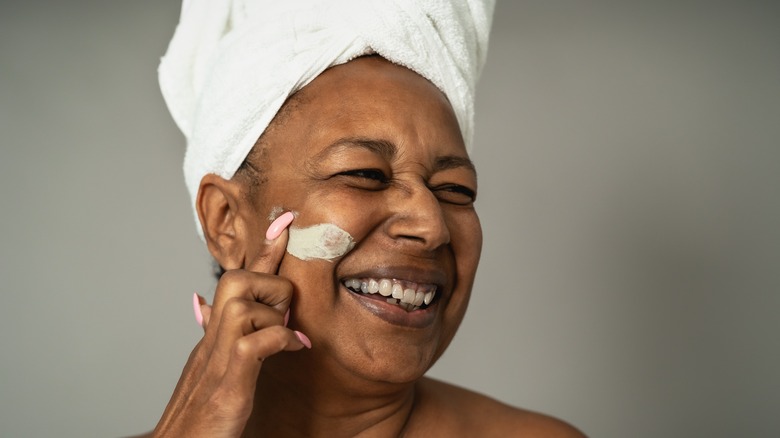 AlessandroBiascioli/Shutterstock
When building a skincare routine during menopause, you want to avoid harsh cleansers and go for mild and soap-free formulas. Soap-free formulas cleanse your face without drying out natural oils. If you find it hard to part with your bubbles, use a mild soapy cleanser at night and a balm cleanser or plain water in the morning. In addition, you can use a goat milk body wash to soothe, moisturize, and polish your dry skin.
Next, use a toner that contains glycerin or any other emollient. Emollients are soothing ingredients that prevent the skin from drying out by creating a film to seal moisture in. Using a toner with an emollient will moisturize your skin and help remove leftover dirt or soap that could dry out your skin. Cleansing and toning can prevent the loss of beneficial oils and prepare your skin for your serums and moisturizers, which should contain the nutrients your skin lacks.
For starters, you need a moisturizing serum that contains key ingredients like hyaluronic acid. Try L'Oreal's Revitalift Derm Intensives 1.5% Pure Hyaluronic Serum. It would help if you also had another with anti-aging ingredients like collagen and elastin. For your moisturizer, favor light and milky formulas over thick and creamy ones. Radiant Glow's Botanical Facial Milk is an amazing moisturizer that melts into the skin. It contains moisturizing ingredients like glycerin, coconut oil, and shea butter.
Make lifestyle changes to protect your skin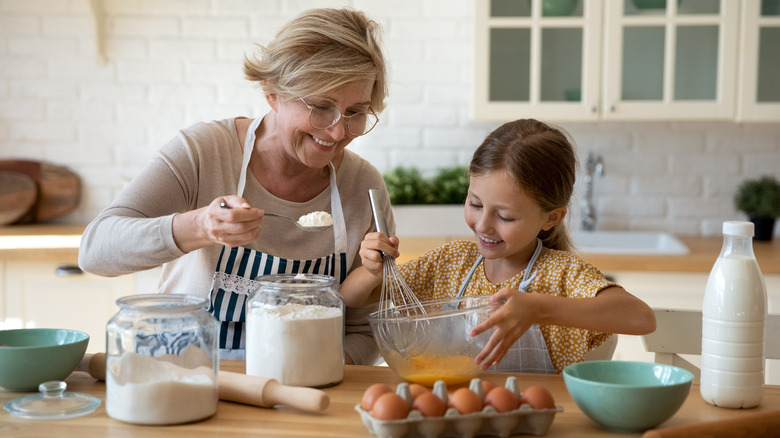 fizkes/Shutterstock
Menopause changes the body's production of several hormones, making you more susceptible to things you could withstand before. For example, hot baths, cold weather, dry air, and harsh winds are some things that can dry out the skin. If you cannot avoid these situations because of where you live, do as much as possible to protect your shield in the open.
Another critical factor that can improve skin moisture is your diet. Certain foods like oatmeal, fatty fish, bananas, and avocados can hydrate the skin. Some other hydrating options are fruits and vegetables that are rich in vitamin E. You should also consider researching how a plant-based diet can help reduce menopause symptoms.
Additionally, make sure to include sunscreen in your daily routine. The sun is one of the most significant culprits behind skin dryness. Makeup or skincare products containing SPF may not protect your skin's moisture like sunscreen. Finally, remember that smoking, vaping, and alcohol dry the skin. Reducing or stopping these habits with backing from skincare and healthy foods will help soothe dry and itchy skin as you go through menopause.