How Did Hallmark Star Cameron Mathison Meet His Wife, Vanessa?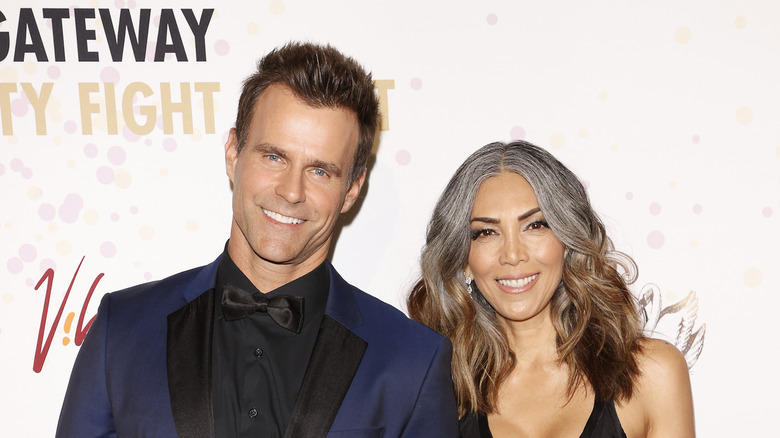 Michael Tran/Getty Images
Today, actor Cameron Mathison and his wife Vanessa Mathison (née Arevalo) are nothing but couple goals — they've been married for over 20 years!! Together they share two children, Lucas and Leila, and are never ones to shy away from a cute post on social media. In honor of their 20th anniversary in 2022, a major romantic life milestone, Cameron Mathison took to Instagram, writing, "20 years of marriage. 240 months of morning coffee together, 1043 weeks of cherishing each other, 7035 days of togetherness, 175,320 hours of love, and 1 beautiful family. Happy anniversary my love. I have no idea how you've put up with me for 20 years," alongside a beautiful snap of the two embracing.
One of the many former soap stars who made the move to Hallmark, the former "All My Children" star opened up to Soap Opera Digest about the revolution of his relationship, admitting that he and Vanessa weren't thinking too far into the future when they first started dating. "When we first met, we were, like, full-time, part-time partiers," he said. "I was a maniac, and she was my partner-in-crime! I remember her telling me once that she felt like her job on Earth was to be a mom, and I was floored by that because she was a successful model with an incredible business sense and had lots of stuff going on." 
Despite the strong connection between the two, their first meeting took place sometime before they started dating in earnest.
When (and how) Cameron met Vanessa
You never know when or where you're going to have a meet-cute, and the Mathisons' go back to a time before dating apps — and even before texting. Participating in a "first photo challenge" on Instagram, Cameron Mathison shared a photo of himself and Vanessa together from November 13, 1999. "We had met a year earlier at a gym in NYC, but It took us a while to finally go out," he recalled, sharing, "This photo was at a Ford Model's party in Los Angeles and we were inseparable." Mathison ended the post by playfully adding, "#loveatfirstsight? More like #lustatfirstsight."
The pair wed in 2002 before welcoming their son Lucas in 2003 and daughter Leila in 2006. These days, the challenges of parenting are just a little different than figuring out how to get home from the club on a Saturday night. "I really make an effort as a dad, not only to spend family time with them but also to have one-on-one alone time with each of them. They have so many cool interests," Mathison said to Soap Opera Digest. And he doesn't hesitate to credit his wife for her parenting skills. "She's amazing," he gushed. "She's such a hands-on mom and helps me out so much with my work and my travel." The pair seem closer than ever — and even jumped at the opportunity to act together onscreen.
Sharing the screen on General Hospital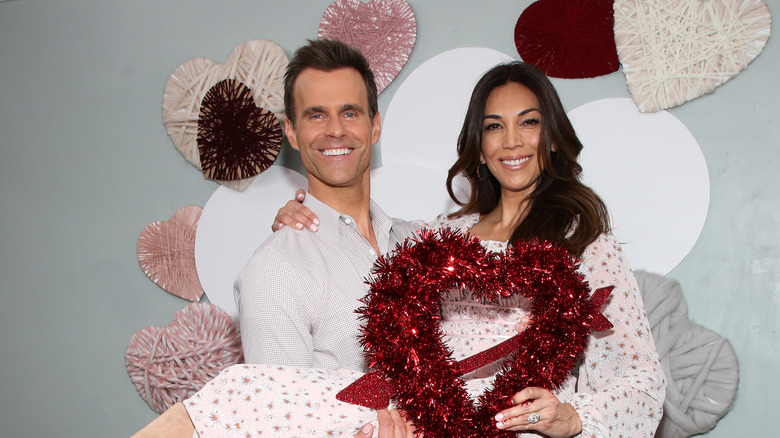 Paul Archuleta/Getty Images
Despite all their time spent together offscreen, the Mathisons aren't afraid of a little onscreen collaboration. Vanessa has appeared on the Hallmark channel show Cameron hosted, "Home & Family," and just last year, she landed a "General Hospital" appearance. Vanessa told ET Online that working on the show was "an absolute dream come true" despite her nerves as a fan. Of course, acting alongside her husband had a little something to do with it, too. "We were both nervous. I was nervous. I can tell Vanessa was nervous... then I started getting even more nervous."
For the Mathisons, Vanessa's appearance on the show brought their relationship full circle. When the pair met, Vanessa was studying to be an actress while Cameron had already been cast in "All My Children." In fact, Vanessa still pokes fun at her husband today for his "cheesy" attempt at picking her up by asking her to "come over and run lines together" all those years ago. Cameron added: "And then, it turns out 24 years later, we were running those lines," Cameron continued. Whether or not they still party, the two remain partners in crime.