What Is Demi-Permanent Hair Color And How Long Does It Really Last?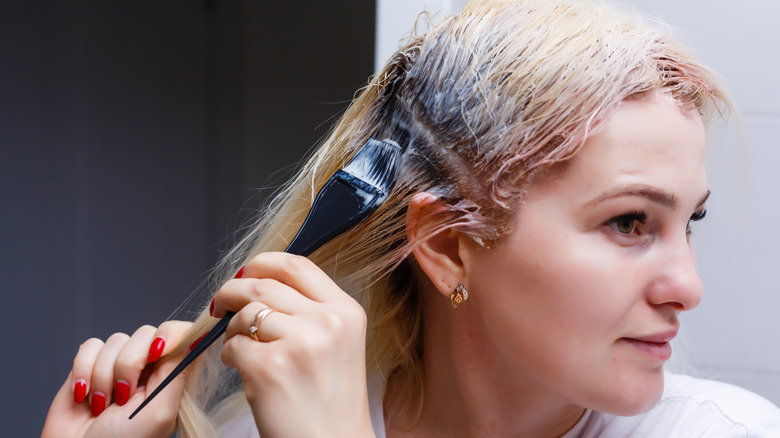 Andrew Angelov/Shutterstock
We may receive a commission on purchases made from links.
When it comes to your hair, you can change it up by cutting it or trying out a new hairstyle. However, to really feel like a new person, you're likely going to want to change the color. Whether you want to go bold and do an all-over color transformation or keep things a bit simpler with highlights, balayage, or a face-framing money piece, you'll find hair color is always trending.
Coloring your hair can be a super fun change, but it comes with negative side effects. Applying permanent hair color can leave the hair weak and rough to the touch. It can also thin out the hair, especially when coloring is combined with heat from styling tools. If you want to change up your look without the harshness of permanent hair color or are worried about attempting anything that's hard to change back, there's a new option for you that may be the hair color solution you've been looking for. Enter demi-permanent hair color.
Demi-permanent hair color is a versatile alternative
Whether you are hoping for a balayage hairstyle or all-over color, dyeing your hair is not as easy as it looks. According to Christine Arndt, a colorist at Baja Studio in New York City, those who choose to color their hair at home are often left with uneven, splotchy color since they may not use enough hair dye for full coverage (via Byrdie). Plus, when box dyes aren't used properly, you are likely to end up with dry, brittle hair that isn't at all the color you envisioned, Arndt warns. And while going to a salon is a much better option, it still comes with risks. If you aren't 100% sold on the idea of turning your brown hair into copper, adding golden highlights to your black tresses, or working brunette tones into your bright blonde, you may want to consider demi-permanent hair color. 
You may have heard of semi-permanent hair color, which comes out after a few washes. Demi-permanent is similar as it eventually washes out but won't fade nearly as fast. According to cosmetic chemist Kelly Dobos, demi-permanent color is the perfect middle option for those wanting a change without the huge commitment (via Allure). Using a demi-permanent dye will leave your hair damage-free and will last for about 24 hair washes.
The best demi-permanent hair color to use at home
If you are concerned about damage, especially when dyeing your own hair at home, demi-permanent is the way to go. Unlike permanent dyes, demi-permanent dyes do not have ammonia, so they won't ruin or alter your natural hair. Demi-permanent color only affects the surface layer of your hair, according to Allure. It's definitely a solid option for people wanting to go a bit darker without constant visits to the salon or those who want to touch up their roots or grays without wrecking their hair. It's also great if you want to go bold without true commitment.
If demi-permanent hair color sounds like the best option for you, there are a few brands that stand above the rest. Ion Intensive Shine is an inexpensive option that has all the benefits with a range of shades. It's ideal for those wanting to touch up their tresses and can be used on relaxed or chemically-treated hair without added damage. Other great options include Redken Shades EQ Gloss Demi-Permanent Color Hair Toner, Clairol Natural Instincts Demi-Permanent Hair Dye, and WELLA colorcharm Demi Permanent Hair Color.