Strange Things Everyone Ignores About Princess Beatrice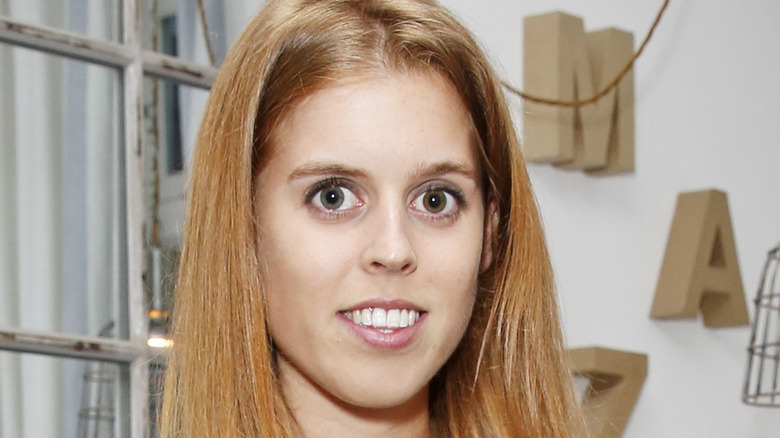 David M. Benett/Getty Images
Princess Beatrice is the firstborn child of the controversial Prince Andrew and his former wife Sarah, Duchess of York. Born Her Royal Highness Princess Beatrice Elizabeth Mary on August 8, 1988, she came into the world as the fifth in line to the throne, behind her uncle King Charles III, her cousins Prince William of Wales and Prince Harry Duke of Sussex, and her father. Even after the births of the three Wales children and the two Sussex children, she's still in the top 10 (more specifically, she's now ninth ). Nevertheless, she is not considered a senior member of the royal family and does not work for the Firm at all, let alone full-time. 
While some royal experts believe the royal family made a mistake in not elevating Beatrice to senior working royal status, that does not appear to jive with Beatrice's take on things. As she told British Vogue regarding herself and her younger sister, HRH Princess Eugenie, in 2018, "We are young women trying to build careers and have personal lives, and we're also princesses, and doing all of this in the public eye." 
That might be a surprising take, except that Princess Beatrice often marches to her own drumbeat. You'll understand what we mean when you consider some of the stranger things we all tend to ignore when it comes to Princess Beatrice.
Princess Beatrice's first boyfriend killed someone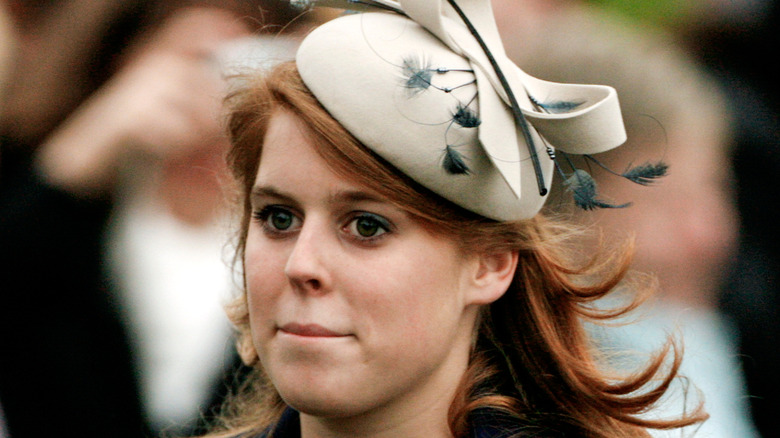 Alessia Pierdomenico/Shutterstock
Princess Beatrice's first significant romantic relationship was with a New York-born American, Paolo Liuzzo, whom she met through mutual friends in 2005. At the time, she was 17, and he was 23. Initially, the relationship remained out of the headlines. In February 2006, however, it came to light that four years earlier, Liuzzo was charged with manslaughter in connection with the death of a fellow student at the College of the Holy Cross in Worcester, Massachusetts in an alcohol-fueled violent altercation. In a 2006 statement to The Sun, Liuzzo characterized the death of 19-year-old Jonathan Duchatellier, as a "terrible accident."
It was also revealed that in 2004, Liuzzo pleaded guilty to assault and battery, accepting a sentence of 100 hours of community service and three years of probation. That all was still ongoing while he was involved with Princess Beatrice. Nonetheless, Liuzzo left the U.S. for a ski holiday with the Yorks in the Alps in February 2006. In doing so, he violated his probation. After this surfaced in the media, a Massachusetts judge extended the length of Liuzzo's probation by another six months. 
Although Prince Andrew and Sarah, Duchess of York initially supported Beatrice's relationship with Liuzzo, it ended in May 2006 in response to royal family pressure. Liuzzo has only gotten into more legal hot water since then.
Princess Beatrice's uncanny connection to the number 8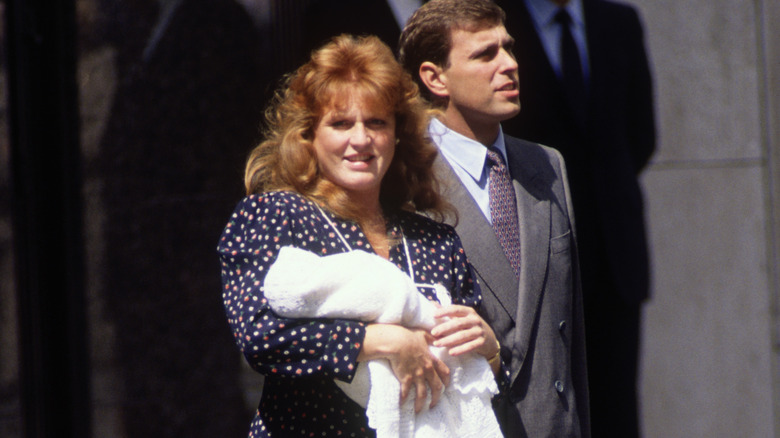 David Levenson/Getty Images
"8.8.88 at 8:18pm was one of the greatest and most proud moments of my life," Sarah, Duchess of York wrote in a birthday note to her firstborn daughter, Princess Beatrice on the occasion of the young woman's 32nd birthday in 2020 (per Cosmopolitan). "You are unique and simply one of the most special people on this planet. Your ever loving and devoted Mum." What the Duchess of York was referring to is the fact that Princess Beatrice emerged into this world at precisely eight minutes after the eighth (P.M.) hour on the eighth day of the eighth month of the eighth year of the eighth decade of the 20th century.
It goes without saying, that's a lot of eights. And for those who believe that nothing is random, least of all the numbers that coincide with our lives, all those eights apparently have a lot to say about Princess Beatrice and her destiny. Numerology is an astrology-related discipline that uses those numbers to gain insight into who each of us is, and what we might make of our lives. According to astrologer and numerologist, Ellen Bowles, the number eight is associated with "infinite possibilities and prosperity" (via Bustle). And for Beatrice, this would appear to be true exponentially, by virtue of there being so many eights. 
The name her parents originally chose for her didn't go over well with the queen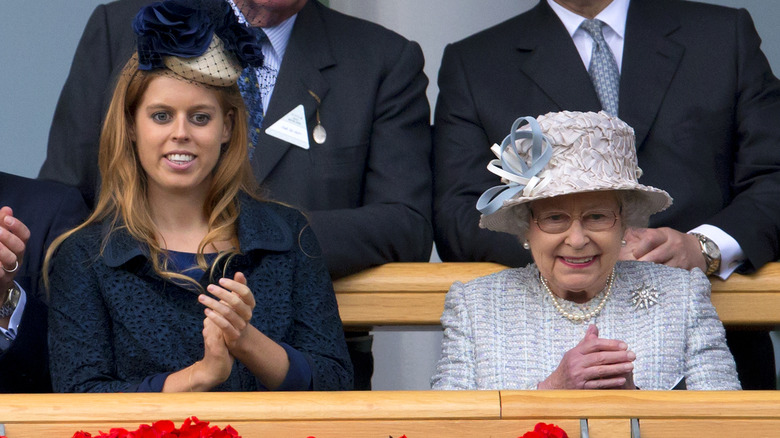 Max Mumby/indigo/Getty Images
Prince Harry may claim that royal family "spares" (i.e., those born after the birth of the apparent heir to the crown), get short shrift from both the public and the royal family. However, the birth of Princess Beatrice to Princess Andrew and Sarah, Duchess of York, was a momentous occasion for royal watchers at the time. And the fact that it took her parents a full two weeks to announce her name may have only bolstered the drama. 
There's no royal protocol regarding the timing of a royal baby name announcement in relation to the baby's birth. However, U.K. law holds that parents have 42 days to register a birth, which must include a definitive name. Nevertheless, many royal family members have taken far less time to announce a decision, including the Prince and Princess of Wales, who announced Prince George's name just two days after his birth. So, what was the reason for the two-week holdup in Princess Beatrice's case?
According to the Los Angeles Times, that may be how long it took for the Yorks to settle on a name that the late Queen Elizabeth II approved. As the outlet explained at the time, tabloids were reporting that Andrew and Fergie had chosen to name their firstborn daughter Annabel, but the queen rejected the name as "too yuppie" for a royal family member. 
Princess Beatrice ended up with a particularly auspicious royal name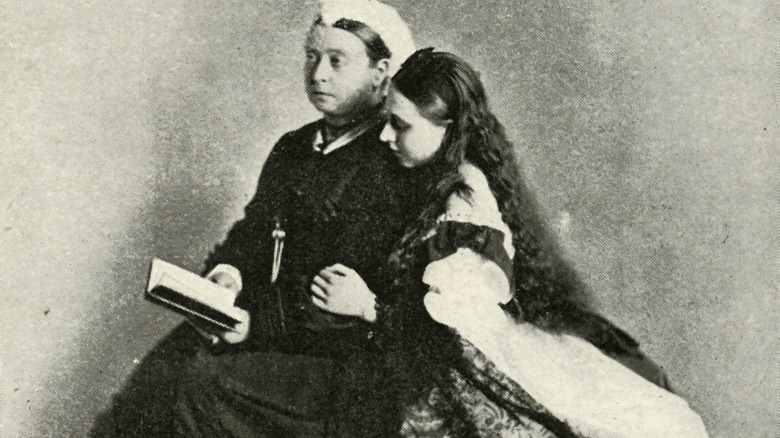 Print Collector/Getty Images
We'll never know how differently the course of history might have gone had Princess Beatrice been called Annabel. But the name that she ended up with is imbued with great honor and affection among members of the royal family. Meaning "bringer of joy," Beatrice was the name that Queen Victoria gave to her fifth daughter, who was the youngest of her nine children.
Princess Beatrice of the United Kingdom, born in 1857, was given the nickname Baby, and it stuck throughout much of her life. Beatrice was just four years old when her father, Prince Albert, died at age 42, leaving Victoria wearing widow's weeds the rest of her long life. Some say that Beatrice was Victoria's favorite child, but what is even more well-known is that from a very young age, Princess Beatrice was groomed to be Victoria's near-constant companion and most trusted confidant. And ultimately, it was Beatrice to whom Victoria bestowed the job of collecting and editing Victoria's prolific diaries after her death.
That being said, the late Queen Elizabeth was not necessarily a fan of her granddaughter's namesake, or at least her work as an editor. In the 1992 documentary "Elizabeth R," the queen is heard remarking that the writings of her great-great-grandmother, Queen Victoria, were "unfortunately rewritten by [Queen Victoria's daughter] Princess Beatrice" (per Daily Mail Online).
She worked as a sales assistant at a London department store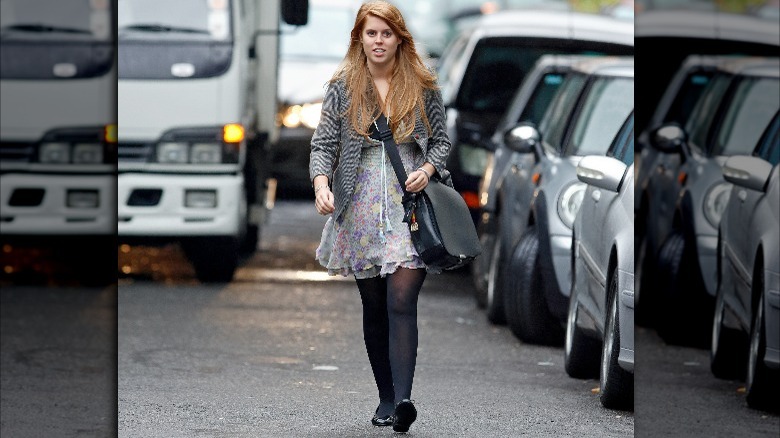 Max Mumby/indigo/Getty Images
Although Princess Beatrice makes occasional public appearances with other members of the British royal family, she is not among the working royals, which is generally understood to refer to members of the royal family who work full-time making official appearances. Beatrice is, in fact, a royal family member who "works" outside of her crown-related duties, and she has since the age of 19, when she took a summer job as a sales assistant at the posh London department store, Selfridges.
On May 8, 2008, Marie Claire UK reported that Princess Beatrice, then a university student at Goldsmith's University in London, would spend one month working full-time for the store. Specifically, Beatrice was assigned as a personal shopper for VIP customers. One of her customers was her first cousin, Prince William, who enlisted her assistance in selecting a pair of earrings as a Christmas present for his then-girlfriend, Kate Middleton. Although Selfridges might ordinarily pay its sales associates, Marie Claire UK maintains that for Beatrice, this job was an unpaid internship.
Not that her work wasn't appreciated, however. "Beatrice is a natural," a Selfridges source told The Sun at the time. 
Princess Beatrice has a legit IMDb profie
Speaking of internships, Princess Beatrice also worked as an intern for Sony Entertainment's Sony Pictures Television, at its London offices. That was in January 2014, when Beatrice was 25. Previously, she had been working in finance at an investment capital firm, but she left that job in mid-2015, choosing to focus on her charity work for a time.
But Beatrice's 2014 detour into the entertainment world was not her first. Specifically, in 2009, she played an unnamed Lady in Waiting for Emily Blunt's Queen Victoria in the coronation scene of "The Young Victoria," which covered the first year of Queen Victoria's lengthy reign. Fellow cast members included Rupert Friend, Jim Broadbent, Paul Bettany, Mark Strong, and Miranda Richardson.
Nor was that the last time Beatrice worked in the arts. In 2016, she collaborated with British artist, Teddy M (Teddy McDonald), as well as her mother, Sarah, Duchess of York, and younger sister, Princess Eugenie, to create a painting. What started as the artist's painterly rendering of a white-outlined red heart on a blue background became the impressive work known as "Royal Grafitti," which also featured the painted verbal musings of the three York women. The work was auctioned off to benefit the charity Children in Crisis.
Princess Beatrice's affiliation with Afiniti
Afiniti describes itself as a technology company that leverages artificial intelligence/machine learning (AI) to create better customer service experiences for companies. In 2017, news first emerged that Princess Beatrice had become professionally associated with Afiniti. However, it was not clear at the time what exactly the nature of that association was. The Telegraph portrayed it as Beatrice having "business matchmaker" aspirations (not unlike her father, Prince Andrew), with Afiniti being her first client. That meant Beatrice's role was helping to match Afiniti with investors. Indeed, earlier that year she was spotted with Afiniti's founder Zia Chishti, making the rounds at the World Economic Forum at Davos. 
Beatrice has been associated with Afiniti ever since then. And it appears that she is still working either with the company. This is Money U.K. reported on February 23, 2023, that Princess Beatrice was employed by Afiniti, with the title of Vice President of Partnerships and Strategy. Nevertheless, it appears the royal family has had some misgivings about Beatrice's continuing affiliation with the company, going as far back as November 2021. At that time, Chishti was accused by a former employee of having engaged in sexual harassment and committing a "violent sexual assault," according to City AM. Afiniti continues to be plagued by scandal. Earlier this year, Chishti was accused of stealing Afiniti's technology to set up a competitor in China.
Princess Beatrice could act on King Charles' behalf if necessary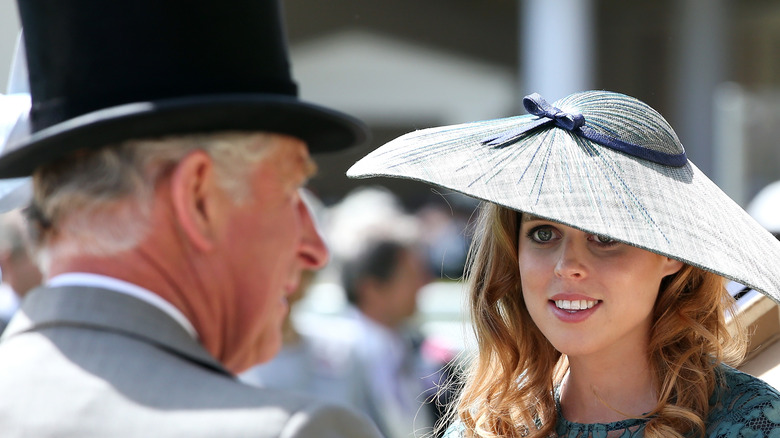 Chris Jackson/Getty Images
Under U.K. law, if a monarch becomes permanently incapacitated, the next person in the order of succession is made Regent. As Prince of Wales and heir apparent, Prince William would become Regent if anything were to permanently interfere with King Charles III's ability to reign. However, in the event of a monarch's temporary incapacity, including their physical absence from the U.K. (for, say, a trip overseas), a number of individuals designated as "Counsellors of State" are empowered to act on the monarch's behalf to perform many of the ordinary day-to-day duties of the monarch. 
Under U.K. law, the Counsellors of State are comprised of the monarch's spouse and the next four adults in the line of succession. Under this rubric, the Counsellors of State would include Queen Consort Camilla, Prince William, Prince Harry, Prince Andrew, and Princess Beatrice. However, given that Andrew has "left public life" and Harry has "left the country," as one member of the House of Lords put it (via BBC), legislation was enacted late last year by which Prince Edward, Duke of Edinburgh (Charles' youngest sibling) and Princess Anne, the Princess Royal (Charles' only sister), were appointed as lifetime members of the Counsellors of State. 
Although it may seem strange to some that a non-working royal family member could be called upon to act on King Charles' behalf, Princess Beatrice's qualifications have never been questioned.
Princess Beatrice is a veteran of many worst dressed lists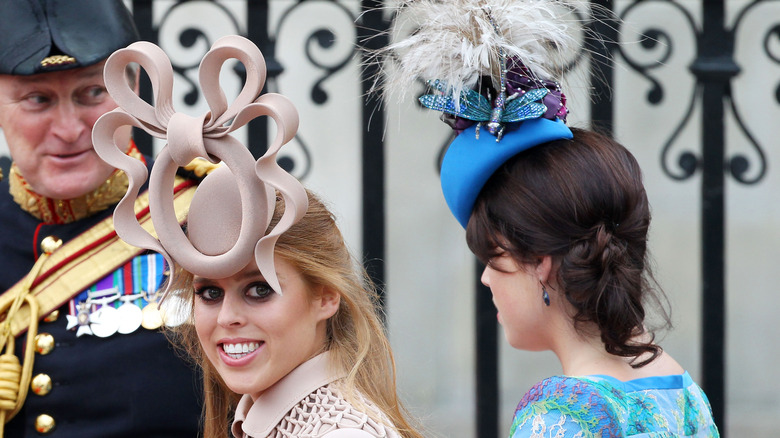 Chris Jackson/Getty Images
The royal family dress code is largely unwritten. Many royals have broken with it, but it turns out there is quite a bit of leeway available for non-working royal family members such as Princess Beatrice. For example, notwithstanding the late Queen Elizabeth II's fervent wish that no female member of the royal family be seen in public without stockings or in a dress cut above the knee, Beatrice apparently remained in her grandmother's good stead despite having appeared at various times bare-legged in an above-the-knee skirt.
Indeed, Princess Beatrice has become somewhat infamous for her arguably inappropriate choices of attire. Accordingly, she has appeared on various worst-dressed lists over the years, especially when it comes to her choice of headwear. For example, Beatrice was "completely and utterly dragged" for wearing what Cosmopolitan called one of "the most extra hats of all time" to the 2011 wedding of the Prince and Princess of Wales. In fact, her entire outfit was deemed "outlandish" at the time by the Daily Mail. Although some of Beatrice's outfit misses have, in time, come to be considered groundbreaking and even iconic, that's not to say the backlash has not hurt the princess's feelings.  Still, Beatrice stands by her fashion choices, as she intimated to British Vogue in a 2018 interview.
Princess Beatrice's wedding was untraditional
Soon after breaking with Paolo Luizzo, Princess Beatrice embarked on a decade-long relationship with American businessman Dave Clark, which ended in 2016. But the love of her life is apparently British businessman Eduardo Mapelli Mozzi, whose family has ties to the Yorks dating at least to 2011.  The two began dating in late 2018 and went public as a couple soon after, although they didn't make their first public appearance together until March 2019. By September of that year, the two were engaged. Their wedding was set for May 29, 2020, at The Chapel Royal at St. James's Palace, with a Buckingham Palace reception.
Within a month, however, the couple canceled their wedding plans amid COVID-19 public health concerns. The two ended up trading vows in a private ceremony at the Royal Lodge at Windsor in July. The event was a surprise to many, but not to the couple's family and close friends — and especially not to Beatrice's maternal grandmother, the late Queen Elizabeth II, who lent Beatrice a vintage dress and the tiara she wore to her own wedding in 1947.
Accordingly, although technically Princess Beatrice's wedding might be seen as an elopement, it's not considered as such by the royal family because it had the prior knowledge and the blessing of the monarch (without which, a royal family's wedding is considered invalid).
She has managed to keep her baby out of the public eye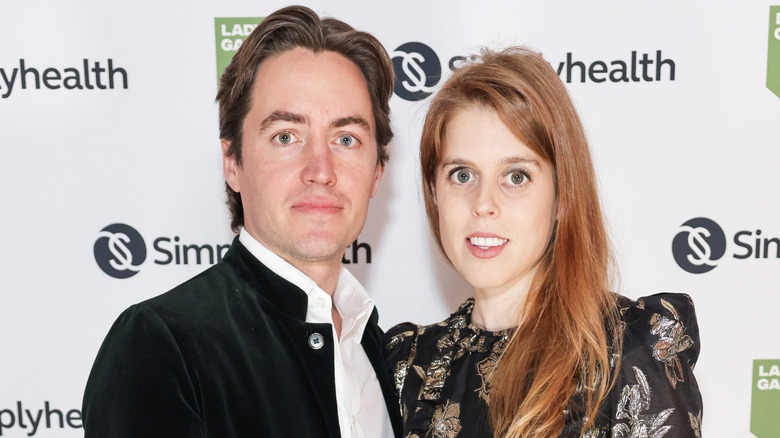 David M. Benett/Getty Images
On September 20, 2021, the official website of the royal family announced the birth of a baby girl on September 18 to Princess Beatrice and her husband, Edoardo (and at 11:42 p.m., just in the nick of time to have Princess Beatrice's lucky number 8 in her birthdate). On October 1, 2021, the couple announced their new baby's name: Sienna Elizabeth Mapelli Mozzi, with Sienna being a nod to Sarah Ferguson's first initial and hair color, and Elizabeth a tribute to her great-grandmother, Queen Elizabeth II. Like Princess Beatrice, young Sienna stands uniquely apart from other members of her generation within the royal family in several respects. 
For one thing, Sienna does not have a royal title by virtue of an order put in place by her great-great-great grandfather, King George V. In Letters Patent dated 1917, the king decreed that, henceforth, only the sons of the monarch and the children of said sons would be entitled to be styled as HRH and Prince/Princess. That's also why Princess Anne's children don't have royal titles. In addition, and perhaps even more significantly as far as the royal-watching public is concerned, no photos of the King's grand-niece have ever been made available to the public. That's not to say that they never will be, but it's certainly noteworthy when an HRH's child goes more than 18 months without a single public photo.