How To Use A Lip Brush To Customize Your Lipstick Color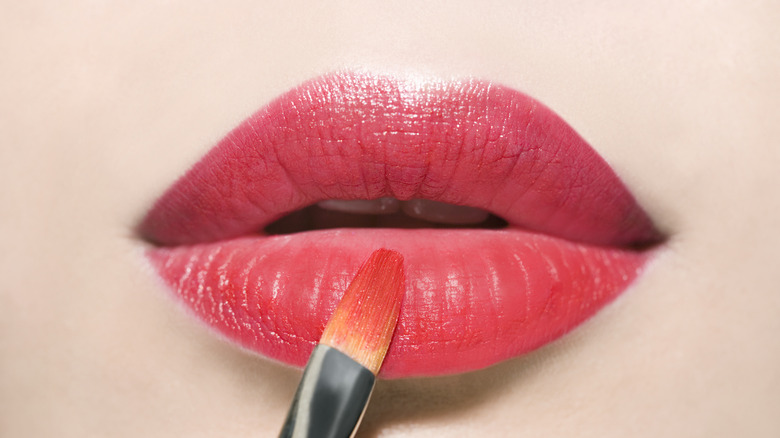 Image Source/Getty Images
We may receive a commission on purchases made from links.
It can be challenging to figure out what lipstick works for your skin tone and shade without swatching the hours away. Sometimes, even this doesn't yield the desired results, which might make you think that you can't wear certain colors. Luckily, even if the beauty stores are no help, you can score the best lipstick color for your skin tone using only a lip brush. Lip brushes are one of the most important brushes to have in your collection because of how versatile they are. 
Before we get started on how to properly use a lip brush to customize your lip color, it's important to note that warmer shades often look good on warm skin tones, while cooler shades flatter cool skin tones. Let's say you're trying to figure out how to pull off a classic red lipstick, but you just can't get it look good. It could be that you need to cool it down or warm it up depending on your undertone. If you're cool-toned, add blue until you get a blue-red shade. For warmer tones, gradually mix your red lipstick with peach for a brick-red color. 
You can also mix various shades of red to get your perfect pigment. Another way to customize other colors using a lip brush is to add red to your nude shades to give them a splash of color. When mixing colors, remember to start small. Add new colors gradually so you don't ruin your color or waste your lipstick.
Use a lip brush to outline your lips instead of a lipliner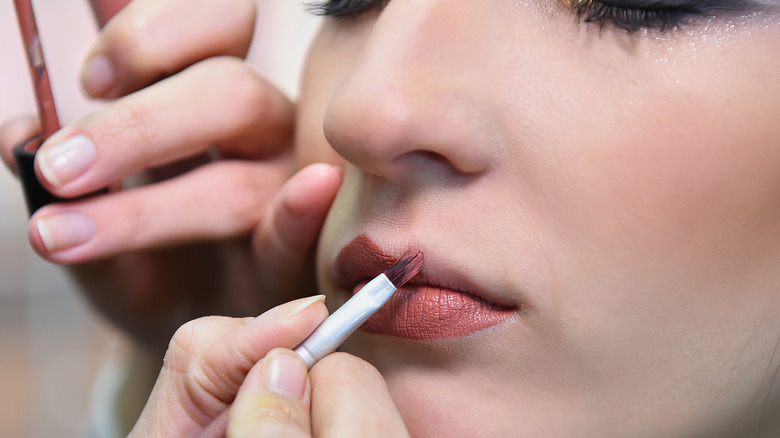 Dobok/Getty Images
Of course, all good lip makeup starts with a proper outline. Usually, this job would fall on a lipliner, but a good lip brush can be used instead. Lipliners are great if you want to blend for an even fuller look. But if you're mostly okay with your lip shape, a lip brush is a three-in-one tool that's great for mild accentuations.
For your lipline, you want to use a shade darker than the lip color you want to attain, so keep this in mind as you mix. Alternatively, you can add the complementary color of your end result color to darken it for your lipliner. Start by outlining your cupid's bow with the flat side. This is easier to do with a lip brush than with a lip liner. Using the flat side again, drag the brush from the edge of your cupid's bow to the corner of your mouth on both sides.
Next, use the flat side of the brush to soften the lines on the inside of the outline. Once you're satisfied with how everything looks, reach for the colors you want to mix. High-quality lip brushes have tiny and flat bristles, making them perfect for scooping up small amounts of lipstick and laying them neatly on a mixing palette.
Mix your chosen shades with your lip brush to customize your lipstick color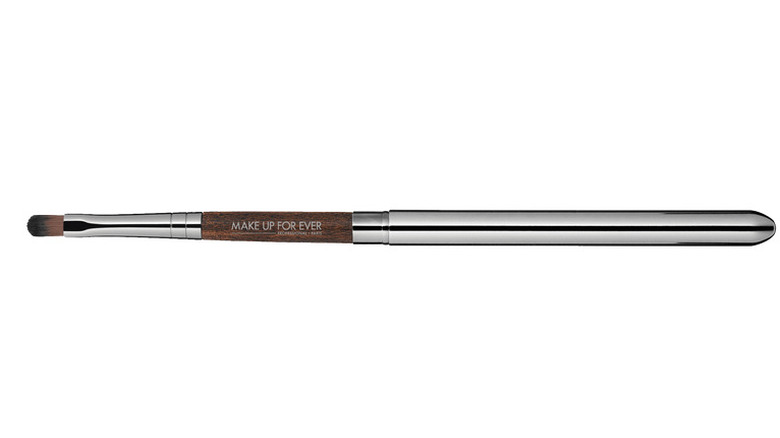 A mixing palette is a must-have tool for this task. If you're being thrifty, you can save up old eyeshadow palettes for this purpose. Alternatively, you can shop Sinen's Professional Pro Stainless Steel Mixing Palette on Amazon for less than $5. Professional palettes like this come with a steel spatula, which you do not need for this task.
Lip brushes have dense fiber, making them perfect for mixing small amounts thoroughly. Spend the extra time you need to do this — it's a lot better than having lumps in your mix. Do one last consistency check and you're good to go. Go in with small vertical strokes from your lipline to fill in your lipstick color. Take advantage of the small curve of the brush to get your color evenly everywhere, and voila! You're wearing your own shade of lipstick.
One final tip to remember is that it's always better to purchase expensive lip brushes. They do not shed or lose their texture, which means you can use them for years. A $20 lip brush that you use for five years is a lot cheaper than a $5 one that lasts six months. Plus, if you shop one like Make Up For Ever's retractable lip brush with a cap to retain moisture, you can keep your customized color in your purse for refreshers throughout the day.