How To Get Your Pin-Straight Hair To Hold A Curl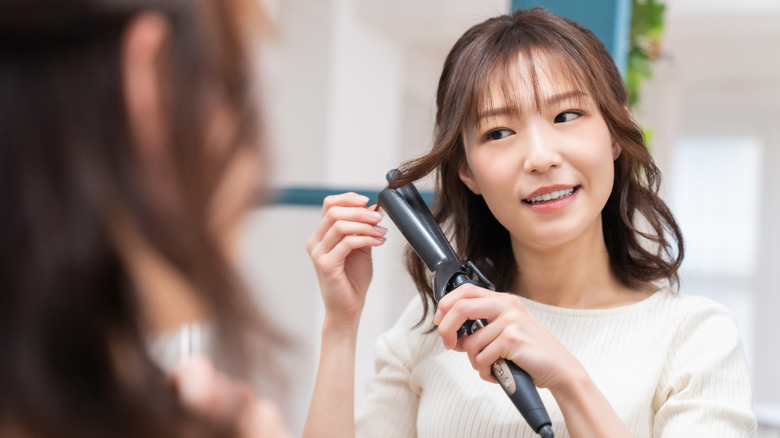 Miya227/Getty Images
If you have straight hair, you've likely run into the issue of trying to get curls to stay after you've spent time styling it. You might be tempted to give up hope about ever rocking the curly hair of your dreams, but you don't have to. There are actually a number of reasons that your hair isn't holding your curls, even if your hair is extremely straight by nature.
Some of the reasons have to do with what you're doing with your hair in the shower, while others have to do with the products you're using for styling. Pin-straight hair is also known as type 1A hair, celebrity hairstylist Jennifer Korab shared with InStyle, adding, "Type 1A hair is very straight and fine, with no hint of wave or curl. As it is so straight, when the natural oils travel to the ends, it tends to cause it to look like oily hair. It is the rarest hair type and is common among women of Asian descent."
Even if you don't have type 1A hair, you might have issues getting it to hold a curl. Luckily, with some preparation, there are some ways you can keep your hair curled and prevent your style from falling out the minute you unplug your curling iron.
Prep your hair to get your curls to stay
One way to help get your curls to stay in place for a long time is to prepare your hair starting when you're washing it. Davines educator Aleasha Rivers tells Real Simple to "Make sure you are not using shampoos and conditioners that are creating wax buildup on your hair and therefore weighing down the curl and/or coating the cuticle to the point it cannot open if it wanted to." You might want to skip the conditioner if you're going to curl your hair since it'll make it harder for the curls to hold, plus, using too much conditioner is one of the ways we all ruin our hair, so think about using a lighter touch with the product.
After you're done washing and drying your hair, you should then prep it with a large dollop of mousse, which will help rid your hair of moisture. After all, moisture in the hair is what's making it harder to curl and stay curled. Wait for your hair to dry, and then apply hairspray before starting the process of curling your hair.
Finish with texturizing spray instead of hairspray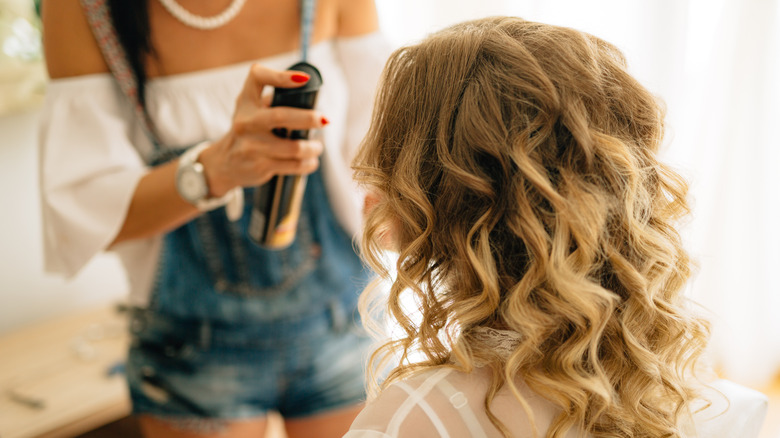 nadtochiy/Shutterstock
There are some steps you can take while curling your hair to help it hold as well. Hairstylist Adir Abergel tells Allure that one of those steps is to make sure your curling iron is at the correct temperature — around 300 degrees for thin hair and 350 degrees for thick hair. Use a small-barrelled curling iron for smaller, tighter curls, and a large-barreled iron if you want them to be larger and looser. 
Beachwaver creator Sarah Potempa advised Byrdie to clip your curls into place until they are cooled and only brush them out once they no longer feel warm to the touch so they don't fall out too quickly. She tells the outlet, "When you unpin the curls, they will have even more structure and volume." Finish the process with some texturizing spray, which actually helps curls more than hairspray, since hairspray might actually make the curls fall because it's too heavy.